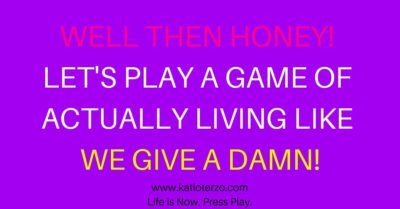 Imagine. Imagine that you were a person, even just for these next few moments, who believed that anything were possible. Who believed that whatever you truly set your heart and mind to and decide WILL happen? Would damn straight happen, and STAT, if not sooner!
Now before you get all uppity at the idea that this is just IMAGINARY games, because hey! – you are already that person! You DO think like that! Who the hell do I think I am implying you don't?! – let me ask you just ONE thing:
Are you LIVING it sister?
Are you. Right now. Living the PRECISE life. With the EXACT 'dream biz'. And speaking about WHAT you want. To WHO you want. And HOW you want?
Or are you in fact full of shit like the rest of the world, telling yourself you'll get there 'one day', SAYING you're a believer, that anything is possible and by gosh! you're going to make it happen but actually in fact when all is said and done doing jack all REALLY that allows you to live your BIG dream –
And instead just another busy person, another 'kickass' woman, out there kicking ass in every way except the deep ones she most wants to –
Well?
Which is it?!
It's really one or the other you know! There is no in between you're either pressing play and going ALL in on the life you're creating, or you're not!
Can I tell you something?
For a long time I was that chick. Busy! Successful! Looked to as an 'expert', a GURU even in some ways. I had shit going ON lovely! I was on my way up and nothing was going to stop me! I was determined to MAKE. SHIT. HAPPEN.
But the truth is I was hiding. All of that busyness, all of that running around, all of that trying to 'make' success work was just allowing me to hide from the deeper truth about what I really wanted and what I also knew was POSSIBLE.
Eventually I had to wake up and realise:
If you're saying you believe something's possible but yet you're not out there busting every cell in your body to GET it, you either don't really believe it's possible or you're just fucking stupid.
And okay, I know, we could insert 'scared' or 'unsure' or 'overwhelmed' or whatever instead of stupid, and you're welcome to label yourself however you like – for me I look back at myself when I was playing it small, safe, and worrying so much about what I SHOULD do or was allowed to do, and in the MOST loving way I just think:
I was being fucking stupid.
Because the truth is, it's not ANYWHERE near as hard as we make it out to be, this success game.
You wanna know the EVERYTHING key to creating the life you want, completely on your terms?
1. Decide what you want
2. Actively set it as an intention that you can and will get there (you don't have to know how)
3. Assume it's a done deal, and act accordingly
That's it really.
REALLY.
So if you don't have what you want –
If you're not doing business in a way that has your soul exploding with JOY –
If you're not showing up FULLY authentically as who you REALLY want to be and deep down ARE except ARE YOU REALLY IF YOU'RE NOT BEING IT? –
And if you are constantly, repeatedly and yes fucking STUPIDLY considering you SAY you believe delaying living the life you really want to LIVE –
Well then honey! Let's play a game of actually living like we give a damn!
Let's stand up NOW and say NO MORE to all of the stuff, the shit, the BULLSHIT, largely inside your own head if we're being honest but also in the rest of the world and its ridiculous rules!
Let's throw off the God damn SHACKLES that we've bound ourselves in!
And let's play a game.
Of imagining.
And believing.
And not CARING what anyone else thinks.
And from here on out, from this very SECOND moving forward, living with purpose and giving ourselves PERMISSION to have everything we want, to have it on our terms, to let it be EASY and fun and to fully step into the God-given destiny we were BORN for.
Or, I don't know, something else to do with ROCKING your business and life.
But seriously. And you know I could go on and on, could get more aggressive here, furious even about the whole thing because truly it does make me just BOIL with some kind of passion-fury-blend when I see people allowing FEAR and WHAT IF to hold them back from their dreams.
But I don't know that I really need to go all passion smackdown on you here, do I? Because seriously –
DO YOU BELIEVE?
And if so, isn't that enough?
Isn't it fucking ENOUGH?
Isn't it TIME? You don't have to wait for a freaking sign, a breakthrough, some kind of massive significant MOMENT you know!
You can just decide.
Right now.
And you can start living accordingly.
So let's play a game today.
Let's imagine that you had one life –
That it were now –
That you could do whatever you want with it! –
On your terms –
And EXACTLY as your wildest dreams have you at times fantasising –
And then let's imagine that you could start now.
Remember –
Life is Now. Press Play.
Kat x
Don't forget –
Life is Now. Press Play.
Kat x

PS
1:1 INTAKE IS OFFICIALLY OPEN!

🔥
Next Level Empire is officially open for late November intake! 💜
I'm calling in my next intake of driven badass LEADER women who want to work with me 1:1 to FOLLOW SOUL and achieve ALIGNED AF fame, income growth, more.
Yeahhhhhh … this is about unapologetically claiming your place as one who is MEANT to be seen and heard by everyone!!
Next Level Empire baby!
Multi 7-Figure Empire Expansion For Unapologetically Badass & Driven Women Who Are Ready to Be Seen By the WHOLE Damn World
6 weeks.
1:1
You and me
This is for the women who already have a message, an audience, and are making money online and who are now ready to put some damn WHEELS on the thing.
We will be going deeper into message clarity
We WILL be nailing down what you're selling, and how you're selling it, for maximum conversion and flow
We WILL be getting you fully connected to the badass leader within who KNOWS she is meant to run the damn thing
But these things are just the warm-up, because let's face it –
You already message
You already show up
You already sell
You're already ROCKING what you're doing right now
So what you're here for, and what I'm here for with you?
Is to blow the damn thing up.
MAXIMUM reach.
RAPID growth of audience
MASS visibility
MEDIA TAKEOVER
NEXT level leadership status, and being the one who is KNOWN as the Queen
And sales EXPLOSION
I'm taking what I'm doing in my business to CONTINUALLY claim my place at the top, and to take my message to the masses whilst also RAPIDLY growing following and income,
And showing it all to you
Exactly how we do it
What precisely is in place
What we had to have in place for it to work
What we do day to day to elevate fame, income, purpose, ALL of it
And then I'm going to work with you personally to roll it out
Next Level Empire baby:
For the women who were born for more,
And who are done with circling repeatedly around the same damn pond and kidding themselves they're gonna find it there.
Ready, and know it's time? It just might be 

😉

💜
PM me now

for the full overview, and to know if it's for you. x