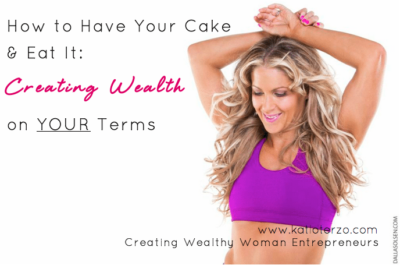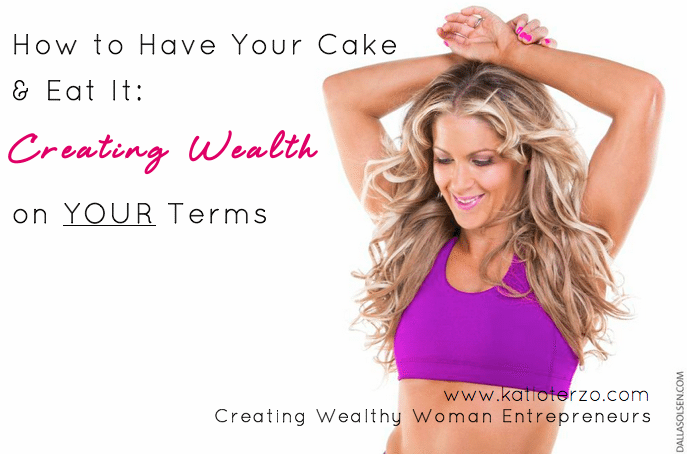 Success Mindset
How to Have Your Cake and Eat it Too: Creating Wealth on YOUR Terms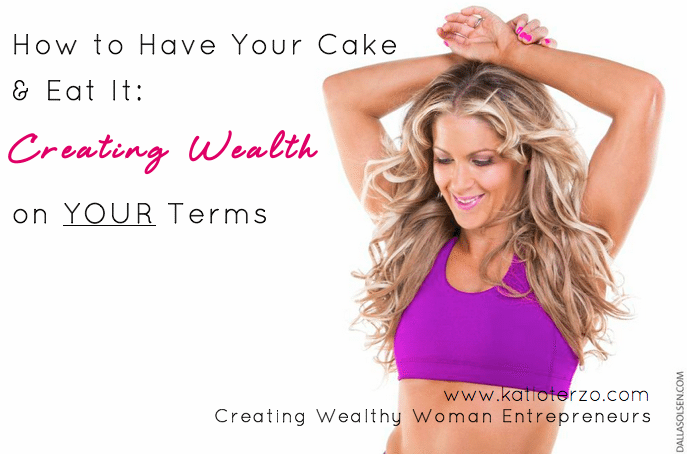 If you look around the 'net it's easy to convince yourself that success is possible for anyone willing to really put the work in. From a logical point of view at least you have to admit that anyone has the POTENTIAL to 'make it' online if they do what it takes.
From there its only natural to assume that if YOU do what it takes, and continue to do so repeatedly, you'll eventually get there. There, presumably, being the place where you're making money in your own business and no longer wondering if you shouldn't just go and get a job like the rest of the world.
But here's the thing.
Most women entrepreneurs, even though they ARE getting to make a living from their own business, are not exactly living the lifestyle dream they thought they'd be able to. Instead they're caught up in a never-ending list of Things That Must Be Done to get ahead, constantly comparing themselves to others, struggling to find true alignment in how they spend their time and continually putting off the creative work they really want to be doing, let alone the easy-flowing lifestyle they long for.
If you can relate then I know you can also relate to this –
At some point your dream of having your very own business where you got to make money by doing exactly what you love and are born to do because simply 'having your very own business where you get to make money'. The part about doing it entirely on your terms kind of fell off along the way, and even if you noticed, you really didn't feel you could afford to stop and pick it back up again.
And now, as much as you do love that you're paving your own way, your primary focus is staying on top. God forbid you stop and assess whether the path you're on is really moving you closer to your dream life with any real sense of speed or effectiveness, because if you DO stop? The whole enterprise might just come crashing down.
From the moment you wake until the moment you finally switch off that Facebook feed your mind is consumed with everything you haven't quite yet finished and everything you need to get done. And somewhere in the midst of it you have occasional sparks of inspiration or desire about what you'd REALLY do if money weren't the focus and if you weren't worried that doing exactly what you DO want to do probably wouldn't WORK.
If that's you, I totally understand. Even to this day and despite how 'on my terms' my business is, I have those days and sometimes weeks where I am totally caught up in the list and in comparison and in all the things I COULD do to grow my business, or simply caught up in rushing around DOING rather than occasionally stopping and BEING; tuning in to who I really want to be in my business.
And if I'm not careful, it's easy to return to that pattern of believing that only once I 'get everything done' will it be okay for me to do what I REALLY want to do.
But you do know it's a trap, don't you? The worst trap of all, in fact! And often, one that is born out of fear.
What is the worst possible scenario if you really have a crack at making money entirely on your terms? The obvious answer is 'it doesn't work'. But instead of looking at it that way (and I don't really believe you think it WOULDN'T work anyway, hmmm?) how about you look at it this way –

What's the worst possible outcome of NOT having a crack at making it entirely on your terms?
How are you really going to feel about yourself if you allow another year, another month, another DAY pass by in which you fail to put your faith in yourself and your ability to live the life you truly desire?
Seriously now – for how much longer can you stomach knowing you COULD give it a shot if only you dared, but yet you continually tell yourself you can't, it's not the right time, you're not ready when really the truth is simply that you're scared.
Scared is okay. But you really do have to feel the fear and do it anyway, because the truth is that you'll never NOT feel scared, or at least not until you actually start taking concerted daily action on the stuff you really want to be doing and finally realise that all your wildest fantasies CAN come true.
Because as much as I know the fear is TERRIFYING and absolutely believable at times, the alternative is simply far far worse. So jump off that ledge. Give it a go. Stare into the eyes of the beast and decide NOT to look away. And know this –
You will not know where to start at first, and that's okay.

You'll feel yourself falter each time you look for the next step, and that's okay.

You'll stumble and perhaps fall again and again and again and AGAIN and that's also okay.

You'll probably churn out a TON of really average stuff and maybe even complete drivel before you start to create the really good stuff, and that's okay as well – in fact it's really the only way.

You'll continually feel guilty (at first) that you're not doing stuff on your list or stuff you promised other people or stuff you think you really HAVE to do in order to keep that wheel a-churning, and know that it's okay to feel that guilt and then tell it to get the hell outta there while you give yourself permission to work on what's really important to you.

The Universe or God or the powers-that-be or simply your own tricky mind will throw some kind of test at you, possibly a few, just to see how serious you are or whether you're sitting on the fence, and you'll feel that it's a 'must' for you to once again put your dreams on hold and deal with the issues at hand, but it's totally okay to ignore that sudden grab for your attention and calmly continue on your way.

Success might resist you for a while, and perhaps you'll even tell yourself 'see, look – it's not working; I can't do this; I can't be that girl' and know that this is normal and everyone goes through it but ultimately what is NOT okay is to give in to that or to anything else that would tell you you can't have things your way.
Because the truth is you can.
You can have your cake – the whole damn thing – and eat it too.
You can do business your way.
You can do life your way.
You can start now.
In fact if you don't start now? You very likely never will.
So take the jump beautiful. Lean into the abyss and let yourself fall. Step out into nothing, and know –
That you are freaking amazing.
That you deserve for your widlest dreams to be your daily reality.
That your only limitation is the one YOU choose for yourself.
That you won't be the first and nor will you be the last but if you DON'T do it? You'll forever be the one looking in the mirror wondering when your time will come.
And if you do?
You WILL figure out how to fly. And the view from up top? It really IS as good as you can possibly imagine, it really WAS worth it, and it really IS yours. Get out there and claim your destiny!
After all –
Life is Now. Press Play.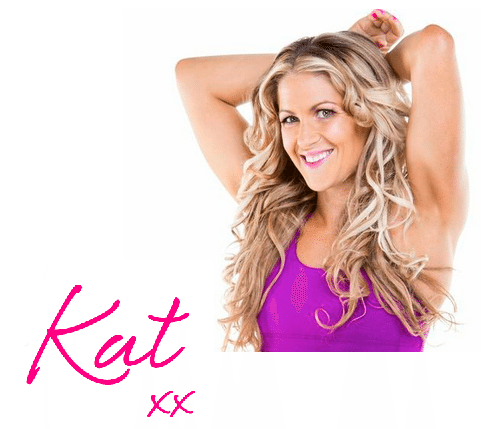 **********
News! Exciting! Event! Announcement!
**********
Announcing the Fearless Wealthy Woman Mini-Business Bootcamp!
– Create Your Money Plan for 2014! –
Spend a day with me on the Gold Coast this December 8 and walk out with –
Exact knowledge of who you are and who you WANT to be to have a thriving and PROFITABLE online business in 2014, so you can live the laptop lifestyle doing what you love
Crystal clarity on your ideal client – who you'd LOVE to work with and how to COMMUNICATE with them so that they GET you and YOU GET THEM, meaning you're able to craft IRRESISTIBLE sales and marketing offers that will make them want to BUY YOUR STUFF
Create a plan and a complete outline for your SIGNATURE ONLINE PROGRAM so that you can package your skills and knowledge and get OUT of trading time for money and into creating PASSIVE INCOME by helping people get awesome results without YOU having to hold their hand every step of the way
Plus
Create a vision for the business and life you want for yourself in 2014, and an exact plan to get you there
Get clear on the time management and productivity habits that myself and other 6 and 7-figure women use to work as little as 2-3 hours each day (and a max of 5), 4-5 days a week and making upwards of 30, 40, even 50 k per month
Get the real story on how I took my online biz from pennies per month to an over 50k p/month online company, and how less than 2 years ago I was JUST LIKE YOU
Get motivated, inspired and EMPOWERED to take action now – regardless of how ready you feel but know that well before this day is over you'll be more than ready, you'll be RARING to take on the world.
Look, here's what it comes down to –
I'll show you EXACTLY what you need to do to make 2014 your BEST YEAR EVER – both FINANCIALLY and in terms of living the LIFESTYLE you deserve, and I'll show you exactly HOW TO DO IT. You'll walk out of the mini-bootcamp confident that you can enter the year with a bang and a bullet-proof proven SYSTEM to ensure you finally ESCAPE the grind of a never-ending work week and start MAKING MONEY ONLINE without selling your soul and without doing stuff you don't want to do.
It's time to stop TALKING about creating your dream biz and it's time to start DOING it. There's money to be made, cafes just waiting for you to work from them, and a beach-side perfect day just calling your name.
Create your signature program and 2014 sales and marketing plan at my Mini-Business Bootcamp this December and enter the festive season secure in the knowledge that while the rest of the world is winding down YOU are making your dreams come true.
Who this is for –
You know you were born for a life less ordinary, something more, something bigger than what most even dream about. You REFUSE to be normal, REFUSE to do what you're told, REFUSE to follow the path well traveled. You want it all god damnit, and you want it now. And you are WILLING TO DO THE WORK. You believe in your ability to make a crap load of money doing what you love and living life entirely YOUR way. And you're ready to MAKE THAT HAPPEN.
You have an existing business (doesn't matter how effective it currently is) ONLINE – or you have an idea for one and/or a determination to build one and kick butt with it! So basically you don't already have to have an online presence but you do have to WANT one and you do have to know that you WILL do what it takes to succeed.
Who this is not for –
You're too scared, too unsure, too uncertain, the time is not right, you live in the wrong state, the money is not right, you think you'd better wait. It's fine to feel all that stuff but you've decided NOT to feel the fear and do it anyway. You're just feeling the fear and you don't know if you can make it, you don't know if you can harness the BELIEF you need in your own ability and you're worried it will not give you the security you need. You're just not sure. And that's cool, no judgement. But this event is not for you as it IS designed to push buttons and it IS designed to push you off that ledge.
Please don't register if this is you as it will be a waste of your time and of mine!
How to register?
Location: Surfers Paradise, Gold Coast (exact location TBA)
Date: Sunday December 8, 9am till 5pm
I'm holding 20 places only for this event. The Mini-Business Bootcamp is only $97. I know – seriously insanely low price point so I don't expect the 20 seats to last long! Which is crazy cheap. I'm covering info that my top clients literally pay thousands for. If you KNOW that 2014 can be your best year ever and you're ready to start making it happen NOW then ….
"Hi Kat – Just want to say a big THANKS for the last 2 days. It was exactly what I needed! I am much more motivated and ready to tackle 2014 and my business! Its going to be my year!!"
"Hi Kat! – I just wanted to say thank you for the retreat. It was definitely what I was needing, clarity and direction wise."
"Thank you for the Retreat, It was an unforgettable experience and having the opportunity to share with you and your beautiful family in such an intimate setting with a group of fearless wealthy women (and fearless wildlife) was truly inspiring and empowering."
****
>>> Want to hang out with me and get clear on YOUR business direction so you can make MORE money in a way that suits you? Get on a plane and come to the GC this December 8 for my Fearless Wealthy Woman Mini Biz Bootcamp
PS
My Advanced High-Level Manifestation Intensive is about to kick off, and I'd love to invite you in!
4 Weeks of Hardcore Alignment & Asskickery to Kick Fear to the Curb and Live Your Every Dream in 2019!
https://thekatrinaruthshow.com/highlevelmanifestation2019/
What this is about? You finally doing what you say you're going to do, basically! In business, of course. But also in life, and every part of who you are.
And it's time to stop.
Stop making it so damned HARD.
Stop letting your blocks, your inner barriers, your fear, the self-worth bullshit RULE you.
Stop running around like a chicken with its head cut off and no real direction!
And for the love of God stop telling yourself the answer is outside of you when it was always within!
Instead?
Well, isn't it obvious?
Say yes to you.