News
New Study Shows Aerobic Exercise A Waste Of Time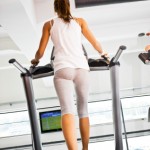 Amaaazing news. Finally it seems that the mainstream media is recognising the truth when it comes to ideal exercise for health and weight loss. And the big news (drum-roll please)? Cardio is most emphatically NOT the answer. Well. Obviously we already knew that, but it's nice to see a little bit more of the world catching up. So what's the new scoop? Well, according to this study, not only is cardio a bad idea for diabetes treatment (read: insulin and weight management), but it's also not so great for overall health and the prevention of heart disease.
I was first exposed to this concept about 5 or 6 years ago, and I gotta tell you – it took me a good 18 months to get my head around the idea. At that age health concerns such as heart disease and diabetes never even entered my mind, but the idea that cardio wouldn't keep me in great shape was mind-boggling. After all, wasn't that why I'd become a cardio queen in the first place? Convinced that my 2+ hours of the stuff was what was necessary to stay slim? Never mind that it never quite worked and never mind that I was always exhausted. Long story short, switching cardio (and low-cal – what a crock) for weights and plenty of protein'n'fat has whipped me into the best shape of my life but also leaves me feeling about a million percent better.
And I'm not the only one.
Recently a long-term client came in telling me how she'd suddenly lost weight after giving up cardio. In fact, she'd dropped about 3kg of stubborn belly fat in just 2 weeks. Fat that hadn't moved for months on her high-cardio program. I had to laugh – I'd been at her for about 2 years to drop the running, but it took her suddenly being too busy for such a huge time commitment and having to drop her sessions to weights to save time. Ah well, at least she got there in the end!
If you're thinking I must be craaaazy to be espousing such a radical approach to health and shaping you're probably not alone. But are you really going to insist on being so one-track-minded that you can't even consider the possibility of a new approach? After all, once upon a time we believed the world was flat …
Now I'm guessing at least one reader out there is going to look at this study and rant back at me about how it's too general or the sample size is too small or blah blah blah. And they'd be right – the study could be more detailed. But hey, it's just one more tiny but tough nail in the coffin of aerobic exercise. And it doesn't take a rocket scientist to realise that the whole energy in vs energy out argument is a crock anyway (yep, another one, am LOVING that word today).
And you know what? You can argue to the cows go home but when you're a) doing it with a much bigger load on your booty than what you'd probably like or b) only managing to stay in shape by carefully spaced-out near starvation coupled with 90 minutes+ endurance exercise per day then you're kinda shooting yourself in the foot. For the most part, weight loss and ideal health is very simple. Sure, it takes commitment, knowledge, and definitely some staying power, but it sure doesn't (need to) take over your life. And it's definitely more than just math. As this lovely lady recently discovered, eating higher calories and changing the way you workout could be just the answer you're looking for.
So. Isn't it time you caught up and kicked that nasty cardio habit once and for all? And if after all that you're still not sure (seriously!), then promise me this. Try it for a month. You'll have your answer. I guarantee it.
Life is Now. Press Play.
Kat
Life is Now. Press Play.
Kat x

PS
I want to help you to build a business you LOVE, and that meets your every want and desire, in a real and true way, whilst also resulting in you making a LOT of money, fast, and impacting a lot of people, also fast, in the way you know you were born for!
My most transformative 1:1 intensive EVER … shifting people into EPIC income and success since 2016 is back, for the first time in 2019! I'm so excited to bring this signature transformative work back!
Rich Hot Empire!
Work With Me for 6-Weeks Personally to Grow Your Perfect Cult Tribe, Create and Launch Your Low-High End EMPIRE, and Set Up Multiple Recurring Income Streams to Take You to Multiple 7-Figures and Beyond, Doing What You Love!
This round is even more special as I will be re-recording all original content, with you there live with me and alongside me AND you will also receive all original content; the exact trainings which has made this program my most successful ever, with clients repeatedly saying they achieved more in 6 weeks with me than they had in 2 YEARS beforehand! This work is for entrepreneurs at ANY starting point, as it's about who you are as a person not where you're at. I've had clients anywhere from total start-up, to already doing 500k+ / year go through Rich Hot Empire and all who have done this work have gone to a level of income as well as alignment and FLOW which they couldn't previously even imagine!
6-week personalised intensive high level mastermind
Weekly group training and support; multi-media training: visual + audio
'Done for You' Templates and Step-by-Step Worksheets
Personalised 1:1 coaching included, plus DAILY unlimited 1:1 access
My personal hand on your business success
Weekly group coaching call and hotseat with my other private clients
24/7 mastermind forum, networking and support
Very limited spaces
Results guaranteed
Not for everyone
STARTS THIS MONTH!
I'm so excited to do this work with a small group of badasses who are willing to SHOW UP FOR THEIR SOUL no matter what. To walk away from all that is not serving, not actually working, not FILLING you. And to all yourself to bring your truest desires to life. If that's you, or you've felt the call to work with me at this level, PM me now. Bonuses and fast action-taker investments apply to all successful applicants, but for the first 5 to say yes there is a very special $2000+ bonus specific around Soul Shifts & Money Makin', and which, in and of itself even before we begin RHE will have shit changing for you FAST.
Apply via PM only. I can't wait to speak with you!
PPS
HAVE YOU JOINED PURPOSE PASSION FLOW ACADEMY?
My 'Going Fully Quantum' training will break down ALL of what we've discussed today, and teach you the finer details and finesse of it, as well as exactly what needs to be true for you to APPLY it, not only into the practical actions you need to create THAT money flow and THOSE results, but also in terms of ALL the energetics of it, especially the 'being and non-being' around dropping in to superflow so you can be shown, create, receive, AND of course the being around not being one of those people who just can't seem to choose faith and are ruled by fear. We'll also talk about creating and integrating the exact wording, beliefs, emotions, energies YOU need for all of this to switch effortlessly for you, as you've always known it would.
In other words: EVERYTHING you need to know to go fully quantum, and double your income in 30 days or less, or whatever else you choose!
Where will you find this training?
Why, it's one of the very first training in 'Remembering Who You Always Were', which. is our June intensive for Purpose Passion Flow Academy, my SUPER low-cost monthly membership mastermind!
And this training?
Will change your freaking reality. Well – it will REMEMBER it.
It's all available to you gorgeous.
You know this already.,In the quantum it is DONE. And in Purpose Passion Flow Academy, and especially our June intensive 'Remembering Who You Always Were'? We gon' done do it.