News
Stress Management Is Easy With These Five Super-Foods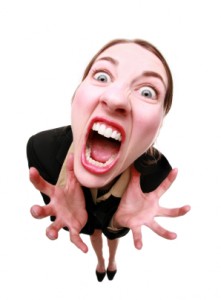 According to the Centers for Disease Control and Prevention up to 90 percent of doctor visits may be triggered by a stress-related illness. So it stands to reason that whether or not you're off to the GP at every sign of illness, chances are pretty good you're affected by stress. And – for the most part – the effects aren't pretty. Anxiety, low energy, poor sleep quality, mood swings – these are the things we learn to live with on a daily basis. Telling ourselves it's normal. That everyone feels this way.
Well common it might be, but normal it's not. And if you don't put steps into place to manage your stress right away then you're setting yourself up for even bigger problems. There may not be an unbroken chain of cause and effect between stress and chronic disease, but the links are there. And that's enough for me.
So how do you make stress management a stress-free part of your life? Well, you could quit work and take up the life of a government-handout couch-potato. Or head to the jungle with nothing but the clothes on your back. Or you could keep things simple and give your body the nutritional tools it needs to manage the most frantic and frenzied of lifestyle.
1. Vitamin B9 and B12 – well, actually, all 8 of the B vitamins are great for stress management, given that exposure to stress burns up existing B vitamins. This is particularly relevant if you suffer from anxiety or nervousness. Of all the B's, my favorites are B9 and B12, reason being they contribute to everyday detoxification and ensure you properly assimilate your food into energy. You can find vitamin B9, otherwise known as folic acid, in beans and green vegetables, while vitamin B12 is found in meats, fish, poultry, and dairy.
2. Antioxidants – the saviors of a stress-riddled body. Their job is to hunt down and destroy 'free radicals' which are unstable chemical bonds produced naturally by your body to improve immunity. However, they're also produced as a response to environmental, chemical and lifestyle stress, which means you're pretty much overrun by the darn things. This excess causes cell-by-cell damage and affects every element of your health. Antioxidants, which are extremely high in all berries, as well as legumes, dark chocolate, and even red wine, fight these damaging effects and can give you the energy you need to manage whatever may come your way.
3. Omega-3 – the lifeblood of a healthy body. Omega-3s (O-3) reduce inflammation (stress and inflammation are one and the same) and ensure a well-functioning metabolism. You can source O-3 from fatty fish such as sardines, herring, salmon, and also from flax seeds and walnuts. The only catch? Much of our fish is farmed, which reduces it's nutritional quality, and most fish is chock-full of mercury, a toxic metal that has been linked with Alzheimer's. Click here to find out how to get your O-3 the safe way, as well as to learn about just how powerful this stuff can be.
4. Vitamin C – prominant in red berries, kiwi, red and green bell peppers (capsicum), tomatoes, broccoli, spinach, and juices made from guava, grapefruit, and orange. A German study found that people with high levels of vitamin C not only fight both physical and psychological stress more effectively, but also bounce back from stressful situations far faster than their C-free counterparts.
5. Zinc – the foundation of all nutrients. Your body is incapable of adequately performing all metabolic function without sufficient zinc. This is because every vitamin and mineral you consume does its job more efficiently with the presence of zinc. If you're zinc deficient then you are absolutely performing below par, and if you train with weights or are remotely busy in your day-to-day life then you deplete zinc every single day. Oysters contain more zinc per serving than any other food, but red meat and poultry are also great sources, as are beans, nuts, crab, lobster (yum!), and dairy products.
You've heard about and no doubt believe in the benefits of preventative medicine, and these stress-fighting foods are certainly a prime example. So next time you visit your GP let it be for some sort of boring routine check-up, not as a last-ditch attempt to repair the ravages of a busy life plus poor nutrition.
And remember –
Life is Now. Press Play.
Kat
What do you do to manage stress? Don't forget to leave a comment on this post in the 'post a comment' section just below. If you're reading from RSS or email you'll have to enter the blog to do this. You can do that by clicking on the title of this piece. 'Post a comment' is at the article end, right under the 'share this' and 'related posts' options.
If you haven't yet subscribed to this feed, what are you waiting for? Do it now. You can choose either email or RSS by clicking here. If you enjoyed this article please forward to your friends. Thank-you!
PS
Expansion.
10 Days of Live Soul Transmissions, to Help You Find and Follow the Messages Within
Day 1) Trust
Day 2) Certainty
Day 3) Self-Belief
Day 4) Empire Creation
Day 5) Your Deepest Message
Day 6) Following Soul Guidance in All Areas
Day 7) Faith vs Fear
Day 8) Accessing Flow, and Superflow
Day 9) Expanding Time
Day 10) Expanding Money
Every day will be a LIVE soul led transmission.
This will take place on Facebook video, held at a variety of times in order to account for varying time zones, and scheduled only once we have begun. Our daily soul transmissions will be guided from MY higher self and directed from and for YOURS, to help you find and FOLLOW the messages within. The messages of your spirit, your consciousness, of the who you've always been and yet have managed quite well to cover up a lot of the time.
This is about stripping away –
And getting back to the CORE.
We'll dive day by day into the above mentioned areas –
And you'll receive all content and bonuses to keep for life.
There will be daily spirit prompts which you'll receive after each training.
And plenty of time opportunity connect with me throughout, receive transmissions direct to YOUR questions, and absorb more even than what comes through on the trainings, via the energy we'll create in this collective!
It's very rare for me to know in advance exactly what is coming through day to day.
I certainly don't have the details of each day's content. But I know that these areas have been on my heart to talk about, in particular around belief, around certainty, around living from FAITH.
We know that exactly what is meant to come through for you WILL, and then some. And that if you intend and allow for it to, it will change, most likely before we even begin, due to your energetic commitment, the direction of your LIFE!
Meaning: direct it back to absolute soul alignment.
*** NEVER Seen Before Bonus! ***
As part of this, I've been guided to offer a NEVER before seen bonus … one I feel super vulnerable about sharing!
It's the exact journaling I did to allow the download of THIS offer through. How I allowed the idea to bubble up. You'll see my doubt, uncertainty, annoyance. You'll see what I discarded. How I went through the layers. And how I KNEW, this was the one.
I'll ALSO add in copies (screenshots) of my conversation with my COO Ash, where I was talking through the idea and allowing it to come to life.
I want to show you the exact Idea to Launch process!
This bonus alone is EASILY worth the cost of this program, particularly when you hear the mindset side of it, in terms of STAYING THE COURSE and refusing to back away from my self until the idea showed up!
I refuse not to create!!
AND, when you register for EXPANSION today (and how could you not?!) you'll also receive early access to the Pre-Work. This is ALSO never seen before, and brand new just for you – and it's a guided meditation on remembrance, to help you connect back to deepest self and the most certain truth of your destiny, before we even begin.
Perfect priming, for when we expand RAPIDLY into all that is coming through in this work!
Of course I could now go on and on here, about what I could or should have charged for this, and what it's actually going to be …
Or about all my accomplishments on line and off, with money, with purpose, with passion, with flow …
I think you know all this anyway. Even if you just me! Your soul feels what matters. And that's ALL that matters.
But I will say this:
You've always known it's supposed to be about ALL that is inside of you. That it's meant to COME from a place of purpose, passion, and SUPER super flow. And that if you just.freaking.trusted, and showed up FULLY from that place, you'd be living in a different reality already.
THE ONE INSIDE OF YOU.
If that's true for you right now, then LET'S GO CREATE THAT REALITY.
Right now
Press play for regular, (super fuck yes!!) upfront or payment plan
OR
Press play like a VIP, and receive the full course, plus 10 days direct photos or screenshots of my ACTUAL personal journaling, so you can see how I create and expand my life, PLUS a VIP only follow-on live Hotseat, where you'll receive a personal transmission just for you, if you'd like one! Payment plan also available.
>>> https://thekatrinaruthshow.com/expansion
We start Monday 17 December, US time!