News
The Psychology Of Weight Loss (And Why You Can't Say No)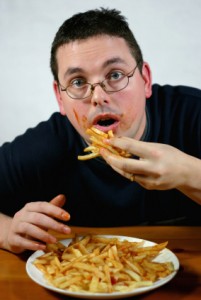 There comes a time in most of our lives when we have to stop and say enough is enough. When we're no longer willing to put up with a situation that's frustrated, stressed, or just plain annoyed us for months and maybe years. It might be saying no to unpaid and unappreciated overtime. It could be that you reach your wits ends at home and finally give your partner what for. That you realize a so-called friend is nothing but a negative grump whose attitude does nothing but drag you down to their level.
Or perhaps you've finally had it with carrying around those extra pounds. You're sick of shopping for larger sizes, pretending you don't care that you can't pull off the latest fashions, and with making excuses every time you skip a workout or hit the take-out after a long day.
Things changed for me when I realized I was in danger of becoming an overweight Personal Trainer. Shame of not looking the part was one thing, but the disappointment I had in myself for not being consistent was far more powerful. Enough was enough. I'd reached the point where I was willing to make drastic change in order to take back control of my body and my life. I resigned from my all-consuming job as a Personal Training Manager (a move that's been nothing but positive for my business and finances as well as my health), and forced myself back into some proper exercise habits. My health, fitness and energy improved rapidly, but the weight loss didn't follow at first. In fact, it took me a good year or two to figure out my problem.
I was a pig.
I just couldn't say no. Despite the fact that my partner at the time weighed 40kg (88 pounds) more than me, and that most of that was fuel-burning muscle, I regularly served myself the same amount as him. Sure, it was good healthy food – that's probably why I didn't recognize the problem at first. It had become normal for me to eat to overeat, and never to leave anything on my plate. After all, didn't Mum always used to say we couldn't leave the table until the plate was clear? Or no desserts till we've finished our mains?
When it comes to eating, we're programmed to believe that failure to say no is a good thing.
That it's a crime to leave a meal unfinished. And the real problem here is that you likely learned this habit as an active child and teenager, whilst being fed a pretty healthy, processed-food-free diet. Yes? But in the meantime, your daily activity levels have slowed and sometimes even ground to a halt, and the typical week's shop contains just a fraction of the wholesome fresh foods you grew up on. If you actually do such a thing as a weekly grocery shop, that is.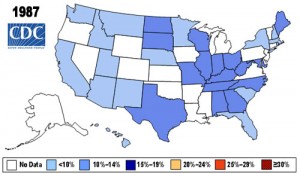 Hold that thought for a moment and take a look at this map of the USA. It's from the Center for Disease Control and Prevention (CDC) and outlines obesity trends across the different states in 1987. White states refer to not enough data, pale blue is obesity of less than 10%; medium blue 10-14%, dark blue 15-19%. As you can see, not a single state had an average obesity percentage of over 14%.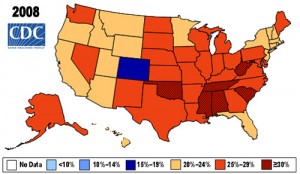 Compare it with this map outlining the trends from 2008. Only one lucky state sits in the 15-19% region. Beige is 20-24%, orange is 25-29%, and red is over 30%. Yesterday I read an article showing that New Zealand is number two behind the US in it's obesity trends, and Australia is number 3. The UK follows shortly after. What on earth are they going to do over the next 5-10 years? There'll be no more colors left! If you want to really give yourself a scare then go to the above CDC link and watch the slideshow of trends over the past 20 or so years. Pretty eye-opening stuff.
And now tell me this – is it still okay to never say no? To clear the plate at every sitting and keep nibbling until well into the evening? Or could it be time to say enough is enough?
That you don't need to eat dessert every night. Even if it's 'healthy'.
That mid-morning and mid-afternoon snacks, no matter how wholesome or fat-free (not that that's a good thing) they may be, could possibly be cut down dramatically or even skipped altogether if you just started the day right.
That perhaps it's not okay to serve and eat as much as your partner if they're bigger, more muscular, or more active than you are.
And that maybe, just maybe, it is okay to leave food on your plate. Especially when you consider that the average restaurant serving is up to twice as much as what you actually need, or what a typical serve was even 10 or 15 years ago.
What do you think? Is it time to say enough is enough once and for all?
Life is Now. Press Play.
Kat
Life is Now. Press Play.
Kat x
PS
I want to help you to build a business you LOVE, and that meets your every want and desire, in a real and true way, whilst also resulting in you making a LOT of money, fast, and impacting a lot of people, also fast, in the way you know you were born for!
My most transformative 1:1 intensive EVER … shifting people into EPIC income and success since 2016 is back, for the first time in 2019! I'm so excited to bring this signature transformative work back!
Rich Hot Empire!
Work With Me for 6-Weeks Personally to Grow Your Perfect Cult Tribe, Create and Launch Your Low-High End EMPIRE, and Set Up Multiple Recurring Income Streams to Take You to Multiple 7-Figures and Beyond, Doing What You Love!
This round is even more special as I will be re-recording all original content, with you there live with me and alongside me AND you will also receive all original content; the exact trainings which has made this program my most successful ever, with clients repeatedly saying they achieved more in 6 weeks with me than they had in 2 YEARS beforehand! This work is for entrepreneurs at ANY starting point, as it's about who you are as a person not where you're at. I've had clients anywhere from total start-up, to already doing 500k+ / year go through Rich Hot Empire and all who have done this work have gone to a level of income as well as alignment and FLOW which they couldn't previously even imagine!
6-week personalised intensive high level mastermind
Weekly group training and support; multi-media training: visual + audio
'Done for You' Templates and Step-by-Step Worksheets
Personalised 1:1 coaching included, plus DAILY unlimited 1:1 access
My personal hand on your business success
Weekly group coaching call and hotseat with my other private clients
24/7 mastermind forum, networking and support
Very limited spaces
Results guaranteed
Not for everyone
STARTS THIS MONTH!
I'm so excited to do this work with a small group of badasses who are willing to SHOW UP FOR THEIR SOUL no matter what. To walk away from all that is not serving, not actually working, not FILLING you. And to all yourself to bring your truest desires to life. If that's you, or you've felt the call to work with me at this level, PM me now. Bonuses and fast action-taker investments apply to all successful applicants, but for the first 5 to say yes there is a very special $2000+ bonus specific around Soul Shifts & Money Makin', and which, in and of itself even before we begin RHE will have shit changing for you FAST.
Apply via PM only. I can't wait to speak with you!
PPS
HAVE YOU JOINED PURPOSE PASSION FLOW ACADEMY?
My 'Going Fully Quantum' training will break down ALL of what we've discussed today, and teach you the finer details and finesse of it, as well as exactly what needs to be true for you to APPLY it, not only into the practical actions you need to create THAT money flow and THOSE results, but also in terms of ALL the energetics of it, especially the 'being and non-being' around dropping in to superflow so you can be shown, create, receive, AND of course the being around not being one of those people who just can't seem to choose faith and are ruled by fear. We'll also talk about creating and integrating the exact wording, beliefs, emotions, energies YOU need for all of this to switch effortlessly for you, as you've always known it would.
In other words: EVERYTHING you need to know to go fully quantum, and double your income in 30 days or less, or whatever else you choose!
Where will you find this training?
Why, it's one of the very first training in 'Remembering Who You Always Were', which. is our June intensive for Purpose Passion Flow Academy, my SUPER low-cost monthly membership mastermind!
And this training?
Will change your freaking reality. Well – it will REMEMBER it.
It's all available to you gorgeous.
You know this already.,In the quantum it is DONE. And in Purpose Passion Flow Academy, and especially our June intensive 'Remembering Who You Always Were'? We gon' done do it.