News
The Psychology Of Weight Loss (And Why You Can't Say No)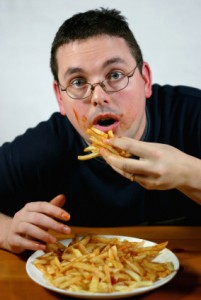 There comes a time in most of our lives when we have to stop and say enough is enough. When we're no longer willing to put up with a situation that's frustrated, stressed, or just plain annoyed us for months and maybe years. It might be saying no to unpaid and unappreciated overtime. It could be that you reach your wits ends at home and finally give your partner what for. That you realize a so-called friend is nothing but a negative grump whose attitude does nothing but drag you down to their level.
Or perhaps you've finally had it with carrying around those extra pounds. You're sick of shopping for larger sizes, pretending you don't care that you can't pull off the latest fashions, and with making excuses every time you skip a workout or hit the take-out after a long day.
Things changed for me when I realized I was in danger of becoming an overweight Personal Trainer. Shame of not looking the part was one thing, but the disappointment I had in myself for not being consistent was far more powerful. Enough was enough. I'd reached the point where I was willing to make drastic change in order to take back control of my body and my life. I resigned from my all-consuming job as a Personal Training Manager (a move that's been nothing but positive for my business and finances as well as my health), and forced myself back into some proper exercise habits. My health, fitness and energy improved rapidly, but the weight loss didn't follow at first. In fact, it took me a good year or two to figure out my problem.
I was a pig.
I just couldn't say no. Despite the fact that my partner at the time weighed 40kg (88 pounds) more than me, and that most of that was fuel-burning muscle, I regularly served myself the same amount as him. Sure, it was good healthy food – that's probably why I didn't recognize the problem at first. It had become normal for me to eat to overeat, and never to leave anything on my plate. After all, didn't Mum always used to say we couldn't leave the table until the plate was clear? Or no desserts till we've finished our mains?
When it comes to eating, we're programmed to believe that failure to say no is a good thing.
That it's a crime to leave a meal unfinished. And the real problem here is that you likely learned this habit as an active child and teenager, whilst being fed a pretty healthy, processed-food-free diet. Yes? But in the meantime, your daily activity levels have slowed and sometimes even ground to a halt, and the typical week's shop contains just a fraction of the wholesome fresh foods you grew up on. If you actually do such a thing as a weekly grocery shop, that is.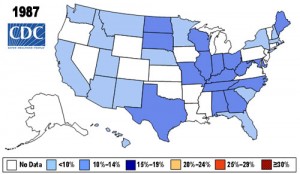 Hold that thought for a moment and take a look at this map of the USA. It's from the Center for Disease Control and Prevention (CDC) and outlines obesity trends across the different states in 1987. White states refer to not enough data, pale blue is obesity of less than 10%; medium blue 10-14%, dark blue 15-19%. As you can see, not a single state had an average obesity percentage of over 14%.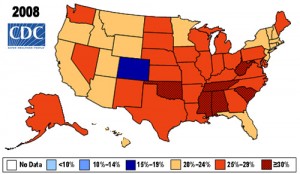 Compare it with this map outlining the trends from 2008. Only one lucky state sits in the 15-19% region. Beige is 20-24%, orange is 25-29%, and red is over 30%. Yesterday I read an article showing that New Zealand is number two behind the US in it's obesity trends, and Australia is number 3. The UK follows shortly after. What on earth are they going to do over the next 5-10 years? There'll be no more colors left! If you want to really give yourself a scare then go to the above CDC link and watch the slideshow of trends over the past 20 or so years. Pretty eye-opening stuff.
And now tell me this – is it still okay to never say no? To clear the plate at every sitting and keep nibbling until well into the evening? Or could it be time to say enough is enough?
That you don't need to eat dessert every night. Even if it's 'healthy'.
That mid-morning and mid-afternoon snacks, no matter how wholesome or fat-free (not that that's a good thing) they may be, could possibly be cut down dramatically or even skipped altogether if you just started the day right.
That perhaps it's not okay to serve and eat as much as your partner if they're bigger, more muscular, or more active than you are.
And that maybe, just maybe, it is okay to leave food on your plate. Especially when you consider that the average restaurant serving is up to twice as much as what you actually need, or what a typical serve was even 10 or 15 years ago.
What do you think? Is it time to say enough is enough once and for all?
Life is Now. Press Play.
Kat
If you're a regular reader and haven't been active in the BodyIncredible community then now is the time – I want your involvement, your feedback, and your questions! So why not make this the day to leave a comment before you go – if you're reading from RSS or email you'll have to enter the blog to do this. You can do that by clicking on the title of this piece. 'Post a comment' is at the article end, right under the 'share this' and 'related posts' options.
If you haven't yet subscribed to this feed, what are you waiting for? Do it now. You can choose either email or RSS by clicking here. If you enjoyed this article please forward to your friends. Thank-you!
PS
Expansion.
10 Days of Live Soul Transmissions, to Help You Find and Follow the Messages Within
Day 1) Trust
Day 2) Certainty
Day 3) Self-Belief
Day 4) Empire Creation
Day 5) Your Deepest Message
Day 6) Following Soul Guidance in All Areas
Day 7) Faith vs Fear
Day 8) Accessing Flow, and Superflow
Day 9) Expanding Time
Day 10) Expanding Money
Every day will be a LIVE soul led transmission.
This will take place on Facebook video, held at a variety of times in order to account for varying time zones, and scheduled only once we have begun. Our daily soul transmissions will be guided from MY higher self and directed from and for YOURS, to help you find and FOLLOW the messages within. The messages of your spirit, your consciousness, of the who you've always been and yet have managed quite well to cover up a lot of the time.
This is about stripping away –
And getting back to the CORE.
We'll dive day by day into the above mentioned areas –
And you'll receive all content and bonuses to keep for life.
There will be daily spirit prompts which you'll receive after each training.
And plenty of time opportunity connect with me throughout, receive transmissions direct to YOUR questions, and absorb more even than what comes through on the trainings, via the energy we'll create in this collective!
It's very rare for me to know in advance exactly what is coming through day to day.
I certainly don't have the details of each day's content. But I know that these areas have been on my heart to talk about, in particular around belief, around certainty, around living from FAITH.
We know that exactly what is meant to come through for you WILL, and then some. And that if you intend and allow for it to, it will change, most likely before we even begin, due to your energetic commitment, the direction of your LIFE!
Meaning: direct it back to absolute soul alignment.
*** NEVER Seen Before Bonus! ***
As part of this, I've been guided to offer a NEVER before seen bonus … one I feel super vulnerable about sharing!
It's the exact journaling I did to allow the download of THIS offer through. How I allowed the idea to bubble up. You'll see my doubt, uncertainty, annoyance. You'll see what I discarded. How I went through the layers. And how I KNEW, this was the one.
I'll ALSO add in copies (screenshots) of my conversation with my COO Ash, where I was talking through the idea and allowing it to come to life.
I want to show you the exact Idea to Launch process!
This bonus alone is EASILY worth the cost of this program, particularly when you hear the mindset side of it, in terms of STAYING THE COURSE and refusing to back away from my self until the idea showed up!
I refuse not to create!!
AND, when you register for EXPANSION today (and how could you not?!) you'll also receive early access to the Pre-Work. This is ALSO never seen before, and brand new just for you – and it's a guided meditation on remembrance, to help you connect back to deepest self and the most certain truth of your destiny, before we even begin.
Perfect priming, for when we expand RAPIDLY into all that is coming through in this work!
Of course I could now go on and on here, about what I could or should have charged for this, and what it's actually going to be …
Or about all my accomplishments on line and off, with money, with purpose, with passion, with flow …
I think you know all this anyway. Even if you just me! Your soul feels what matters. And that's ALL that matters.
But I will say this:
You've always known it's supposed to be about ALL that is inside of you. That it's meant to COME from a place of purpose, passion, and SUPER super flow. And that if you just.freaking.trusted, and showed up FULLY from that place, you'd be living in a different reality already.
THE ONE INSIDE OF YOU.
If that's true for you right now, then LET'S GO CREATE THAT REALITY.
Right now
Press play for regular, (super fuck yes!!) upfront or payment plan
OR
Press play like a VIP, and receive the full course, plus 10 days direct photos or screenshots of my ACTUAL personal journaling, so you can see how I create and expand my life, PLUS a VIP only follow-on live Hotseat, where you'll receive a personal transmission just for you, if you'd like one! Payment plan also available.
>>> https://thekatrinaruthshow.com/expansion
We start Monday 17 December, US time!