News
Want Jennifer Aniston's Lean Physique? Here's How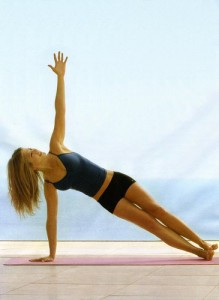 Love her or hate her (or her hair), there's no denying Jennifer Aniston has a hot body wanted, albeit in different ways no doubt, by girls and guys alike.
Of course it doesn't take long to research how she got in such great shape, but what you really want to know is how can you translate that into sculpting and toning your body into a lean work of art.
Let's take a look at what Ms Aniston does and how that can benefit you:
How Jennifer Aniston Eats
Jennifer's a long-time fan of the Zone diet (40% carbs, 30% fat, 30% protein) and one of its most famous success stories. So should you jump on the Barry Sears bandwagon?
In my experience the Zone diet is one of the lesser of many diet evils out there in the big bad world of Internet health-care. Compared with conventional health wisdown (food pyramids and typical magazine advice), the Zone at least has decently indicated your requirement for significant proteins and fats.
But if there's one thing I've learnt over the years it's that one-size-fits-all does not work. And when in doubt, cut back on carbs. Before you label me 'crazy Atkins label'. (I've never followed Atkins specific advice although the way I eat is pretty similar), consider this. If you lived in nature, as you're designed to, you wouldn't have access to all year round carbohydrates such as grains, fruits, and even most vegetables.
If you're thinking maybe this could explain why eating vast quantities of the stuff month in-month out could be screwing with your health and your metabolism, you'd be right. I've written previously on seasonal eating but what you really need to do to be in great shape is eat right for your unique metabolic type. I've used Metabolic Typing with literally hundreds of clients, and have had phenomenal results across the board. This is because everybody's different. Jen's been lucky enough to hit on the right diet for her, but who'se to say it'll work for you. Find out more about Metabolic Typing here.
What Sort Of Exercise Does Jennifer Aniston Do
Jen's a big spruiker for Budoken, a celebrity-rich, LA based (where else!) integration of yoga and martial and living arts. Budoken is not yet available all over the world, but yoga and martial arts sure are, and – as you can see – she's definitely on the right track here.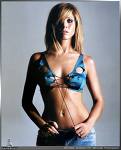 If you want to whip yourself into tip-top shape, then you absolutely must incorporate some form of strength training into your exercise routine. Strength training – typically with weights but martial arts and some forms of yoga are also great – is the best way to build lean muscle and increase your base metabolic rate. You don't have to worry about ending up bulky – you'd need a specific 'muscle-gain' program to do that. I advise all my clients to lift weights at least 2-3 times each week for 30-45 minutes, and have found this by far the most effective way to lose body fat and create a sculpted look.
I also advise my clients to complement their weight training/strength work with some stretching, and I've personally found Bikram yoga to be my favourite way to do this. You've got heat, you've got stretching, you've got core and strength work designed to create long lean muscle – what more could you want! I highly recommend you add in some yoga and/or some martial arts to your weekly routine if you're looking to be in tip-top shape.
PS – cardio will NOT give you a great body! In fact, it will probably make you gain weight. Check out this article if you're not convinced.
What Else Does Jennifer Aniston Do To Look So Amazing?
Well we have to assume she has more than the average amount of assistance in the kitchen, home, workout room, and life in general. It's easy to assume that you too could effortlessly be in great shape if you were rich or famous, but the truth is that every hot, fit celebrity has worked hard to look the way they do. And with a fair bit of public scrutiny that you probably don't have to deal with.
The long and short of it is that reading this blog and other like-minded info sources (check out my list of recommended blogs below on the right) will give you all the info you need to make your own hot body, but it's still up to you to do the work. I guess it helps to remember that being in great shape is as much a journey as a destination – I hope this article has given you some useful pointers for the next leg of your BodyIncredible trip!
Life is Now. Press Play.
Kat
Don't forget to leave a comment on this post by clicking on 'leave a comment' just below. If you're reading from RSS or email you'll have to enter the blog to do this. You can do that by clicking on the title of this piece. 'Leave a comment' is at the article end, right under the 'share this' and 'other articles you may enjoy' option.
If you haven't yet subscribed to this feed, what are you waiting for? Do it now. You can choose either email or RSS by clicking here. If you enjoyed this article please forward to your friends. Thank-you!
PS
Expansion.
10 Days of Live Soul Transmissions, to Help You Find and Follow the Messages Within
Day 1) Trust
Day 2) Certainty
Day 3) Self-Belief
Day 4) Empire Creation
Day 5) Your Deepest Message
Day 6) Following Soul Guidance in All Areas
Day 7) Faith vs Fear
Day 8) Accessing Flow, and Superflow
Day 9) Expanding Time
Day 10) Expanding Money
Every day will be a LIVE soul led transmission.
This will take place on Facebook video, held at a variety of times in order to account for varying time zones, and scheduled only once we have begun. Our daily soul transmissions will be guided from MY higher self and directed from and for YOURS, to help you find and FOLLOW the messages within. The messages of your spirit, your consciousness, of the who you've always been and yet have managed quite well to cover up a lot of the time.
This is about stripping away –
And getting back to the CORE.
We'll dive day by day into the above mentioned areas –
And you'll receive all content and bonuses to keep for life.
There will be daily spirit prompts which you'll receive after each training.
And plenty of time opportunity connect with me throughout, receive transmissions direct to YOUR questions, and absorb more even than what comes through on the trainings, via the energy we'll create in this collective!
It's very rare for me to know in advance exactly what is coming through day to day.
I certainly don't have the details of each day's content. But I know that these areas have been on my heart to talk about, in particular around belief, around certainty, around living from FAITH.
We know that exactly what is meant to come through for you WILL, and then some. And that if you intend and allow for it to, it will change, most likely before we even begin, due to your energetic commitment, the direction of your LIFE!
Meaning: direct it back to absolute soul alignment.
*** NEVER Seen Before Bonus! ***
As part of this, I've been guided to offer a NEVER before seen bonus … one I feel super vulnerable about sharing!
It's the exact journaling I did to allow the download of THIS offer through. How I allowed the idea to bubble up. You'll see my doubt, uncertainty, annoyance. You'll see what I discarded. How I went through the layers. And how I KNEW, this was the one.
I'll ALSO add in copies (screenshots) of my conversation with my COO Ash, where I was talking through the idea and allowing it to come to life.
I want to show you the exact Idea to Launch process!
This bonus alone is EASILY worth the cost of this program, particularly when you hear the mindset side of it, in terms of STAYING THE COURSE and refusing to back away from my self until the idea showed up!
I refuse not to create!!
AND, when you register for EXPANSION today (and how could you not?!) you'll also receive early access to the Pre-Work. This is ALSO never seen before, and brand new just for you – and it's a guided meditation on remembrance, to help you connect back to deepest self and the most certain truth of your destiny, before we even begin.
Perfect priming, for when we expand RAPIDLY into all that is coming through in this work!
Of course I could now go on and on here, about what I could or should have charged for this, and what it's actually going to be …
Or about all my accomplishments on line and off, with money, with purpose, with passion, with flow …
I think you know all this anyway. Even if you just me! Your soul feels what matters. And that's ALL that matters.
But I will say this:
You've always known it's supposed to be about ALL that is inside of you. That it's meant to COME from a place of purpose, passion, and SUPER super flow. And that if you just.freaking.trusted, and showed up FULLY from that place, you'd be living in a different reality already.
THE ONE INSIDE OF YOU.
If that's true for you right now, then LET'S GO CREATE THAT REALITY.
Right now
Press play for regular, (super fuck yes!!) upfront or payment plan
OR
Press play like a VIP, and receive the full course, plus 10 days direct photos or screenshots of my ACTUAL personal journaling, so you can see how I create and expand my life, PLUS a VIP only follow-on live Hotseat, where you'll receive a personal transmission just for you, if you'd like one! Payment plan also available.
>>> https://thekatrinaruthshow.com/expansion
We start Monday 17 December, US time!