News
5 Overlooked Reasons To Hit The Gym Tonight!
I'd like to introduce Patrick Hitches of Foundation Fitness. It's not often I come across another blog that I feel really emulates the principles of Body Incredible, but Patrick does just that. As well as being highly knowledgeable in the staple fields of nutrition and exercise, Patrick has some really great thought-provoking articles on his blog. As you know, results only follow when the appropriate mindset is firmly in place and I think you'll find Patrick's expertise key in this area.
Today's post is a guest post from Foundation Fitness. Enjoy!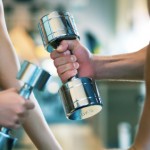 If you're already a gym rat, this is just a friendly reminder of why you choose to put in the hard work.  If you struggle to find the motivation… read, embrace and plan the work.  Then work your plan and make it happen.
1. It's an escape. No work, No cell, No co-workers…
Insert the headphones, find your favorite playlist and let your mind drift and focus on you. This time alone invites you to "check-in" and be with your awesome and wonderful "self" for however long you choose… each and every day. Your body is yours to create… escape and get creative.
2. Reduces stress levels by releasing emotional steam
The natural endorphins that your body releases during intense training helps you deal with stress effectively, confidently and consciously.
3. Sleep tight
While great sleep is a benefit of exercise we often times forget to acknowledge, you will knock out like a light. Consequently, this makes rising in the morning much easier. The 5 cups of coffee during the day can, and should be, a thing of the past. Hit the gym. Rest. Then rise with a fresh view on life all together.
4. Live longer
So you're exercising regularly. Your view and feeling on life as a whole has been greatly enhanced. With all the obvious benefits to your hard work, you now get to enjoy it even longer. Can it get any better? … I didn't think so.
5. You don't have a choice
When it comes to keeping a fit body, it truly lives by the old adage of: if you don't use it – you will lose it. Keep your daily habits at a conscious level and continue to work on bettering yourself on all levels physically, psychologically, and emotionally.
Whether you love the weights or hit the pavement with your new running shoes, get out and grab your physical fix…
Cheers!
Patrick Hitches
Thanks Pat! Don't forget to check out Foundation Fitness the blog!
Now remember –
Life is Now. Press Play.
Kat
PS.
GORGEOUS ONE. WARRIOR WOMAN. LEADER. REVOLUTIONARY. CALLED ONE. YES, YOU.
WARRIOR LEADER begins May 1st. Our PRE-WORK begins this week! (It is personalised to you!)
And?
The initial price has been extended / is still on!
Here is what this comes down to though. Because it's not really whether or not you join in the initial price intake.
This is 6 weeks in which you will be SHARPENED THROUGH FIRE TO BE WHO HE SENT YOU TO BE.
Yes this pertains to business.
It pertains to life.
It pertains to YOU.
This is work unlike anything I've ever led or created before.
And unlike anything you've ever encountered.
It is 100% God revealed. God led. And God ENTRUSTED.
It is,
quite simply,
WHAT IT IS TIME FOR
FOR WHO IT IS TIME FOR
AND NOW
Details
+ your place
+ visions God shared with me for you
www.thekatrinaruthshow.com/warriorleader
WARRIOR LEADER:
For the Woman With a Burning Desire for MORE, Who Is Ready to See Fire Raining From the Heavens in Every FACET of Her Life as She Says Fully Yes to Who God Designed Her to Be.
FOR YOU.