News
Do You Have A Tummy Type?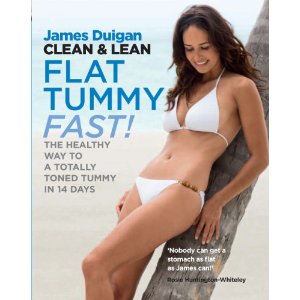 Elle Macpherson's personal trainer and nutritional adviser, James Duigan, has written a book which doesn't look half bad. It's called 'Clean & Lean: Flat Tummy Fast!', and there was a really interesting excerpt from it in yesterday's Body and Soul. I haven't read the book, so I don't know exactly what he's promoting when it comes to food, but his concept of 'tummy types' is definitely a smart one, and – in my opinion – could be worth looking at if you struggle to lose fat on this area.
what on earth is a tummy type?
So basically a tummy type expert will 'read' your stomach, much like a fortune teller does a cup of tea leaves. Sounds interesting, huh? Okay, I'm kidding! Bet I had a few of you going there though 🙂
No, a tummy type is much more scientifically based … you already know that losing stubborn belly fat can be one of the toughest aspects transforming your body, and what James has done here is identify common reasons why that might be an issue for you. The concept of individuality when it comes to fat loss is, of course, nothing new, and you probably already know that cortisol can increase fat storage around the bellybutton, or that an estrogen overload can give you a swinging booty. All of these are things that we look at with the Biosignature, as are the reasons behind different tummy types or indeed different anywhere types.
bloated, stressed, or just plain overweight?
James mentioned four different tummy types in yesterday's article:
1. The post-baby tummy. No need to explain that one I think! His advice in this area is to work on pelvic floor exercises (and yes, do do them daily), and to supplement with fish oil. Fish oil (which you know I'm a big fan of) switches on your fat burning genes and switches off your fat storing genes. Seriously good stuff. This is the stuff I use. If you downloaded my recent audio interview on female fat loss and what I did to get back in shape post-baby, you would have heard me mention fish oil. (PS: all proceeds of that audio go flood relief)
2. The bloated tummy. Again, I think no need to explain – if you suffer a bloated belly you definitely know all about it, don't you? What you might not realise is that bloating can typically relate to inflammation and digestive upset. With Biosignature we always test digestion from the first session – if you think your digestion may be impaired then you definitely should see your health practitioner about this. Of course one reason for bloating and poor digestion is food intolerance. You can have this tested in a lab, or you can try a 2 week food elimination test. I talk about this in detail in my book, but it's pretty simple really. Basically just cut out the suspected food for 2 weeks, and see what changes!
3. The overweight tummy. This is simply too much fat! James recommends increasing exercise and limiting alcohol, sugar, starchy and refined carbs. His advice is to replace them with whole protein and non-starchy carbs like vegetables. Great advice!
4. The stress tummy. The stress tummy is one I've seen quite often with my busy corporate clients. Typically, the ones who indulge in lots of meals out ('client dinners'). As James says, people with stress tummies tend to be over-achievers with a perfectionist streak. Anyone …. anyone? The fat is usually fairly hard, and it's quite dangerous fat as it sits around your vital organs. It can help to ditch stimulants, as well as make the 'overweight tummy' dietary changes, and to use soothing teas like chamomile, ginger, chicory, lemon. Stress tummy types should also take fish oil according to James (I would say everyone should take fish oil), and they may also benefit from magnesium in the evenings. Magnesium can help you wind down, thus lowering cortisol and improving sleep quality.
I'd be interested to hear from anyone who has read the whole book, and I'd definitely be interested to hear what your thoughts are on tummy typing, and if you're going to give James' advice a go.
Don't forget –
Life is Now. Press Play.
Kat x
PS
I HAVE SOME BIG NEWS TO SHARE!
As of today, I'm opening up the doors to my Inner Circle, my 12 month private client mastermind.
This is THE most badass high level mastermind in the world for women who want it all – and are prepared to do what it takes to get it! Really what we're talking about is being prepared to be the PERSON.
And that's what I do. I help you remember ALL that you were, and then become it. ALL Of it.
This is my highest level private mentoring circle. The exact place where I have personally mentored dozens of this industry's most elite female entrepreneurs to break income barriers ranging from 10k months to multiple 7 FIGURE months, and everything in between. But more importantly than that – to become who and what they always were.
But know that this is not only (obviously) not just for the masses, this is also not just for someone who can afford to invest in a high level private coach. Being willing to throw money down is something which has absolutely zero correlation to being somebody who has what it takes to TRULY go next level as a leader.
If anything, in this industry, investing in a high level coach such as myself, is a rite of passage which veers just a little too much on the side of 'trend'. It's become something which 'everybody does', almost as a way of proving they play business and life a certain way.
Maybe even of trying to prove it to themselves.
Here is the reality which those who I am truly here to personally mentor and lead KNOW, the reality which my clients and all women like me as well as of course me personally have ALWAYS known:
We are VERY VERY DIFFERENT.
We are simply, smarter, faster, and have more presence. We can do more in our minds before breakfast than what most people can do in a freakin' WEEK, a month, a year.
We are not basic ass coaches trying to heave ho our way up a few extra thou a month.
We are the ones who have ALWAYS known we are 1% within the 1% within the 1% in terms of how we think, create, operate, how and WHAT we are tapped in too.
This is not arrogance, this is fact.
And there has NEVER been any question but that we will go all the way.
My clients are high level badasses who do the work, who have a proven track record BEFORE coming to me, and a BEING-ness which unquestionably separates them from the rest. They don't come to me to save them or lean down and hold my hand out so they can clamber up. They come because they are, quite simply, ready to go to the next level, already absolutely on their WAY there, and see in me something which they recognise because it is in them.
That 'can't stop won't stop' fire, and a level of 'unapologeticness' which, when truly understood and applied, can literally be the difference between 5-figure or low 6-figure and 7 or multi-7-figure entrepreneur.
So if you know who you are and it is THAT –
And you feel certain that you are ALREADY well on your way to to precisely where you're meant to be, but that being in MY energy could help you to drop in and get there even faster, and that with a couple of simple tweaks your current revenue could be doubling, tripling, heck QUADRUPLING and beyond in months, as it has done with numerous of my clients previously, well then –
PM me here http://m.me/katrinaruthofficial and we'll see if it's a fit. I'm excited to talk to you, and maybe – do biz and life with you.