News
Do You Have A Tummy Type?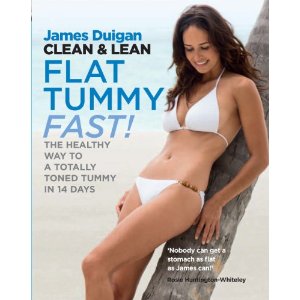 Elle Macpherson's personal trainer and nutritional adviser, James Duigan, has written a book which doesn't look half bad. It's called 'Clean & Lean: Flat Tummy Fast!', and there was a really interesting excerpt from it in yesterday's Body and Soul. I haven't read the book, so I don't know exactly what he's promoting when it comes to food, but his concept of 'tummy types' is definitely a smart one, and – in my opinion – could be worth looking at if you struggle to lose fat on this area.
what on earth is a tummy type?
So basically a tummy type expert will 'read' your stomach, much like a fortune teller does a cup of tea leaves. Sounds interesting, huh? Okay, I'm kidding! Bet I had a few of you going there though 🙂
No, a tummy type is much more scientifically based … you already know that losing stubborn belly fat can be one of the toughest aspects transforming your body, and what James has done here is identify common reasons why that might be an issue for you. The concept of individuality when it comes to fat loss is, of course, nothing new, and you probably already know that cortisol can increase fat storage around the bellybutton, or that an estrogen overload can give you a swinging booty. All of these are things that we look at with the Biosignature, as are the reasons behind different tummy types or indeed different anywhere types.
bloated, stressed, or just plain overweight?
James mentioned four different tummy types in yesterday's article:
1. The post-baby tummy. No need to explain that one I think! His advice in this area is to work on pelvic floor exercises (and yes, do do them daily), and to supplement with fish oil. Fish oil (which you know I'm a big fan of) switches on your fat burning genes and switches off your fat storing genes. Seriously good stuff. This is the stuff I use. If you downloaded my recent audio interview on female fat loss and what I did to get back in shape post-baby, you would have heard me mention fish oil. (PS: all proceeds of that audio go flood relief)
2. The bloated tummy. Again, I think no need to explain – if you suffer a bloated belly you definitely know all about it, don't you? What you might not realise is that bloating can typically relate to inflammation and digestive upset. With Biosignature we always test digestion from the first session – if you think your digestion may be impaired then you definitely should see your health practitioner about this. Of course one reason for bloating and poor digestion is food intolerance. You can have this tested in a lab, or you can try a 2 week food elimination test. I talk about this in detail in my book, but it's pretty simple really. Basically just cut out the suspected food for 2 weeks, and see what changes!
3. The overweight tummy. This is simply too much fat! James recommends increasing exercise and limiting alcohol, sugar, starchy and refined carbs. His advice is to replace them with whole protein and non-starchy carbs like vegetables. Great advice!
4. The stress tummy. The stress tummy is one I've seen quite often with my busy corporate clients. Typically, the ones who indulge in lots of meals out ('client dinners'). As James says, people with stress tummies tend to be over-achievers with a perfectionist streak. Anyone …. anyone? The fat is usually fairly hard, and it's quite dangerous fat as it sits around your vital organs. It can help to ditch stimulants, as well as make the 'overweight tummy' dietary changes, and to use soothing teas like chamomile, ginger, chicory, lemon. Stress tummy types should also take fish oil according to James (I would say everyone should take fish oil), and they may also benefit from magnesium in the evenings. Magnesium can help you wind down, thus lowering cortisol and improving sleep quality.
I'd be interested to hear from anyone who has read the whole book, and I'd definitely be interested to hear what your thoughts are on tummy typing, and if you're going to give James' advice a go.
Life is Now. Press Play.
Kat x

PS
I want to help you to build a business you LOVE, and that meets your every want and desire, in a real and true way, whilst also resulting in you making a LOT of money, fast, and impacting a lot of people, also fast, in the way you know you were born for!
My most transformative 1:1 intensive EVER … shifting people into EPIC income and success since 2016 is back, for the first time in 2019! I'm so excited to bring this signature transformative work back!
Rich Hot Empire!
Work With Me for 6-Weeks Personally to Grow Your Perfect Cult Tribe, Create and Launch Your Low-High End EMPIRE, and Set Up Multiple Recurring Income Streams to Take You to Multiple 7-Figures and Beyond, Doing What You Love!
This round is even more special as I will be re-recording all original content, with you there live with me and alongside me AND you will also receive all original content; the exact trainings which has made this program my most successful ever, with clients repeatedly saying they achieved more in 6 weeks with me than they had in 2 YEARS beforehand! This work is for entrepreneurs at ANY starting point, as it's about who you are as a person not where you're at. I've had clients anywhere from total start-up, to already doing 500k+ / year go through Rich Hot Empire and all who have done this work have gone to a level of income as well as alignment and FLOW which they couldn't previously even imagine!
6-week personalised intensive high level mastermind
Weekly group training and support; multi-media training: visual + audio
'Done for You' Templates and Step-by-Step Worksheets
Personalised 1:1 coaching included, plus DAILY unlimited 1:1 access
My personal hand on your business success
Weekly group coaching call and hotseat with my other private clients
24/7 mastermind forum, networking and support
Very limited spaces
Results guaranteed
Not for everyone
STARTS THIS MONTH!
I'm so excited to do this work with a small group of badasses who are willing to SHOW UP FOR THEIR SOUL no matter what. To walk away from all that is not serving, not actually working, not FILLING you. And to all yourself to bring your truest desires to life. If that's you, or you've felt the call to work with me at this level, PM me now. Bonuses and fast action-taker investments apply to all successful applicants, but for the first 5 to say yes there is a very special $2000+ bonus specific around Soul Shifts & Money Makin', and which, in and of itself even before we begin RHE will have shit changing for you FAST.
Apply via PM only. I can't wait to speak with you!
PPS
HAVE YOU JOINED PURPOSE PASSION FLOW ACADEMY?
My 'Going Fully Quantum' training will break down ALL of what we've discussed today, and teach you the finer details and finesse of it, as well as exactly what needs to be true for you to APPLY it, not only into the practical actions you need to create THAT money flow and THOSE results, but also in terms of ALL the energetics of it, especially the 'being and non-being' around dropping in to superflow so you can be shown, create, receive, AND of course the being around not being one of those people who just can't seem to choose faith and are ruled by fear. We'll also talk about creating and integrating the exact wording, beliefs, emotions, energies YOU need for all of this to switch effortlessly for you, as you've always known it would.
In other words: EVERYTHING you need to know to go fully quantum, and double your income in 30 days or less, or whatever else you choose!
Where will you find this training?
Why, it's one of the very first training in 'Remembering Who You Always Were', which. is our June intensive for Purpose Passion Flow Academy, my SUPER low-cost monthly membership mastermind!
And this training?
Will change your freaking reality. Well – it will REMEMBER it.
It's all available to you gorgeous.
You know this already.,In the quantum it is DONE. And in Purpose Passion Flow Academy, and especially our June intensive 'Remembering Who You Always Were'? We gon' done do it.