News
A Week In The Life Of A Typical Personal Training Client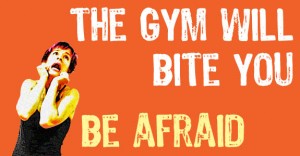 I thought you might find this interesting, it's a letter that one of my colleagues received from a client of hers. An insight into what you really should expect as a personal training client!

"For my birthday this year, my daughter (the dear) purchased a week of personal training at the local health club for me. Although I am still in great shape since being a high school football cheerleader 33 years ago, I decided it would be a good idea to go ahead and give it a try.
I called the club and made my reservations with a personal trainer named Belinda, who identified herself as a 26-year-old aerobics instructor and model for athletic clothing and swim wear.
My daughter seemed pleased with my enthusiasm to get started! The club encouraged me to keep a diary to chart my progress, so here goes.
MONDAY
Started my day at 6:00 a.m. Tough to get out of bed, but found it was well worth it when I arrived at the health club to find Belinda waiting for me. She is something of a Greek goddess – with blond hair, dancing eyes and a dazzling white smile. Woo Hoo!!
Belinda gave me a tour and showed me the machines. I enjoyed watching the skillful way in which she conducted her aerobics class after my workout today. Very inspiring!
Belinda was encouraging as I did my sit-ups, although my gut was already aching from holding it in the whole time she was around. This is going to be a FANTASTIC week!
TUESDAY
I drank a whole pot of coffee, but I finally made it out the door. Belinda made me lie on my back and push a heavy iron bar into the air then she put weights on it! My legs were a little wobbly on the treadmill, but I made the full mile. Belinda's rewarding smile made it all worthwhile. I feel GREAT!
It's a whole new life for me.
WEDNESDAY
The only way I can brush my teeth is by laying the toothbrush on the counter and moving my mouth back and forth over it. I believe I have a hernia in both pectorals. Driving was OK as long as I didn't try to steer or stop. I parked on top of a Corolla in the club parking lot.
Belinda was impatient with me, insisting that my screams bothered other club members. Her voice is a little too perky for that early in the morning and when she scolds, she gets this nasally whine that is VERY annoying.
My chest hurt when I got on the treadmill, so Belinda put me on the stair monster. Why the hell would anyone invent a machine to simulate an activity rendered obsolete by elevators? Belinda told me it would help me get in shape and enjoy life.
She said some other shit too.
THURSDAY
Belinda was waiting for me with her vampire-like teeth exposed as her thin, cruel lips were pulled back in a full snarl. I couldn't help being a half an hour late – it took me that long to tie my shoes. Belinda took me to work out with dumbbells. When she was not looking, I ran and hid in the rest-room. She sent another skinny bitch to find me.
Then, as punishment, she put me on the rowing machine — which I sank.
FRIDAY
I hate that bitch Belinda more than any human being has ever hated any other human being in the history of the world. Stupid, skinny, anemic, anorexic little cheerleader. If there was a part of my body I could move without unbearable pain, I would beat her with it. Belinda wanted me to work on my triceps. I don't have any triceps! And if you don't want dents in the floor, don't hand me the damn barbells or anything that weighs more than a sandwich.
The treadmill flung me off and I landed on a health and nutrition teacher. Why couldn't it have been someone softer, like the drama coach or the choir director?
SATURDAY
Belinda left a message on my answering machine in her grating, shrilly voice wondering why I did not show up today. Just hearing her voice made me want to smash the machine with my planner; however, I lacked the strength to even use the TV remote and ended up catching eleven straight hours of the Weather Channel.
SUNDAY
I'm having the Church van pick me up for services today so I can go and thank GOD that this week is over. I will also pray that next year my daughter (the little wretch) will choose a gift for me that is fun — like a root canal or a hysterectomy.
Feel free to comment below with some highs and lows from your own experience working with a trainer!
Don't forget –
Life is Now. Press Play.
Kat x
PS
Programmed to Upgrade is happening gorgeous, and WHOOOOO MAMA is this the work that works.
25 days, you and me, 1:1, to quantum leap like you've NEVER leapt before.
This will be intense …
And a lil bit scary. But buckle up, because you KNOW you're ready for it.
SO fucking ready 😉
Programmed to UPGRADE!
25 Days, 1:1, with Katrina Ruth, to SCREW the Rules, SCREW the Norm, Go So Damn Extra, So Freaking Hot, So Fully SEEN, and Snap Your Future Into the Now So Damn Fast It'd Make Your Head Spin … even as you nod in certainty that of COURSE, this is what was ALWAYS supposed to be ..
Places are already filling, and we begin next week. If you know it's time to say yes to MAGIC, and creating your reality from the supernatural, and you're SO ready to drop the paradigm of always having to DO (and yet still not be there!) then message me now.
I'll get you the full overview, and talk personally with you about whether or not it's for you.
To the supernatural baby, and beyond …
PPS
I HAVE SOME BIG NEWS TO SHARE!
As of today, I'm opening up the doors to my Inner Circle, my private client mastermind.
This is THE most badass high level mastermind in the world for women who want it all – and are prepared to do what it takes to get it! Really what we're talking about is being prepared to be the PERSON.
And that's what I do. I help you remember ALL that you were, and then become it. ALL Of it.
This is my highest level private mentoring circle. The exact place where I have personally mentored dozens of this industry's most elite female entrepreneurs to break income barriers ranging from 10k months to multiple 7 FIGURE months, and everything in between. But more importantly than that – to become who and what they always were.
But know that this is not only (obviously) not just for the masses, this is also not just for someone who can afford to invest in a high level private coach. Being willing to throw money down is something which has absolutely zero correlation to being somebody who has what it takes to TRULY go next level as a leader.
If anything, in this industry, investing in a high level coach such as myself, is a rite of passage which veers just a little too much on the side of 'trend'. It's become something which 'everybody does', almost as a way of proving they play business and life a certain way.
Maybe even of trying to prove it to themselves.
Here is the reality which those who I am truly here to personally mentor and lead KNOW, the reality which my clients and all women like me as well as of course me personally have ALWAYS known:
We are VERY VERY DIFFERENT.
We are simply, smarter, faster, and have more presence. We can do more in our minds before breakfast than what most people can do in a freakin' WEEK, a month, a year.
We are not basic ass coaches trying to heave ho our way up a few extra thou a month.
We are the ones who have ALWAYS known we are 1% within the 1% within the 1% in terms of how we think, create, operate, how and WHAT we are tapped in too.
This is not arrogance, this is fact.
And there has NEVER been any question but that we will go all the way.
My clients are high level badasses who do the work, who have a proven track record BEFORE coming to me, and a BEING-ness which unquestionably separates them from the rest. They don't come to me to save them or lean down and hold my hand out so they can clamber up. They come because they are, quite simply, ready to go to the next level, already absolutely on their WAY there, and see in me something which they recognise because it is in them.
That 'can't stop won't stop' fire, and a level of 'unapologeticness' which, when truly understood and applied, can literally be the difference between 5-figure or low 6-figure and 7 or multi-7-figure entrepreneur.
So if you know who you are and it is THAT –
And you feel certain that you are ALREADY well on your way to to precisely where you're meant to be, but that being in MY energy could help you to drop in and get there even faster, and that with a couple of simple tweaks your current revenue could be doubling, tripling, heck QUADRUPLING and beyond in months, as it has done with numerous of my clients previously, well then –
PM me here http://m.me/katrinaruthofficial and we'll see if it's a fit. I'm excited to talk to you, and maybe – do biz and life with you.