News
How I Set Truly Inspiring and Value-Driven Goals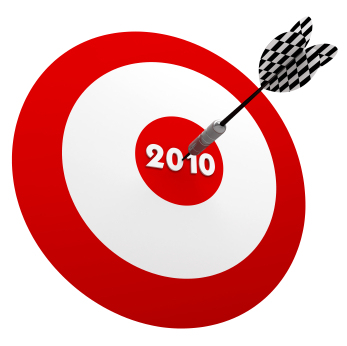 We've all heard the study in which a large group of Harvard law students were asked about their goal-setting habits. Of the 7% of them that actually set goals, they were (20 years later) found to have accumulated more combined wealth than the other 93% put together. Now if that doesn't inspire you to jot down the occasional plan, I don't know what will.
Of course the idea of goalsetting is easier said than done, isn't it? There's no point writing goals down regularly if you don't actually initiate some kind of action toward them, yet nor is the idea of constantly referring to your goal list appealing as any way to live. I don't know about you, but I'd rather enjoy some spontaneity from time to time. And I know that once I start writing lists based on my many, many, many (too many I think!) hopes and dreams then it never ends. I've learned the hard way that there's not much fun to be had in letting your life be ruled by lists.
How To Make Goalsetting Enjoyable – and Doable!
Let's get down to business. Here's a technique that I absolutely love. I don't recall where I came across it, but I've adapted it to suit my life perfectly over the last few years, and have even used it (in expanded form) in my new book.
First, you'll need to grab a blank piece of paper and a pen, or open a new text file. At the top of the page, in the centre, write the word 'mission'. Leave a gap of an inch or so, and repeat 4 times across the page the word 'projects'. Allow some space and then underneath that you have your 'monthly tasks' (usually about 6 of them), and then finally, in bullet point form down the side of the page, 4-8 'small bite' tasks. All of this should fit into one A4 page – handwritten. If your goal list turns into a small book I'd say it's already starting to be unrealistic.
From there it's a simple matter of filling in the gaps. Let me explain how each part works.
Your mission is your 'big picture'. Look at the next 3-5 years. What are the values you'd like to enhance or bring into your life?
Yearly projects are the 2-4 big tasks you'd LOVE to achieve this year. Don't choose any more than 3 big projects for a year. This will probably mean having to mentally put something on the back-burner, but it's far better to actually finish 3 important projects than it is to beat up on yourself come year end 'cause you didn't quite complete anything. And let's be real – your whole life will not revolve around your dreams and goals; you still have to face the day-today. My 3 projects for this year are getting out of credit card debt, selling at least 100 copies of my book (on my way!), and reaching a body fat percentage of sub-10.
Now we start to break it down. Monthly tasks are the action items that you can do this month to bring you closer to your yearly projects. You can plan these month to month, or rough draft the entire year.
Finally we have small bites, and this should be obvious. What can you do right now, even for 10 minutes to bring you closer to your big picture goals? It could be as simple as some research, a phone call, or an email, but you must "never leave the site of setting a goal without first doing something towards its completion" (Anthony Robbins).
One of the most powerful things lessons I've learned on goals is from Leo Babauta of Zen Habits. In 2009, Leo's New Years Challenge (to commit to at least 10 minutes each day of working on your goal) completely transformed my attitude toward one of my 'musts' – the goal of becoming a writer. Since then I've gone through my ups and downs of course, but I've also written over 200 blog posts for this blog and others, completed my book after over 2 years of dilly-dallying, established myself in the magazine world as a freelance writer, been told my writing is great by several well-established writers who I already looked upon as mentors and – most importantly – I can honestly say that I feel like a writer. Although I love writing, all of this hasn't been easy in terms of time and effort and I am quite quite certain that it could very easily never have happened. It happened because I made a commitment to myself to strive toward something important, and because I made myself accountable to other people – my fellow Zen Habits readers, my friend and family, and to you as a reader of this blog in that I followed through on a set amount of posts even when my life was at its busiest.
I should point out that this is just one example. There've been countless goals I've set that I've either failed to reach or deliberately given up on. See if you can figure out which ones I have and haven't achieved from my begin-2009 goal list. I think it's more than okay to change your goals or leave them incomplete – in fact its probably necessary in order to make way for new dreams. I guess you just want it to be mostly deliberate rather than simply not reaching something because you never quite got around to trying.
Of course there are countless methods you can employ to utilise your natural talents and reach life's highs. I'm a template and strategy kind of person, so this method works for me. I hope it gives you some value as well, but I totally get if you prefer a less-anal approach to your life! With that in mind I'd LOVE to know what you've tried using as a basis for goalsetting. There's nothing I like more than a new way of looking at things.
And here's to us both being one of the 7% 🙂
Oh – one last thing that may be of interest to you. As of July I'm going to be offering teleconference health coaching. Over the past few years I've worked with many clients who are not able to see me regularly face to face. Ongoing phone call consults are really helpful, but I'm noticing I'm going over the same stuff with many people. So as a cost-effective approach to nutrition and lifestyle education I'm going to introduce small group coaching. I'll be creating a survey soon to see what people want to focus on and will probably put together a month by month session plan, so if you haven't been achieving everything you know you're capable of in the health, nutrition and fitness arena and you recognise that accountability works for you then stay tuned.
PS
Expansion.
10 Days of Live Soul Transmissions, to Help You Find and Follow the Messages Within
Day 1) Trust
Day 2) Certainty
Day 3) Self-Belief
Day 4) Empire Creation
Day 5) Your Deepest Message
Day 6) Following Soul Guidance in All Areas
Day 7) Faith vs Fear
Day 8) Accessing Flow, and Superflow
Day 9) Expanding Time
Day 10) Expanding Money
Every day will be a LIVE soul led transmission.
This will take place on Facebook video, held at a variety of times in order to account for varying time zones, and scheduled only once we have begun. Our daily soul transmissions will be guided from MY higher self and directed from and for YOURS, to help you find and FOLLOW the messages within. The messages of your spirit, your consciousness, of the who you've always been and yet have managed quite well to cover up a lot of the time.
This is about stripping away –
And getting back to the CORE.
We'll dive day by day into the above mentioned areas –
And you'll receive all content and bonuses to keep for life.
There will be daily spirit prompts which you'll receive after each training.
And plenty of time opportunity connect with me throughout, receive transmissions direct to YOUR questions, and absorb more even than what comes through on the trainings, via the energy we'll create in this collective!
It's very rare for me to know in advance exactly what is coming through day to day.
I certainly don't have the details of each day's content. But I know that these areas have been on my heart to talk about, in particular around belief, around certainty, around living from FAITH.
We know that exactly what is meant to come through for you WILL, and then some. And that if you intend and allow for it to, it will change, most likely before we even begin, due to your energetic commitment, the direction of your LIFE!
Meaning: direct it back to absolute soul alignment.
*** NEVER Seen Before Bonus! ***
As part of this, I've been guided to offer a NEVER before seen bonus … one I feel super vulnerable about sharing!
It's the exact journaling I did to allow the download of THIS offer through. How I allowed the idea to bubble up. You'll see my doubt, uncertainty, annoyance. You'll see what I discarded. How I went through the layers. And how I KNEW, this was the one.
I'll ALSO add in copies (screenshots) of my conversation with my COO Ash, where I was talking through the idea and allowing it to come to life.
I want to show you the exact Idea to Launch process!
This bonus alone is EASILY worth the cost of this program, particularly when you hear the mindset side of it, in terms of STAYING THE COURSE and refusing to back away from my self until the idea showed up!
I refuse not to create!!
AND, when you register for EXPANSION today (and how could you not?!) you'll also receive early access to the Pre-Work. This is ALSO never seen before, and brand new just for you – and it's a guided meditation on remembrance, to help you connect back to deepest self and the most certain truth of your destiny, before we even begin.
Perfect priming, for when we expand RAPIDLY into all that is coming through in this work!
Of course I could now go on and on here, about what I could or should have charged for this, and what it's actually going to be …
Or about all my accomplishments on line and off, with money, with purpose, with passion, with flow …
I think you know all this anyway. Even if you just me! Your soul feels what matters. And that's ALL that matters.
But I will say this:
You've always known it's supposed to be about ALL that is inside of you. That it's meant to COME from a place of purpose, passion, and SUPER super flow. And that if you just.freaking.trusted, and showed up FULLY from that place, you'd be living in a different reality already.
THE ONE INSIDE OF YOU.
If that's true for you right now, then LET'S GO CREATE THAT REALITY.
Right now
Press play for regular, (super fuck yes!!) upfront or payment plan
OR
Press play like a VIP, and receive the full course, plus 10 days direct photos or screenshots of my ACTUAL personal journaling, so you can see how I create and expand my life, PLUS a VIP only follow-on live Hotseat, where you'll receive a personal transmission just for you, if you'd like one! Payment plan also available.
>>> https://thekatrinaruthshow.com/expansion
We start Monday 17 December, US time!