News
How A Lack Of Sleep Affects Your Health And Your Weight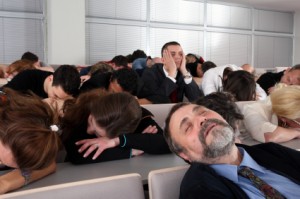 Part Five Of The New Nutrition Series
What I'm a about to say may come as a newsflash for some. But it's something that holistic (and even some conventional!) health practitioners have known for years. And that is this:
A lack of sleep or adequate rest can – despite a healthy diet and regular exercise – cause your body to become unwell and flabby.
And you thought you were doing a good thing by getting up at 5.30am every day to sneak in that extra half hour of cardio! The truth is that every time you don't get a full night's sleep, you accrue a debt. Sure, it may only be half an hour here, an hour there, the occasional night when five hours will just have to do, but even half an hour of missing rest every night adds up to an impressive 182.5 hours of sleep debt each year. Don't even get me started on those of you out there who 'pride yourselves' on functioning with just 5 or 6 hours. Believe me, you WILL be paying some hefty interest on that debt. In fact, you already are, you probably just don't realize it.
Ever experienced any of the following?
Mental fog?
Persistent head or neck aches?
Poor digestion?
Unexplained feelings of sadness or overwhelm?
Fatigue and lethargy?
Wildly changing moods?
Anxiety or panic for no real reason?
An inability to shift those last few pounds, or the frustration of an increasing waistline regardless of how hard you work out?
And those are just the direct physical reactions to a lack of sleep! What about the compensation patterns? The morning treats to get you through? The V's or Red Bull's or coffees, or even the regular Shiatsu massage? Good or bad, it won't help. Quick tip: sleep will.
Whenever you miss even an hour or two of sleep, your body sends a signal to your hormonal system to make urgent adjustments. If you regularly miss sleep, these seemingly small adjustments become patterns of imbalance – patterns geared toward enabling your body to handle the ongoing stress that a continued lack of sleep will surely bring about.
A Closer Look At The Effects Of Your Sleep Debt
Your Circadian Rhythm governs the release of hormones that charge you up in the morning and wind you down at night. Without a balanced sleep-wake cycle you will feel like you don't know which way's up or down, what time of day it is, and whether you should be eating, exercising, sleeping or just throwing your hands up and bursting into tears. Sound familiar?
The reason you feel so out-of-it when your rhythms are out of whack is that your body does not produce enough 'get-up-and-go' hormones in the morning. This means you find it hard to get going, likely have no appetite in the morning (a sure sign your body is under stress and in fat-storing mode) and will probably be driven toward sweet foods, coffee and other stimulants later in the day. This is one reason why not sleeping enough often creates a vicious cycle of wiring yourself up all day and then not sleeping well again the next night.
By bed-time, your Sympathetic Nervous System, or SNS (otherwise known as your 'fight or flight' system) is so over-stimulated that you find it very hard to wind down. You know you have an overactive SNS if, come evening, you feel hyped up despite being exhausted underneath. Stress hormones like cortisol – usually an important part of dealing with life's challenges – are literally out of control, running rampant in your body. Not only will this prevent you relaxing or enjoying a good night's sleep, it will cause a chain-reaction one of whose outcomes is that your body starts to store fat more efficiently.
The fat-storing effects of an overactive SNS hark back to survival instincts – your body assumes that if you're under so much stress, and never taking time to wind down or fully relax, then your life must be in danger. From an evolutionary standpoint, this would generally mean food is not readily available, or you're fighting for your life. Either way, as far as your body is concerned, it's a safe bet that adding a few extra fat layers will enhance your chances of survival.
How To Pay Off Your Sleep Debt
Speaking from personal experience, it does take a little planning and effort to get out of a poor-sleep routine. A big part of that is simply convincing yourself that the benefits of 7-8 hours sleep each night will outweigh 'losing' the extra hours of potential productivity. But just how productive are you in that extra two or three or four hours that you don't sleep? In my experience, even those who manage to go flat out for weeks or months or years on just a few hours sleep always find it catches up with them somehow. Whether it's extra time and money spent on treatments to help you get by, or whether it's a full breakdown when your body finally decides enough is enough.
Five Steps To Quality Sleep
Establish a healthy sleep pattern by getting to bed within 60 minutes of the same time each evening. Same rule goes for getting up in the morning. This is because physical repair of your body takes place between 10pm and 2am, and psychological repair between 2am and 6am.
Give yourself a fighting chance to release sleep hormones by winding down for at least an hour before bed. No TV or computer! Instead, dim the lights, and quieten your mind. Try reading a book (not work related!), taking a bath, or just enjoying some relaxing music either alone or with someone else.
While we're on it, taking a bath around 90 minutes before sleep can help you to nod off. The rise in your body temperature, followed by a slow drop, will make you sleepy.
Food high in tryptophan can help you to sleep. Try organic dairy, raw organic almonds, or some turkey for dinner.
Stimulants such as coffee, alcohol or sugar are a big no-no in the evening. Even if you do fall asleep, these stimulants will prevent the proper release of melatonin and other sleep hormones. This will mean a poorer night's rest, and a sluggish start the next day.
Don't feel as though you need to make all these changes at once. Whilst that might be ideal, it's much more realistic to take small steps. After all, you wouldn't try to pay off a massive credit card debt all at once, would you? Even though it might be nice, it's just not possible for most of us. The best way to pay off your sleep debt for good is to acknowledge what needs to be done, and then set a weekly or daily goal to bring you closer to achieving the big goal. Why not choose one of the above points as your sleep goal for this week. Maybe you can work on consistent bedtimes for the next week or so, and then start to add in some of the other points.
And if you find yourself tempted by a trashy TV show, a big piece of chocolate cake, or the lure of surfing the net late at night, repeat after me:
'Not getting enough sleep will destroy all the hard work I've put in at the gym. It will mean that my body stores fat more efficiently and that even if I eat 'perfectly' I will continue to gain weight. I deserve better than this! And I'm prepared to do what it takes to preserve my health, my sanity and my waistline'.
You do deserve it. Don't you?
Life is Now. Press Play.
Kat
Don't forget –
Life is Now. Press Play.
Kat x
PS
Did you see?!
Fuck Being a Good Girl: Introducing LEADER!
LEADER.
IS.
HERE.
Whoop!! 💃💃💃
ARE YOU READY!?
Ready to drop the bullshit –
Quit trying to climb the damn mountain, hand over fist, one painful and endless move at a time –
And claim your rightful place, now?
It's time to stop questioning.
It's time to stop 'one daying'.
And it's DEFINITELY time to stop asking HOW.
Thereisnohowfuckthehowfuckitgoodfuckitrightintheass.
(Doesn't sound like something I would say 
)
The way you're going to get there is the same way you were ALWAYS going to get there is the only way that ANYBODY ever gets there is by claiming.your place.now.
Planting your damn flag on top of the mountain and saying what is UP, bitches, what's been happening, here I now am and so the show can BEGIN!
Introducing LEADER! 

🙌

🙌
Fuck Being a Good Girl, Fuck Following the Rules, Fuck Working Your Way There Hand Over Fist. You Were Born to Run the Damn Show and Baby? It's Time.
10 Days.
10 Modules.
10 gajillionty uplevels, in fact, nah, scratch that – ONE freakin' uplevel, in which we take you straight to where you were ALWAYS MEANT TO BE.
It's time to quit fucking around here, and claim your rightful place.
Here's the 10 Modules I will be BURNING INTO YOUR PRETTY LITTLE LEADER SOUL during our time together!
(A Module a day keeps the peasant energy away)
✨

Module 1: Leader Energy
Owning it, being it, living it, no excuses, just dropping in to NOW being the unquestionable next level leader who EVERYBODY looks to and who runs the damn thing. I don't have to tell ya –
We could pretty much just do this module and you'd be done.
✨

 Module 2: Multi-Millionaire Leader BELIEFS
Wealthy people have certain beliefs which broke ass peeps do not. It is what it is and that's all it is. Guess what? PURPOSE driven wealthy peeps are another level altogether.
Change your beliefs >
Change your life.
It's THAT freaking simple.
✨

 Module 3: Leader Sales Hustle and Monetization
Leaders sell how leaders sell and they monetize with NO shame, ALL soul, and all RESULTS.
This is a mindset AND it's about gettin' real with what works.
So that's what we're gonna do!
✨

 Module 4: Leader Content Creation
Look, nobody needs or gives a fuck about any more lame ass low-vibe please look at me teaching and preaching.
The Internet IS full. Boring does NOT sell. Too many folks are out there just trying to re-churn what everybody else is doing.
BUT THERE IS ALWAYS SPACE FOR THE NEXT MAGNETIC AF LEADER TO TAKE CHARGE.
I'll show you how to pull that out of you. And explode it to the world.
✨

 Module 5: Leader Social Media OWNING
Let's get you big.
Engaged.
Listened to.
EVERY WORD HUNG OFF.
And consistently fucking paid.
Social media is a VERY easy tool to make work for you and nope I'm not talking about analytics or algorithms. I'm talking about being everywhere, all the time, in a way they can't ignore, and also with minimum effort for maximum result.
✨

 Module 6: Leader Squad
Leaders don't do shit that leaders don't do or leaders ain't leaders. We are gonna sort out your support system and streamline your LIFE. With or without 'team'. I started with this with NO staff or team, NO money, and yet I still knew how to keep my energy and time to what mattered and let other people pick up my slack.
Leaders are supported and lifted up, PERIOD. Let's get this happening for you.
✨

 Module 7: Leader Daily Disciplines, Practices, Routines, Must Dos and Absolutely-Fucking-Will-Not-Dos!
THIS IS MY FAVOURITE.
Also probably the real thing (energy aside!) that gets you paid big.
✨

 Module 8: Leader ABUNDANCE Creation
ALL the calling-in-of-money shiz-niz you need to know about and EVERY damn thing I have done over the years to dial it up from broke to abundant and rich-from-soul AF.
✨

Module 9: Leader Lit-Up-Ed-Ness and Joie de Vivre
People ain't gonna be interested if you're not interesting girlfriend.
We are going to recapture your fucking FIRE, and I'll show you exactly how.
✨

 Module 10: Leader MAGNETISM
Being the most 'they can't look away' person out there, where no matter what you do or how random it is PEOPLE HAVE TO HAVE IT 'CAUSE IT'S YOU.
Yep, that is an INTENSIVE learning schedule but we did already agree it's time to quit fucking around. Besides which, this is not about learning. This is about remembering, remembering, remembering, and motherfucking BEING –
All that you were always meant to damn well be.
BELLS AND 6-INCH STILETTOS OR WHATEVER THE FUCK IT IS YOU WANT TO PUT ON, ONNNNNN.
Literally every possible thing you possibly need to know to NOW run the damn thing is what we're covering here.
Modules will be delivered directly into the group each day and include LIVE as well as listen / watch / learn at home content. A lot of content! But only exactly what you need!
And baby?
It is going to kick your butt GOOD.
Listen –
I know you have this burning inside of you which is NOT going to go away.
You know and have always known that you are different, not just from the other PEOPLE, but from the other entrepreneurs.
The thing is gorgeous –
At some point you're going to need to say yes to that.
Let me show you how.
Join LEADER today!
And watch your life blow straight the fuck up to where it's always meant to have been.
Oh and there's THIS!!
——>> Top 20 Action Takers ONLY Bonus! 

🔥

🔥

🔥
Be in the first 20 to say yes to LEADER, and I am gifting you a $997 home-study course of mine!! I know!
Superwoman Unchained: The Revolution!
A 5-Week online program for creators, artists, leaders and revolutionaries who were born to change the world.
* Believe you're capable of more than you ever imagined.
* No more asking "will I or won't I" because as soon as you have an idea that you know you need to act on, it'll be game fucking on!
This incredible course is STILL spoken about amongst those who initially took it live with me, and it is the PERFECT rev you up accompaniment to LEADER.
Not to mention it's a $997 gift!!
But this is for the Top 20 ONLY, so get in now!
It's time baby!
LEADER 

🙌

🙌

🙌
A brand new live course with self-made multi-millionaire Katrina Ruth!
Fuck Being a Good Girl, Fuck Following the Rules, Fuck Working Your Way There Hand Over Fist. You Were Born to Run the Damn Show and Baby? It's Time.
10 Days.
10 Modules.
10 gajillionty uplevels, in fact, nah, scratch that – ONE freakin' uplevel, in which we take you straight to where you were ALWAYS MEANT TO BE.