News
Yummy Pecan-Crusted Chicken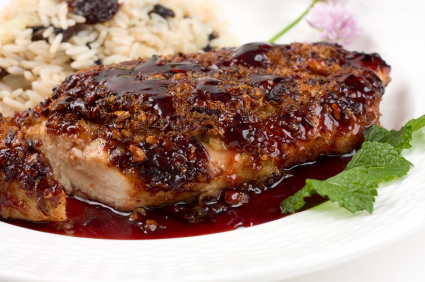 I'd say it's been altogether far too long since I've posted a recipe for you all. And I gotta say I've been getting a little bored in my own food choices. I mean, my chicken coconut stir-fry is damn good, but even that gets old when I'm eating it 4 days straight! I do love chicken though, so I thought I'd test out a recipe sent to me a few months back by BodyIncredible reader Brenda. And it was good, good, good. Test it out and let me know what you think!
"My family loves this one.  I suppose the peach glaze could add a lot of carbs if someone got carried away with it, but not much is needed to add a little flavor.  A smaller jar of jam could be used to try to cut down on the chances of someone getting carried away with to much glaze.  I have also thought about trying to puree fresh or frozen peaches to see what the difference would be.  The orginal recipe had brandy and mustard in the peach glaze but my family just liked the straight simple peach flavor."
PECAN CRUSTED CHICKEN WITH PEACH GLAZE
Serves 5-6
You need:
5-6 chicken breasts
16 oz. Pecans (an ounce is about 1/4 of a cup)
1-15 oz. Jar Peach Jam (fruit only, no sugar added)
2 eggs
2 tablespoon Extra Virgin Coconut Oil
The simple 6-step method
1. Trim all fat from chicken breasts. Filet the chicken breasts with a thin sharp meat knife by laying the knife on its side and cutting though each breast slicing sideways. Try to cut them to half thickness as evenly as possible. (Sometimes you can find breasts at the store already cut this way, or ask your butcher to do it).
2. Put pecans in food processor bowl with blending blade. Pulse the nuts several times until the nuts are chopped so small they are almost a flour. If you don't have a food processor just fine chop them yourself.
3. Empty peach jam into very small sauce pan preferably one with a pouring edge. Use hand blender in pan to puree the pieces of peaches until smooth. Slowly heat peach jam on stove while the chicken is cooking, stirring occasionally. If the peach glaze gets hot before chicken is done than shut burner off, cover and heat through before serving if needed.
4. Put the chopped pecans into one pie plate and the eggs into another. Whisk the eggs with a fork. Dip both sides of chicken breast into the egg and then into the pecans, lightly coating. Place each piece onto a large platter or cookie sheet. Don't cook until all the pieces are ready because they cook quickly. Preheat a non-stick griddle to 350-375 degrees.
5. Coat griddle with coconut oil. Place each chicken piece on griddle with tongs. Cook until pecans start to toast a little and the chicken starts to turn white. Don't let the pecans get dark brown. Carefully turn chicken so nuts don't fall off and cook the other side until chicken is cooked through. Remove to serving platter or directly to plates.
6. Serve with the peach glaze on the side (and some fresh salad greens) so each person can decide if they want it poured on top or used as a dip. Use sparingly…….a little goes a long ways.
Oh – and the rice in the photo above is for display purposes only! No starch if fat loss is your goal! I could have put up a photo of the one I made but I forgot to and ate it, so had to download one 🙂
Thanks for sharing Brenda!
Don't forget –
Life is Now. Press Play.
Kat x

PS
1:1 INTAKE IS OFFICIALLY OPEN!

🔥
Next Level Empire is officially open for late November intake! 💜
I'm calling in my next intake of driven badass LEADER women who want to work with me 1:1 to FOLLOW SOUL and achieve ALIGNED AF fame, income growth, more.
Yeahhhhhh … this is about unapologetically claiming your place as one who is MEANT to be seen and heard by everyone!!
Next Level Empire baby!
Multi 7-Figure Empire Expansion For Unapologetically Badass & Driven Women Who Are Ready to Be Seen By the WHOLE Damn World
6 weeks.
1:1
You and me
This is for the women who already have a message, an audience, and are making money online and who are now ready to put some damn WHEELS on the thing.
We will be going deeper into message clarity
We WILL be nailing down what you're selling, and how you're selling it, for maximum conversion and flow
We WILL be getting you fully connected to the badass leader within who KNOWS she is meant to run the damn thing
But these things are just the warm-up, because let's face it –
You already message
You already show up
You already sell
You're already ROCKING what you're doing right now
So what you're here for, and what I'm here for with you?
Is to blow the damn thing up.
MAXIMUM reach.
RAPID growth of audience
MASS visibility
MEDIA TAKEOVER
NEXT level leadership status, and being the one who is KNOWN as the Queen
And sales EXPLOSION
I'm taking what I'm doing in my business to CONTINUALLY claim my place at the top, and to take my message to the masses whilst also RAPIDLY growing following and income,
And showing it all to you
Exactly how we do it
What precisely is in place
What we had to have in place for it to work
What we do day to day to elevate fame, income, purpose, ALL of it
And then I'm going to work with you personally to roll it out
Next Level Empire baby:
For the women who were born for more,
And who are done with circling repeatedly around the same damn pond and kidding themselves they're gonna find it there.
Ready, and know it's time? It just might be 

😉

💜
PM me now

for the full overview, and to know if it's for you. x