News
Super-Healthy Chicken Coconut Curry Recipe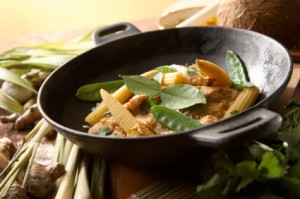 This recipe would have to be one of my all-time favorites. In fact, I can safely say that my entire family is well and truly sick of it, as it's pretty much the only thing I cook when visitors come over. I'm guessing a few friends will recognize it as well. Hey, if it's not broke, don't fix it right?
Anyway, what's not to love about a recipe that tastes fantastic, takes less than 10 minutes to pre-prepare, and has all the ingredients for a healthy and nutrient-filled dinner? With metabolism-boosting benefits! If that's not enough to sell you on giving it a go, then nothing is.
Kat's Chicken Coconut Curry (serves 4, possibly with leftovers)
700-1000 grams chicken thighs. Skin on if they're organic, skin off if not. Chicken thighs are preferable to breast as they're higher in purine, an important form of rich protein with fat loss and health benefits. They're also much tastier, and cost less!
3 cloves fresh garlic or 2 flat teaspoons crushed garlic if you can't be bothered
One large red chili, or chili flakes to save time
An inch or so of fresh ginger
Coconut oil
4-5 bay leaves
2 tins organic coconut cream or milk (coconut oil and cream are super-good for your metabolism and a wonderful way to boost long-term energy)
4 stalks celery including leaves
2 handfuls of mushrooms
1 large carrot
1 large handful green or yellow beans, or snowpeas if beans aren't available
Half a head of cauliflower
Some baby corn (optional)
Organic sea salt
Fresh coriander or basil
If you know you'll be home late or are prone to dinner-time laziness, it helps to chop the vegies in the morning and leave them in a bowl in the fridge. I chop everything pretty roughly, myself – so long as it's clean and any unwanted stalks or heads are removed, then it's all good. You'll notice my quantities are fairly vague as well – this is because I just throw in however much looks right to me at the time! Nobody said cooking has to be a fine art.
The exception is the fresh ginger, chili and garlic (if you use it) – chop fine, and throw into a wok or large, deep pan after heating with some coconut oil. While that's simmering (keep an eye on it and stir occasionally), take 2 minutes to cut up your chicken thighs. I use cooking scissors as they're far quicker than a knife. Throw the bird in, and get to work on your vegies. Or stop for some wine if you were smart enough to pre-chop in the morning.
Once the chicken is pretty much done (around 5-7 minutes), add your vegies, and stir-through. Within a minute or two, add your coconut milk, and throw in those bay leaves, along with a few pinches of sea salt. Let cook on low for around 10-15 minutes, or put the lid on if you want to speed this process up. Stir occasionally either way. Use this time to unpack your bag and prepare your things for the next day.
Serve with freshly torn coriander or basil mixed through, and possible some additional sea salt. Pick out the bay leaves first if you can be bothered!
Let me know what you think. And remember –
Life is Now. Press Play.
Kat
PS
LAST CHANCE TO JOIN PURPOSE PASSION FLOW ACADEMY 50% OFF, AND BECOME A FOUNDATION MEMBER + SCORE $1533 OF INSTANT BONUSES!
My 'Going Fully Quantum' training will break down ALL of what we've discussed today, and teach you the finer details and finesse of it, as well as exactly what needs to be true for you to APPLY it, not only into the practical actions you need to create THAT money flow and THOSE results, but also in terms of ALL the energetics of it, especially the 'being and non-being' around dropping in to superflow so you can be shown, create, receive, AND of course the being around not being one of those people who just can't seem to choose faith and are ruled by fear. We'll also talk about creating and integrating the exact wording, beliefs, emotions, energies YOU need for all of this to switch effortlessly for you, as you've always known it would.
In other words: EVERYTHING you need to know to go fully quantum, and double your income in 30 days or less, or whatever else you choose!
Where will you find this training?
Why, it's one of the very first training in 'Remembering Who You Always Were', which. is our June intensive for Purpose Passion Flow Academy, my SUPER low-cost monthly membership mastermind!
And that intensive in the Academy kicks off THIS Wednesday June 19!!
AND, right now you have just ONE DAY left to join Purpose Passion Flow Academy at 50% off the ALREADY crazy low cost, as a foundation member, and keep that price for as long as you choose to remain a member PLUS receive $1533 of bonuses; which is 3 of my best ever home-study courses! THIS PRICE WILL NEVER APPLY AGAIN.
And this training?
Will change your freaking reality. Well – it will REMEMBER it.
It's all available to you gorgeous.
You know this already.,In the quantum it is DONE. And in Purpose Passion Flow Academy, and especially our June intensive 'Remembering Who You Always Were'? We gon' done do it.
PPS
Final day for 50% off + bonuses, and me? Right there by your side from here on out:
PPPS
Join #PurposePassionFlowAcademy today and not only receive everything above, but everything that this mastermind is about – which in the practical is a killer amount of monthly connection, trainings, hotseats, downloads, dream biz & life creation exercises, PLUS an ENTIRE new deep dive program each month which we go through together live, but more importantly – get your magnetic freaking fuck yes life. The place where you say yes to your soul –
Is here: