News
Here Is A Wonder Food Which Will Burn Body Fat, Boost Energy, And Strengthen Your Immune System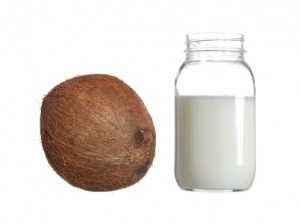 A few years back I came across one of nature's true wonder foods. Not only is this delicious and healthy food at the foundation of many traditional recipes, it is readily available both on and offline, is exceptional value for money, and has been proven to elevate your metabolism, boost both short and long-term energy, and strengthen your immune system. If that's not a wonder food, I don't know what is!
I'm talking about extra virgin, organic coconut oil – one of the most important  staples of my pantry. It's perfect for cooking any meat or poultry, and is wonderful for making Thai-inspired curries (coconut milk is also really great for this, always organic please). I buy my coconut oil and milk online from www.tropicaltraditions.com.
10 Reasons Why You Ought To Include Coconut Oil In Your Diet
1. Coconut oil is good fat at it's best. It's 92% saturated fat but not the scary stuff. In it's pure organic state the saturated fat in coconut oil is made up of medium-chain-fatty-acids which are shuttled directly to your liver.
2. What happens to this fat in your liver? It becomes an instant source of increased energy.
3. Not to mention a quick and lasting metabolism boost ..
4. Due to it's anti-inflammatory properties coconut oil will protect you against common flu's and colds and may even assist in fighting more serious ailments. See the testimonial below – it was sent to me by a good friend of my mother's and is a great testament to the real-life wonders of coconut oil.
5. Coconut oil is fantastic for your skin when you eat it but it also works pretty darn good straight on the surface. I sometimes use it as a hair repair treatment by leaving some in the ends of my strangly locks during hot yoga.
6. Coconut oil is among the most stable oils you can cook with, meaning it won't go rancid even at extremely high temperatures.
7. Adding a teaspoon of coconut oil to each meal is a sure-fire way to stay fuller for longer and avoid sweet cravings later on.
8. In the book Eat Fat, Lose Fat (one of my most re-read books!) several women talk about the inclusion of coconut oil in their diet as having completely removed their cellulite! (I've worked with clients who have commented on a reduction in cellulite from coconut oil)
9. The energy and metabolism boost you'll receive from coconut oil is one of the simplest and cheapest ways to naturally enhance your performance both at sport and play – and has even been shown to lift a lagging libido!
10. Eating good fats such as coconut oil is a sure way to promote a healthy hormonal system, increasing your capacity to manage and over come stress, to efficiently digest and utilize food, and to get off the sugar-rollercoaster that comes about with every too-low-fat-diet.
What One Woman Had To Say About This Wonder Food
(and several more important reasons why you ought to eat coconut oil!)
"A friend recently gave me some beautiful coconut oil to try.  I have tried coconut oil before and was not impressed; however, this one is different. (Kat – this is why I emphasize the quality of the oil you buy) It is organic and processed within 1 hour of the coconuts being picked.  It is not made from old Copra which most others are, so it is really fresh.  It has not been bleached and has no additives. I have been adding it to recipes, cooking with it and using it as a face moisturizer.
After several days I actually got a big herx! (Symptoms of bacteria dying off) – I asked my Lymestrategies group (Rosemary, who wrote this, has been a long-time sufferer of Lyme disease) if this is possible.
I got several emails confirming that coconut oil is anti-bacterial, anti-viral, anti-fungal and very powerful stuff. In fact many people treat their Lyme-autistic kids with it and get great results. It has lauric acid which is one of the major components of breast milk, so it is wonderful for boosting the immune system. It also improves thyroid function. I have been getting hot flushes for 3-4 years and have been using natural progesterone cream. This helped somewhat, but didn't fix them. I haven't used the progesterone cream for weeks, but my hot flushes have nearly stopped. I just read that coconut oil can fix hot flushes and I just realized that they have improved since I've been taking CO.
It is also great for those who can't tolerate other fats and you can even lose weight on it as it is easily digested and increases the metabolism, giving more energy. It also lowers cholesterol and stabilizes blood sugar. Quite amazing for a natural product.
Prior to Lyme I worked in Pharmacy. I have sold some of the most expensive skin care products on the market. Even those which are not perfumed contain chemicals. I am not putting chemicals on my skin anymore. I am just using coconut oil. It absorbs quickly and doesn't leave a greasy feel.
I love this stuff and many people in the Lyme groups are adding it to their regimen to kill Lyme and co. The one I am using is www.niulife.com which provide fair trade for native people. I have ordered a carton of it and will sell some to friends and family. It will be cheaper than the health food store and is a better product.
It is so nice to be able to enjoy fat that is satisfying and good for you. We have been making all kinds of recipes using the CO. Banana, mango nut milk shakes. Yum! Fried veggie and cashew rice. Crab, fruit, nut clusters using the CO instead of copha. It is softer so you have to put it in the fridge. Tastes beautiful. Buckwheat pancakes fried in CO and topped with fresh fruit. My favorite breakfast!"
Rosemary.
As you can see, Rosemary has been quite pro-active in doing her research on the benefits of coconut oil and seeking out the highest quality brand. She recommends looking at the websites www.kokonutpacific.com.au or coconutresearchcenter.org for further information.
Oh, and in case you're wondering, no I'm not selling the stuff! Although maybe I should consider it :-). If you're keen to pick some up right away you can purchase extra virgin coconut oil from any organic store and even from most health foods stores. It's around $7 for a jar. You can buy it refined (no flavor) or unrefined (coconut flavour, strange huh?!) These are a great start but I have found the before-mentioned online versions to be better quality and clarity.
Life is Now. Press Play.
Kat
Have you use coconut oil in cooking before? I'd love to hear your recipe ideas or whether you just eat the stuff straight from the jar like I've been known to!
Don't forget to leave a comment on this post by clicking on 'leave a comment' just below. If you're reading from RSS or email you'll have to enter the blog to do this. You can do that by clicking on the title of this piece. 'Leave a comment' is at the article end, right under the 'share this' and 'other articles you may enjoy' option.
If you haven't yet subscribed to this feed, what are you waiting for? Do it now. You can choose either email or RSS by clicking here. If you enjoyed this article please forward to your friends. Thank-you!
PS
Expansion.
10 Days of Live Soul Transmissions, to Help You Find and Follow the Messages Within
Day 1) Trust
Day 2) Certainty
Day 3) Self-Belief
Day 4) Empire Creation
Day 5) Your Deepest Message
Day 6) Following Soul Guidance in All Areas
Day 7) Faith vs Fear
Day 8) Accessing Flow, and Superflow
Day 9) Expanding Time
Day 10) Expanding Money
Every day will be a LIVE soul led transmission.
This will take place on Facebook video, held at a variety of times in order to account for varying time zones, and scheduled only once we have begun. Our daily soul transmissions will be guided from MY higher self and directed from and for YOURS, to help you find and FOLLOW the messages within. The messages of your spirit, your consciousness, of the who you've always been and yet have managed quite well to cover up a lot of the time.
This is about stripping away –
And getting back to the CORE.
We'll dive day by day into the above mentioned areas –
And you'll receive all content and bonuses to keep for life.
There will be daily spirit prompts which you'll receive after each training.
And plenty of time opportunity connect with me throughout, receive transmissions direct to YOUR questions, and absorb more even than what comes through on the trainings, via the energy we'll create in this collective!
It's very rare for me to know in advance exactly what is coming through day to day.
I certainly don't have the details of each day's content. But I know that these areas have been on my heart to talk about, in particular around belief, around certainty, around living from FAITH.
We know that exactly what is meant to come through for you WILL, and then some. And that if you intend and allow for it to, it will change, most likely before we even begin, due to your energetic commitment, the direction of your LIFE!
Meaning: direct it back to absolute soul alignment.
*** NEVER Seen Before Bonus! ***
As part of this, I've been guided to offer a NEVER before seen bonus … one I feel super vulnerable about sharing!
It's the exact journaling I did to allow the download of THIS offer through. How I allowed the idea to bubble up. You'll see my doubt, uncertainty, annoyance. You'll see what I discarded. How I went through the layers. And how I KNEW, this was the one.
I'll ALSO add in copies (screenshots) of my conversation with my COO Ash, where I was talking through the idea and allowing it to come to life.
I want to show you the exact Idea to Launch process!
This bonus alone is EASILY worth the cost of this program, particularly when you hear the mindset side of it, in terms of STAYING THE COURSE and refusing to back away from my self until the idea showed up!
I refuse not to create!!
AND, when you register for EXPANSION today (and how could you not?!) you'll also receive early access to the Pre-Work. This is ALSO never seen before, and brand new just for you – and it's a guided meditation on remembrance, to help you connect back to deepest self and the most certain truth of your destiny, before we even begin.
Perfect priming, for when we expand RAPIDLY into all that is coming through in this work!
Of course I could now go on and on here, about what I could or should have charged for this, and what it's actually going to be …
Or about all my accomplishments on line and off, with money, with purpose, with passion, with flow …
I think you know all this anyway. Even if you just me! Your soul feels what matters. And that's ALL that matters.
But I will say this:
You've always known it's supposed to be about ALL that is inside of you. That it's meant to COME from a place of purpose, passion, and SUPER super flow. And that if you just.freaking.trusted, and showed up FULLY from that place, you'd be living in a different reality already.
THE ONE INSIDE OF YOU.
If that's true for you right now, then LET'S GO CREATE THAT REALITY.
Right now
Press play for regular, (super fuck yes!!) upfront or payment plan
OR
Press play like a VIP, and receive the full course, plus 10 days direct photos or screenshots of my ACTUAL personal journaling, so you can see how I create and expand my life, PLUS a VIP only follow-on live Hotseat, where you'll receive a personal transmission just for you, if you'd like one! Payment plan also available.
>>> https://thekatrinaruthshow.com/expansion
We start Monday 17 December, US time!