News
Are You Unknowingly Swapping Food Porn For True Satisfaction?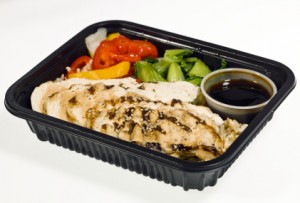 When it comes to cooking and food preparation, we're all looking for shortcuts. Am I right? Ways to make it easier, less expensive, more efficient, all the while retaining the best possible quality. But hey, if something's gotta go, quality is often the simplest sacrifice. And who's to say you can be blamed for not always producing gourmet fare? After all, you work long hours, you have a seemingly endless to-do list both in and out of the office, and really, you think you do pretty well all things considered. Besides, by the time you do make it home of an evening, relaxation is often uppermost of mind. Some nice mind-numbing TV. Perhaps the latest episode of Masterchef? After all, it's always fun to drool over sophisticated dishes on the box when you can remain safe in the knowledge that preparing such food yourself is well outside your skill range. And while I agree that there's nothing wrong with a little gastro-porn from time to time, I do have to wonder – is it possible that you're indulging yourself so effectively in the visual feast that seems to be half of night-time television these days, that you forget to take the time to create true satisfaction in the form of, well – actual food.
Strange concept, isn't it? But Mark over at Mark's Daily Apple made a shocking point in a recent article title Cooking As A Spectator Sport. Mark says that we're "apparently entranced by watching other people make food – and likely by the images of the food itself". No surprise there. But what is quite startling when you really think about it is his next point – "for all the lure and luster of these shows, the collective fascination doesn't appear to translate into action". In fact, according to Michael Pollan, we spend an average of only 27 minutes each day in the kitchen. And when you consider that the average cooking show lasts for around 42 minutes plus ad-time, I think you'd have to agree that this is quite disturbing.
Personally, I'm well familiar with the 'no-time' excuse for proper food preparation. Mind you I'd never quite thought of it in terms of people happily putting time aside to indulge in TV food-time as an alternative. And to be honest I'm quite surprised that the average kitchen time is as much as 27 minutes! I seem to almost daily come across people who claim no time for cooking, and the fact that most of them also seem to think any cooking they do undertake needs to be complex and gourmet means that they're unlikely to make time soon. Celebrity chefs have a lot to answer for here.
When it comes to food preparation and eating well, there's only one way that you have any chance of daily success. The key is to get back to true basics – to realize that food, for the majority of our meals, needs to be about fuel. Not presentation, not who we can impress, not placing such great expectations on ourselves that we become completely unmotivated to do anything but hit up the freezer section of 7-Eleven for a microwave 'meal'. How tough is it to prepare a truly sustaining meal? Meat, fat, maybe some green veg. Sure, you can add complexity to it if you choose and that's all well and good to do on occasion, but the basics of correct nutrition have evolved from almost no cooking time at all. What's more, unless you're still hunting your food, your preparation time should be fairly minimal these days! The recipe for success is to remember what food is there for – fuel and nutrition. And when you get that right, enjoyment most definitely follows.
Life is Now. Press Play.
Kat
Have your say – have you ever been guilty of replacing food porn for the real thing? Have you found a way to enjoy both? Don't forget to leave a comment before you go – if you're reading from RSS or email you'll have to enter the blog to do this. You can do that by clicking on the title of this piece. 'Post a comment' is at the article end, right under the 'share this' and 'related posts' options.
If you haven't yet subscribed to this feed, what are you waiting for? Do it now. You can choose either email or RSS by clicking here. If you enjoyed this article please forward to your friends. Thank-you
PS
Expansion.
10 Days of Live Soul Transmissions, to Help You Find and Follow the Messages Within
Day 1) Trust
Day 2) Certainty
Day 3) Self-Belief
Day 4) Empire Creation
Day 5) Your Deepest Message
Day 6) Following Soul Guidance in All Areas
Day 7) Faith vs Fear
Day 8) Accessing Flow, and Superflow
Day 9) Expanding Time
Day 10) Expanding Money
Every day will be a LIVE soul led transmission.
This will take place on Facebook video, held at a variety of times in order to account for varying time zones, and scheduled only once we have begun. Our daily soul transmissions will be guided from MY higher self and directed from and for YOURS, to help you find and FOLLOW the messages within. The messages of your spirit, your consciousness, of the who you've always been and yet have managed quite well to cover up a lot of the time.
This is about stripping away –
And getting back to the CORE.
We'll dive day by day into the above mentioned areas –
And you'll receive all content and bonuses to keep for life.
There will be daily spirit prompts which you'll receive after each training.
And plenty of time opportunity connect with me throughout, receive transmissions direct to YOUR questions, and absorb more even than what comes through on the trainings, via the energy we'll create in this collective!
It's very rare for me to know in advance exactly what is coming through day to day.
I certainly don't have the details of each day's content. But I know that these areas have been on my heart to talk about, in particular around belief, around certainty, around living from FAITH.
We know that exactly what is meant to come through for you WILL, and then some. And that if you intend and allow for it to, it will change, most likely before we even begin, due to your energetic commitment, the direction of your LIFE!
Meaning: direct it back to absolute soul alignment.
*** NEVER Seen Before Bonus! ***
As part of this, I've been guided to offer a NEVER before seen bonus … one I feel super vulnerable about sharing!
It's the exact journaling I did to allow the download of THIS offer through. How I allowed the idea to bubble up. You'll see my doubt, uncertainty, annoyance. You'll see what I discarded. How I went through the layers. And how I KNEW, this was the one.
I'll ALSO add in copies (screenshots) of my conversation with my COO Ash, where I was talking through the idea and allowing it to come to life.
I want to show you the exact Idea to Launch process!
This bonus alone is EASILY worth the cost of this program, particularly when you hear the mindset side of it, in terms of STAYING THE COURSE and refusing to back away from my self until the idea showed up!
I refuse not to create!!
AND, when you register for EXPANSION today (and how could you not?!) you'll also receive early access to the Pre-Work. This is ALSO never seen before, and brand new just for you – and it's a guided meditation on remembrance, to help you connect back to deepest self and the most certain truth of your destiny, before we even begin.
Perfect priming, for when we expand RAPIDLY into all that is coming through in this work!
Of course I could now go on and on here, about what I could or should have charged for this, and what it's actually going to be …
Or about all my accomplishments on line and off, with money, with purpose, with passion, with flow …
I think you know all this anyway. Even if you just me! Your soul feels what matters. And that's ALL that matters.
But I will say this:
You've always known it's supposed to be about ALL that is inside of you. That it's meant to COME from a place of purpose, passion, and SUPER super flow. And that if you just.freaking.trusted, and showed up FULLY from that place, you'd be living in a different reality already.
THE ONE INSIDE OF YOU.
If that's true for you right now, then LET'S GO CREATE THAT REALITY.
Right now
Press play for regular, (super fuck yes!!) upfront or payment plan
OR
Press play like a VIP, and receive the full course, plus 10 days direct photos or screenshots of my ACTUAL personal journaling, so you can see how I create and expand my life, PLUS a VIP only follow-on live Hotseat, where you'll receive a personal transmission just for you, if you'd like one! Payment plan also available.
>>> https://thekatrinaruthshow.com/expansion
We start Monday 17 December, US time!