News
Who Else Wants To Lose Weight From Eating More Eggs?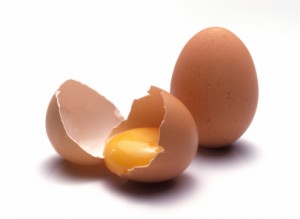 A 2008 study in the International Journal of Obesity has put cooked-breaky-lovers guilty fears to rest. Well, at least part of those fears.
Hold the hash browns but bring on the scrambled eggs 'cause this latest research is showing categorically that eating a googly or two for breaky will enhance your weight loss by as much as 65%.
The objective of the study was to test whether an egg breakfast, in contrast to a typical bread-based breakfast such as a bagel, when matched for energy density and total energy, would enhance weight loss in overweight and obese participants.
Participants (both male and female, and aged between 25-60 years) were assigned to 2-egg or bagel breakies for a minimum of 5 days per week over an 8-week period.
The Results Are In And It's Not Looking Good For Grains
Egg-eaters in comparison to the bread brigade showed a 61% greater reduction in BMI (a height to weight measurement tool), a 65% greater weight loss, a 34% greater decrease in waist circumference, and a 16% greater reduction in percentage of body fat. Furthermore, total cholesterol (both the good and the bad kinds) and triglycerides (dangerous fat in your bloodstream) remained unvaried between the two groups.
Why Eggs Assist In Permanent Weight Loss
According to the study authors it's pretty simple:
"Compared to a calorie-equal bagel breakfast of equal weight, an egg breakfast had a greater satiating effect, which translated into a lower caloric intake at lunch. The resulting decrease in energy consumption lasted for at least 24h after the egg breakfast"
The Catch
If you spend even a little time reading online you'll know that studies and research showing benefits of one eating method over another abound anywhere you can find written word. And if you don't read the fine print carefully it's easy to focus on the attention-grabbing outcomes and miss the finer details.
The need-to-know extras for the egg-breakfast vs bagel-breakfast study are reduced to one small but crucial point, which is this –
What I didn't yet mention is that both egg and bagel eaters were split into a further 2 groups. One group was given no advice or encouragement to watch what they ate aside from their assigned breaky, while the other group was paying attention to their total food intake. Regardless of whether eating eggs or bagels, those who paid the remainder of their food choices no attention did NOT lose any weight. To put it another way –  successful weight loss was noted only in the group of egg-eaters who were careful with their overall food intake as opposed to freely stuffed themselves all day long.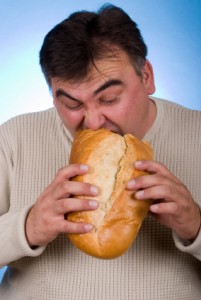 How To Make This Work For You
An animal protein-based breakfast of any kind is irrefutably the ideal way to begin your day. Countless studies and practical experience will demonstrate increased energy and satiety from such a meal. But it sure won't be enough to ensure weight loss results if you leave the morning table and munch your way through the rest of the day with little or no regard for protein intake.
Our ever-expanding collective waist is the result of an increasing trend toward carbohydrate-dominant diets. And not necessarily the (supposedly) good carbs. Sadly convenience foods, take-away, bakery goods, confectionary and savory treats, low-fat pastries or muffins, so-called energy meals based on vast quantities of pasta or rice, not to mention just about any item from a juice bar or beverage vending machine, are no-longer the rare exceptions in our diets but are the very foundation of our so-called nutrition. We're awake up to 20 hours each day, often working for at least 10, and try to exercise with decent intensity at least 3 or 4 days each week. We're plagued by stress, annoyances, irritation, and exhaustion. We take on more than our bodies were ever designed to mentally handle and we beat ourselves up when we don't manage to get it all done.
And somehow we manage to convince ourselves that processed grains, trans fats, stimulants and sugars are the key to repairing all this damage and getting in shape? Maybe you can't control each of the stressors and responsibilties I just listed but you sure can give yourself a fighting chance by eating right. You've heard it before and I'll say it again – breakfast sets the foundation for the rest of the day and without a good 'un you'll be on a sure-fire path to fatigue and fat gain.
I hope this article serves as a slightly-more-than-gentle prod to get you thinking about what goes into your mouth, but I know that changing things overnight is not feasible for many people. My suggestion is to spend a week focussing on breakfast, add lunches the next week, dinners the next, and finally snacks.
For further reading on ideal food choices check ou my articles Eat Fat to Lose Fat, The Importance of Seasonal Eating, and Why You Should Be Careful With Carbs.
Life is Now. Press Play.
Kat
Life is Now. Press Play.
Kat x

PS
I want to help you to build a business you LOVE, and that meets your every want and desire, in a real and true way, whilst also resulting in you making a LOT of money, fast, and impacting a lot of people, also fast, in the way you know you were born for!
My most transformative 1:1 intensive EVER … shifting people into EPIC income and success since 2016 is back, for the first time in 2019! I'm so excited to bring this signature transformative work back!
Rich Hot Empire!
Work With Me for 6-Weeks Personally to Grow Your Perfect Cult Tribe, Create and Launch Your Low-High End EMPIRE, and Set Up Multiple Recurring Income Streams to Take You to Multiple 7-Figures and Beyond, Doing What You Love!
This round is even more special as I will be re-recording all original content, with you there live with me and alongside me AND you will also receive all original content; the exact trainings which has made this program my most successful ever, with clients repeatedly saying they achieved more in 6 weeks with me than they had in 2 YEARS beforehand! This work is for entrepreneurs at ANY starting point, as it's about who you are as a person not where you're at. I've had clients anywhere from total start-up, to already doing 500k+ / year go through Rich Hot Empire and all who have done this work have gone to a level of income as well as alignment and FLOW which they couldn't previously even imagine!
6-week personalised intensive high level mastermind
Weekly group training and support; multi-media training: visual + audio
'Done for You' Templates and Step-by-Step Worksheets
Personalised 1:1 coaching included, plus DAILY unlimited 1:1 access
My personal hand on your business success
Weekly group coaching call and hotseat with my other private clients
24/7 mastermind forum, networking and support
Very limited spaces
Results guaranteed
Not for everyone
STARTS THIS MONTH!
I'm so excited to do this work with a small group of badasses who are willing to SHOW UP FOR THEIR SOUL no matter what. To walk away from all that is not serving, not actually working, not FILLING you. And to all yourself to bring your truest desires to life. If that's you, or you've felt the call to work with me at this level, PM me now. Bonuses and fast action-taker investments apply to all successful applicants, but for the first 5 to say yes there is a very special $2000+ bonus specific around Soul Shifts & Money Makin', and which, in and of itself even before we begin RHE will have shit changing for you FAST.
Apply via PM only. I can't wait to speak with you!
PPS
HAVE YOU JOINED PURPOSE PASSION FLOW ACADEMY?
My 'Going Fully Quantum' training will break down ALL of what we've discussed today, and teach you the finer details and finesse of it, as well as exactly what needs to be true for you to APPLY it, not only into the practical actions you need to create THAT money flow and THOSE results, but also in terms of ALL the energetics of it, especially the 'being and non-being' around dropping in to superflow so you can be shown, create, receive, AND of course the being around not being one of those people who just can't seem to choose faith and are ruled by fear. We'll also talk about creating and integrating the exact wording, beliefs, emotions, energies YOU need for all of this to switch effortlessly for you, as you've always known it would.
In other words: EVERYTHING you need to know to go fully quantum, and double your income in 30 days or less, or whatever else you choose!
Where will you find this training?
Why, it's one of the very first training in 'Remembering Who You Always Were', which. is our June intensive for Purpose Passion Flow Academy, my SUPER low-cost monthly membership mastermind!
And this training?
Will change your freaking reality. Well – it will REMEMBER it.
It's all available to you gorgeous.
You know this already.,In the quantum it is DONE. And in Purpose Passion Flow Academy, and especially our June intensive 'Remembering Who You Always Were'? We gon' done do it.