News
Best Steak Marinade Ever!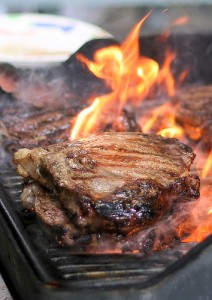 I don't know about you, but there's something about the promise of warmer weather that whets my appetite (sorry if you're not in Melbourne like me but I'm sure you can still relate). Even the slightest hint of sunshine has me chomping at the bit. And not just for any old food, but for a good old-fashioned BBQ. With all the trimmings. And while there's nothing wrong with a plain steak and salad (after all, it still tastes better when cooked outdoors), it's always great to come across new ways of creating flavor temptation for your meat. Fortunately for me, I have you guys to provide me with your fabulous recipe ideas when I get stuck for my own! Thanks to Brenda from Las Vegas for sharing her great steak marinade and grilled garlic zucchini recipes. Enjoy!
Teriyaki Steak Marinade
Serves 4
1 1/4 to 1 1/2 inch thick grass-fed steak of your choice (at least one per person)
1/2 cup pineapple juice (you can also use pear or apple)
1 1/2 tablespoons minced garlic
2 teaspoons molasses
2 teaspoons balsamic vinegar
2 tablespoons freshly grated ginger
1 teaspoon organic sea salt
1 teaspoons ground black or white pepper
1 teaspoon chili flakes
2 tablespoons sesame oil (MUST be organic or you risk it being rancid) – almond oil is a good alternative if you can't find sesame oil organically
If your steaks have a lot of fat on the edges trim most of it off to prevent flare-ups while cooking. Whisk the marinade ingredients together in a small bowl and pour into a large glass tray. Add your meat to the tray, coating all sides evenly as you go. Refrigerate (with a light cover; even a tea towel) for a minimum of 2 hours – up to 8 hours is ideal. You'll need to turn the meat every hour or so in order to keep it evenly coated. Finally, remove meat from marinade and let stand at room temperature for 15-20 minutes before cooking. Cook on a medium-heated grill for 3-5 minutes each side, depending on how you'd like it done. Keep in mind that grass fed meat naturally looks more pink than conventional, even when fully cooked.
Tip: this recipe initially called for soy sauce. Being that I'm completely against the use of any soy products and don't even consider soy to be a real food, I used my soy sauce substitute, which is molasses, balsamic, extra garlic, pepper and salt, plus some chilli. All organic of course!
Garlic Zucchini
4 tablespoons coconut oil
2 1/2 teaspoons minced garlic
4 medium-large zucchinis
1 3/4 teaspoons organic sea salt
1/4 teaspoon ground pepper
Food processor (although you can get buy without it)
Using a large flat fry pan, melt the coconut oil and spread around evenly. Turn the pan off for now. Mince the garlic cloves (if you're using whole garlic) and add to the oil, then cut the ends of the zucchini and trim any blemishes. Slice each vegetable long-ways down the middle, and then cut half again down the middle. Cut each strip in half once more, this time across. Use the widest blade on the food processor and add into pan as you go. If you don't have a good processor, you'll simply need to take a little extra time to fine chop the zucchini. Once this is done, turn the pan on to a medium-high heat, add your salt and pepper, and carefully stir every 30 seconds or so, for up to 10 minutes total. It's normal for steam to rise from the pan as you cook. The zucchini is done when it has softened and looks wilted but is still form. Add more salt and pepper to taste, and turn pan off when done so it won't continue to steam. It's best to start cooking the zucchini once your meat has hit the grill, or you risk overcooked mush!
Tip: You can use this recipe with squash, capsicum, or even finely-sliced pumpkin or sweet potato.
Serve outdoors with a fresh green salad, salt and pepper on the table, and (of course) a good red wine. And hey – if it's not quite summertime your way don't let that stop you. Who knows, you might bring on a much-desired weather change!
Life is Now. Press Play.
Kat
Photo by jmacphoto.com
Life is Now. Press Play.
Kat x
PS
I want to help you to build a business you LOVE, and that meets your every want and desire, in a real and true way, whilst also resulting in you making a LOT of money, fast, and impacting a lot of people, also fast, in the way you know you were born for!
My most transformative 1:1 intensive EVER … shifting people into EPIC income and success since 2016 is back, for the first time in 2019! I'm so excited to bring this signature transformative work back!
Rich Hot Empire!
Work With Me for 6-Weeks Personally to Grow Your Perfect Cult Tribe, Create and Launch Your Low-High End EMPIRE, and Set Up Multiple Recurring Income Streams to Take You to Multiple 7-Figures and Beyond, Doing What You Love!
This round is even more special as I will be re-recording all original content, with you there live with me and alongside me AND you will also receive all original content; the exact trainings which has made this program my most successful ever, with clients repeatedly saying they achieved more in 6 weeks with me than they had in 2 YEARS beforehand! This work is for entrepreneurs at ANY starting point, as it's about who you are as a person not where you're at. I've had clients anywhere from total start-up, to already doing 500k+ / year go through Rich Hot Empire and all who have done this work have gone to a level of income as well as alignment and FLOW which they couldn't previously even imagine!
6-week personalised intensive high level mastermind
Weekly group training and support; multi-media training: visual + audio
'Done for You' Templates and Step-by-Step Worksheets
Personalised 1:1 coaching included, plus DAILY unlimited 1:1 access
My personal hand on your business success
Weekly group coaching call and hotseat with my other private clients
24/7 mastermind forum, networking and support
Very limited spaces
Results guaranteed
Not for everyone
STARTS THIS MONTH!
I'm so excited to do this work with a small group of badasses who are willing to SHOW UP FOR THEIR SOUL no matter what. To walk away from all that is not serving, not actually working, not FILLING you. And to all yourself to bring your truest desires to life. If that's you, or you've felt the call to work with me at this level, PM me now. Bonuses and fast action-taker investments apply to all successful applicants, but for the first 5 to say yes there is a very special $2000+ bonus specific around Soul Shifts & Money Makin', and which, in and of itself even before we begin RHE will have shit changing for you FAST.
Apply via PM only. I can't wait to speak with you!
PPS
HAVE YOU JOINED PURPOSE PASSION FLOW ACADEMY?
My 'Going Fully Quantum' training will break down ALL of what we've discussed today, and teach you the finer details and finesse of it, as well as exactly what needs to be true for you to APPLY it, not only into the practical actions you need to create THAT money flow and THOSE results, but also in terms of ALL the energetics of it, especially the 'being and non-being' around dropping in to superflow so you can be shown, create, receive, AND of course the being around not being one of those people who just can't seem to choose faith and are ruled by fear. We'll also talk about creating and integrating the exact wording, beliefs, emotions, energies YOU need for all of this to switch effortlessly for you, as you've always known it would.
In other words: EVERYTHING you need to know to go fully quantum, and double your income in 30 days or less, or whatever else you choose!
Where will you find this training?
Why, it's one of the very first training in 'Remembering Who You Always Were', which. is our June intensive for Purpose Passion Flow Academy, my SUPER low-cost monthly membership mastermind!
And this training?
Will change your freaking reality. Well – it will REMEMBER it.
It's all available to you gorgeous.
You know this already.,In the quantum it is DONE. And in Purpose Passion Flow Academy, and especially our June intensive 'Remembering Who You Always Were'? We gon' done do it.