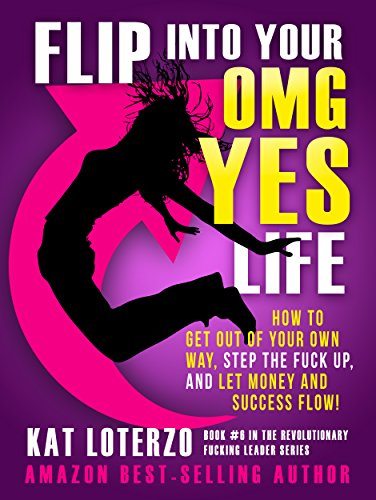 FLIP INTO YOUR OMG YES LIFE: HOW TO GET OUT OF YOUR OWN WAY, STEP THE FUCK UP, AND LET MONEY AND SUCCESS FLOW! (REVOLUTIONARY FUCKING LEADER SERIES BOOK 6)
I just had somebody make fun of me for how much money I make, and the fact that I could be growing so much faster. Specifically, what was said (with the person speaking in her words 'as' me):
"I think I'm making fabulous money…according to who? The poor little fucks on Facebook?"
This is somebody I trusted, who I thought was on my side, who maybe even thinks they ARE on my side and said this from some misguided place of wanting to support me, but ultimately?
This is an issue of miscommunication, because at no point did I EVER say I wanted money or any other form of payment for my art. In fact, I have pretty much said PRECISELY the opposite of that.
And here's the thing. And it's a thing which I've thought about many times, when I look at where I hold myself back and why I am NOT growing faster:
Alignment takes whatever it takes.
Of COURSE, I could push my income faster, the numbers of my followers, various other markers of success. Of course I could! Do more, push more.
But I've done that before, y'know? The whole put money first thing.
It ate me alive, from the inside out. And so, I walked away, at the time, from what was nearly a 7-figure online business. I deliberately STOPPED selling shit I wasn't FULLY aligned with, let debt and fear build, hit rock bottom financially, and ultimately as a result of that I walked INTO this current business and life.
Multiple 7-figures.
And growing, On my terms.
PURPOSE AND FLOW BASED.
Sometimes, even now, I see areas where I'm not in alignment. Sometimes I even sabotage myself in those areas, allow them to have a hold over me, tell myself stories about why I can't yet deal with it or why I can't trust my gut.
I'm learning.
I'm trying.
I'm actively seeking to listen in better and better each day.
It's all we can EVER do. But one thing I know for sure is that never again will I CONSCIOUSLY put money before alignment, before purpose, before truth, before soul.
So here's the thing.
You can, if you want, make more MONEY or build your FOLLOWERS, or LAUNCH or SELL something, faster, more aggressively, and perhaps even with a better return than what you're seeing now. It's possible. I personally have ACTUALLY found that when you do try to do this, and it's not also in alignment, it backfires like a motherfucker. But in theory it's true.
But I guess the question is –
Would you want to?
Do you NEED to?
It's very lack-based, I think, to imagine that you NEED to push further and faster than what actually feels right. It's like saying that if you don't do it now! Right away! At once! All of it! You might –
Miss out?
On future opportunities?
On getting to where you want, need, are called to go?
I don't think so. Of course, I also get that this way of thinking CAN be a way of resisting, hiding out, playing small, telling yourself you're not ready yet when in fact you're just SHIRKING.
But that's the thing, isn't it?
In the end, the only person we TRULY have to answer to is ourselves. When your head hits the pillow at night you do NOT want to feel that you hid out on your dreams, and avoided doing the work, either inside or out.
But you also don't want to feel that you jumped off your path for a buck, do you?
The question is –
What IS the path you're meant to be on right now? Where is it you ultimately want to go?
It's not actually a daunting question, or a tough one to answer at all, because the truth is that all you EVER need(ed) to do?
In Flip Into Your OMG YES Life I cover:-
* Alignment Before Everything
* Maybe It's Time to Just Do What You Love?
* Are You Missing Millions In Your Business?
* Flip Into Your OMG Life
* Get Out of Your Own Way, Step Back, Let the Money Come
* Ten Ways to Increase Expansion to Allow Massive Wealth
* Allow Yourself to Receive, Receive, Receive
* How to Believe In Yourself
* Love Sells, Fear Fells
Don't forget –
Life is Now. Press Play.
Kat x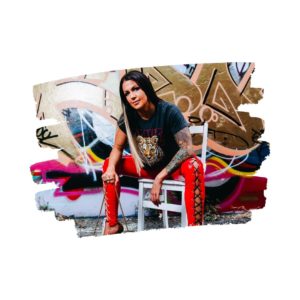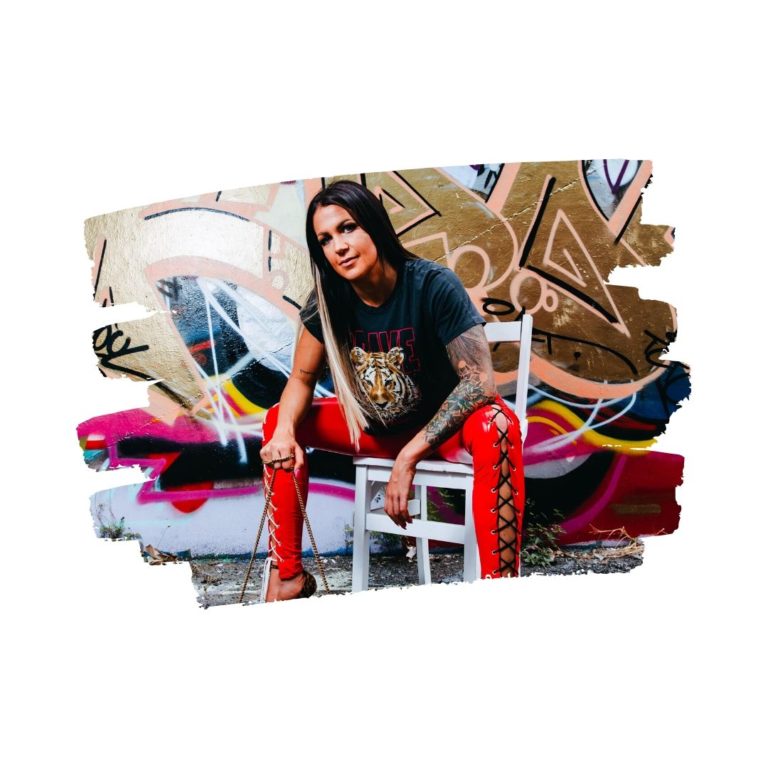 P.S.
Million Dollar Soul Team is here!
An absolute MUST for any entrepreneur who is ready to NOW start saying yes to the one day vision of where they're meant to be!
The Point by Point & Definitive Program on Finding, Building, Training, Empowering, and Flowing With Your Ultimate 'One Day' Soulmate Team, But Now!
https://thekatrinaruthshow.com/milliondollarsoulteam/
Learn exactly, and every step along the way, how I went from solo entrepreneur, to one and then two VAs even up to multiple 7-figures per year, to now being surrounded by the MOST incredible dream team on the planet! Everything you need to know for EVERY step on your journey in this area, plus the ongoing day to day and BTS of all of it! Taught by me AND the #KatNinjas, and includes access to our Standard Operating Procedures, Templates, Systems, and more, that you can use right away in your own biz, even if the entire team right now is, like it once was for me, YOU!
This 4 week program is about SO much more than simply the 'how' of finding, building, training, empowering, and flowing with your ultimate soul team. What it's really about? Getting TF outta your own way, whatever that looks like, to say yes to the business and life you actually came here for.
Come see what I made you, here: https://thekatrinaruthshow.com/milliondollarsoulteam/
P.P.S.
I'm re-opening Rich Hot Empire, today!
This is my 6 week 1:1 intensive, #KatrinaRuthFamous since 2016! It is THE way to work with me if you know you're meant to work with me 😉
During our 6 weeks together I take you through EVERYTHING there is to know around building your low end right through to high end multi 7-figure and BEYOND soul aligned empire, doing only what you love.
This isn't about where you are right now in business, this isn't about how much money you're making right now it's about who you are as a person.
Rich Hot Empire is about flicking the damn switch on who you're meant to be NOW!
Here's the thing –
The difference between you and the woman you see who is crushing it online, who's doing such an amazing job, who is so inspiring just through the ESSENCE of who they are –
Honestly, the difference isn't the systems and the structures..
The difference is she just has a HIGHER LEVEL OF BELIEF than you.
The belief in her God given right to have things work in a certain way
The belief to have business work in a certain way
The belief to have life treat her in a certain way
The belief to have the right ideas come through
The belief to have things just work out
She just believes and expects it!
What is your level of belief?
It's time to back yourself, but FULLY.
Its time to dig your damn heels in and DO the darn thing now!
This?
This is what Rich Hot Empire, and the work I do with you as a private client in this 6 week time together, is all about.
It's a time to really get into the structure and strategy in a DIFFERENT kind of way. To go behind the scenes of how I've done it, to build a multiple 7-fig per year biz which breaks all the rules, lets me be me, and yet is also highly structured … without at all feeling that way!
It's a pretty cool thing, to realise you figured out how to unleash ALL your madness, but fully, and NEVER compromise on what feels fuck yes and fly for you, and yet know you got your biz shiz sorted!
Guess what??
You get to have that too.
We dig ALL the way in to your belief stuff, mindset stuff, energetic alignment and ability to receive, everything INTERNAL that is stopping you from already being where you know you should and could, and what to do about it.
Rich Hot Empire gets such incredible results for people because it marries these two areas together. Full alignment to that next level identity you KNOW is waiting for you –
And full asskickery to do what you know you gotta do, with me right there by your side showing you how to do that, how to find the exact way that feels good and works for YOU.
Ready to go all in on you and truly BELIEVE you can have it all?!
Message me for the full overview: http://m.me/katrinaruthofficial
>>>Rich Hot Empire! 6-Weeks Personally to Grow Your Perfect Cult Tribe, Create and Launch Your Low-High End EMPIRE, and Set Up Multiple Recurring Income Streams to Take You to 7-Figures and Beyond, Doing What You Love! <<<
6-week personalised intensive high level mastermind
Weekly group training and support; multi-media training: visual + audio
'Done for You' Templates and Step-by-Step Worksheets
Personalised 1:1 coaching included, plus DAILY unlimited 1:1 access
My personal hand on your business success
Weekly group coaching call and hotseat with my other private clients
24/7 mastermind forum, networking and support
Very limited spaces
Results guaranteed
Not for everyone
I'm so excited to do this work with a small group of badasses who are willing to SHOW UP FOR THEIR SOUL no matter what. To walk away from all that is not serving, not actually working, not FILLING you. And to all yourself to bring your truest desires to life.
If that's you, or you've felt the call to work with me at this level, PM me now.
Apply via PM only http://m.me/katrinaruthofficial. I can't wait to speak with you!