News
Do You Have Silly Beliefs Holding You Back?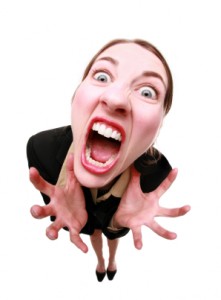 Read time: 2 minutes
AUGHHHHHHHHHHHHHHHHH. And GRRRRRRRRRRRRRRRRR. I am so brimming-over with anger and frustration right now that I just might self-implode. I'm trying really really hard to enter a zen-like state and get over it, but MAN am I ANGRY. Don't worry, nothing life destroying happened to me. I haven't had my house burgled or sustained any sort of injury. My loved ones are all well and fine and nobody has so much as infiltrated my chocolate stash. No, the anger I'm feeling right now is the kind which stems from normal everyday annoyances. When simple things don't work out the way they should.
I'm about to start day one of Charles Polquin's Training the Female Client Special Considerations Seminar in Floreat, Perth. I can't wait, not least because I think (not sure) that we'll be going through a workout today and this will be my first time being trained under Charles' tutelage. I'm also really excited about having a muscle testing consultation this morning with Bob Gueil, one of Charles' Biosig CE guest teachers. We learned muscle testing from him last week and it was fascinating, to say the least.
But I digress.
I got up early enough this morning that I could get to class in time to have a coffee and whip out a little bit of writing, just to clear my mind. I get really really antsy when I don't write regularly, and in the past week over here I've managed only one 20 minute session. Words. Must. Get. Out.
Long story short I waited 40 freakin' minutes for a taxi, during which time I called 6 times and was told that obviously I wasn't standing in an obvious position because they couldn't find me. Never mind I've been picked up there every day the past week and never mind I was STANDING ON THE HIGHWAY WEARING A BRIGHT BLUE TOP AND RIGHT NEXT TO A DOUBLE MAN-SIZED SIGN SAYING ' No. 228'. Again I say GRRRR. Although to be honest I was nearly in tears by the time I finally got in a taxi, so 'ruined' was my idea of how the morning should go, and of how crucial it was that I not be late.
silly beliefs stealing my peace
Sitting in the taxi, though, something occurred to me. This might have been helped by the classical music the cabbie was playing although I do like to think that all the self-help education I've invested in over the years sometimes surfaces when reality demands it. Anyway, it hit me that I was reacting to something I had no control over, and doing so based on my expectations of how things 'should' go. My idea of how the world – or life – is supposed to work.
Have you ever done this? For sure, right? And if you think about it, it's kind of a ridiculous way to behave. Why should a taxi come in a certain period of time? And why should my idea of having a great day today depend so firmly on spending time with a coffee and my thoughts before class?
when rituals get ruined
We all have little rituals that work for us. Some important rituals for me are said time with coffee and pen (okay, Mac keys), along with a necessary minimum of workout time. Sleep and good food also factor in, but time to myself in various ways is probably the most important. And the reality is that if I don't get those things – even for a short period of time – I get insanely grumpy. I try to hold it in, I really do – particularly if the loss of control is due to traveling, or being with other people – but I'm not always so good at it. My husband says that everyone in the room, nay street, can tell if I'm not happy about something. Sorry to those of you who've experienced this.
Do you lose it when things don't go your way?
Recently I sat down with a client who has been having a tough time getting results. Certainly there are many things she acknowledges she's not doing 100%, and with a small child at home plus running her own business, I totally understand. But that aside it's also true that she is finding it tougher to lose fat than what some other women – or men 🙂 – may do. When it comes to fat loss and improving health there are always highly individual, often toxicity or hormonally related, reasons why some people get seemingly effortless results while others battle for years. But – at least to an extent – there is also just the simple fact that it's tougher for some than others. You may have experienced this yourself; perhaps you have a friend who can eat whatever they want, does little or no exercise, and still looks amazing. And you can console yourself all you like with the knowledge that they're probably 'skinny fat' or are going to end up with osteoarthritis but really – we all just want to look a certain way that we consider ideal, don't we? And we consider that if we put a certain amount of time and effort in – particularly when it fits the norms of what we 'should' have to do to get results – well, then, results should automatically follow.
it is what it is
I know some people absolutely hate the saying 'it is what it is', and perhaps I just respond well to corny platitudes, but there's something so intrinsically simple yet profound about this idea. The truth is that your life will not always turn out how you plan. I don't mean to imply that we are responsibility free, because I do quite firmly believe in the law of attraction and creating your reality. But I also think sometimes we need to re-assess what we consider fair, or realistic, or even true. If you're so caught up in your idea of how things should be, you can miss a lot of really wonderful opportunities to just enjoy the present and go with the flow.
Take the taxi example – the 45 minutes I spent waiting was all outdoors on a beautiful sunny morning. Viewing things a different way I could have reveled in the chance to soak up some much-needed Vitamin D and – if I got really desperate to be productive (although the idea of always having to be productive is probably another silly belief I need to get over) I could have whipped through my emails on my phone or iPad. And regardless of whether or not a positive side can be found in every situation the truth really is that we do have the power to determine our emotional and physiological response to any circumstance. In the end, I chose to let the anger go and enjoy the day. And why wouldn't I? The sun was shining, I made it to the course in one piece, and I even got a blog post out of the whole affair.
Over to you – can you think of any silly beliefs that are robbing you of your peace or holding you back from greater joie de vivre?
Don't forget –
Life is Now. Press Play.
Kat x
PS
Programmed to Upgrade is happening gorgeous, and WHOOOOO MAMA is this the work that works.
25 days, you and me, 1:1, to quantum leap like you've NEVER leapt before.
This will be intense …
And a lil bit scary. But buckle up, because you KNOW you're ready for it.
SO fucking ready 😉
Programmed to UPGRADE!
25 Days, 1:1, with Katrina Ruth, to SCREW the Rules, SCREW the Norm, Go So Damn Extra, So Freaking Hot, So Fully SEEN, and Snap Your Future Into the Now So Damn Fast It'd Make Your Head Spin … even as you nod in certainty that of COURSE, this is what was ALWAYS supposed to be ..
Places are already filling, and we begin next week. If you know it's time to say yes to MAGIC, and creating your reality from the supernatural, and you're SO ready to drop the paradigm of always having to DO (and yet still not be there!) then message me now.
I'll get you the full overview, and talk personally with you about whether or not it's for you.
To the supernatural baby, and beyond …
PPS
I HAVE SOME BIG NEWS TO SHARE!
As of today, I'm opening up the doors to my Inner Circle, my private client mastermind.
This is THE most badass high level mastermind in the world for women who want it all – and are prepared to do what it takes to get it! Really what we're talking about is being prepared to be the PERSON.
And that's what I do. I help you remember ALL that you were, and then become it. ALL Of it.
This is my highest level private mentoring circle. The exact place where I have personally mentored dozens of this industry's most elite female entrepreneurs to break income barriers ranging from 10k months to multiple 7 FIGURE months, and everything in between. But more importantly than that – to become who and what they always were.
But know that this is not only (obviously) not just for the masses, this is also not just for someone who can afford to invest in a high level private coach. Being willing to throw money down is something which has absolutely zero correlation to being somebody who has what it takes to TRULY go next level as a leader.
If anything, in this industry, investing in a high level coach such as myself, is a rite of passage which veers just a little too much on the side of 'trend'. It's become something which 'everybody does', almost as a way of proving they play business and life a certain way.
Maybe even of trying to prove it to themselves.
Here is the reality which those who I am truly here to personally mentor and lead KNOW, the reality which my clients and all women like me as well as of course me personally have ALWAYS known:
We are VERY VERY DIFFERENT.
We are simply, smarter, faster, and have more presence. We can do more in our minds before breakfast than what most people can do in a freakin' WEEK, a month, a year.
We are not basic ass coaches trying to heave ho our way up a few extra thou a month.
We are the ones who have ALWAYS known we are 1% within the 1% within the 1% in terms of how we think, create, operate, how and WHAT we are tapped in too.
This is not arrogance, this is fact.
And there has NEVER been any question but that we will go all the way.
My clients are high level badasses who do the work, who have a proven track record BEFORE coming to me, and a BEING-ness which unquestionably separates them from the rest. They don't come to me to save them or lean down and hold my hand out so they can clamber up. They come because they are, quite simply, ready to go to the next level, already absolutely on their WAY there, and see in me something which they recognise because it is in them.
That 'can't stop won't stop' fire, and a level of 'unapologeticness' which, when truly understood and applied, can literally be the difference between 5-figure or low 6-figure and 7 or multi-7-figure entrepreneur.
So if you know who you are and it is THAT –
And you feel certain that you are ALREADY well on your way to to precisely where you're meant to be, but that being in MY energy could help you to drop in and get there even faster, and that with a couple of simple tweaks your current revenue could be doubling, tripling, heck QUADRUPLING and beyond in months, as it has done with numerous of my clients previously, well then –
PM me here http://m.me/katrinaruthofficial and we'll see if it's a fit. I'm excited to talk to you, and maybe – do biz and life with you.