News
Do You Have These 2 Traits That Could Allow You To Freely Eat Carbs?
I'm excited to re-introduce Kyle Sommer from Achieve Coaching. Kyle is a fellow BioSignature coach, and is also a Poliquin Certified level 2 State Strength Coach.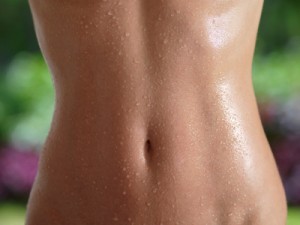 Read time: 4-5 minutes
Let's recap what we learned in the first article.  Our main take home points were the different carbohydrates available and their effect on the body and glycogen levels. We also spoke about how exercise should relate to carbohydrate intake. Now you may have noticed that there are other factors that I mentioned that play into determining how many carbs you should eat on a given day, or a given training cycle.  Let's discuss those now.
Genetics
In general, there are two types of people that are reading this article.  The first and most common type are people who are actively trying to reduce their body-fat, so the topic is pretty interesting just by that alone.  The other type are those are actively trying to gain muscle mass, but just can't seem to do it very well. If you put those two people on the same type of diet, you're going to get pretty much the difference you have in their bodies already: one person's metabolism slows down and they gain fat, and the other one's metabolism speeds up beyond belief and they lose fat, or even sometimes muscle tissue! There is no real way to explain this, but it's just simple fact that some people tolerate carbs better than others.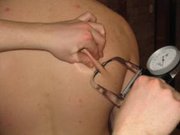 In the BioSignature Modulation system by Charles Poliquin, we use the subscapular skinfold to detect genetic levels of carb tolerance, and this usually works pretty well. Note that I didn't say that those people who don't tolerate them as well should completely avoid them. Those people can still utilize carbohydrates to dramatic effect, and in my opinion, not including them is worse than going cold turkey. That's in direct opposition to what most of my colleagues practice, and I am fully aware of that fact. I'll go into more detail on this later on, but for now, just get a grasp on where you might lie on this contiuum of carbohydrate tolerance. For example, I'm close to the midline, but I lie a bit skewed to the carbohydrate side, so I need a bit more of them to be productive. When I did completely low carb, I got fat and weak, but at the same time, I got fat and sluggish when I went completely high carb. So yes, I do need more, but I still have to manipulate them to some degree.
Leanness
Your bodyfat levels say a lot about what's going on in your body.  Just by looking at a person, thanks to the BioSignature, I can get a decent grasp on what that person may have problems with in their lifestyle and what their diet might look like – specifically what they are eating too much of.  Given the factors we've learned about already, add this into the mix: the lower your bodyfat, the more carbs you can eat and stay lean/get leaner. Your pancreatic hormones like insulin just work better when you are leaner.  Your muscles are the dominant sites for insulin binding, so most of the carbs tend to go there.  And people who are not naturally lean or not naturally carb tolerant probably train pretty damn hard to get that lean, so odds are they are depleting their glycogen – back to the first factors I introduced in the last article.
Tell me if this sounds familiar – someone you know likes aerobics.
A lot.
The treadmill and elliptical are their favorite exercise modalities.  This person, in the interest of losing weight and fat, follows that low fat diet we talked about.  However, this person just can't seem to get the fat or weight off.  Or, even worse, their fat distribution changes – lean legs, lean arms, gaunt face, but a ring of ugly fat around the midsection.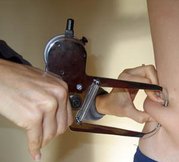 I will refer again to the BioSignature. I haven't seen this wrong yet since I learned about it, but the suprailiac skinfold is what Charles calls the "environmental carbs" site.  It's essentially a measurement of insulin management, or, maybe, insulin mismanagement.  So if a person has a ring of fat around the middle, you can be pretty sure that they are eating too many carbs and they have too much insulin their bloodstream.  Let's use the person above as an example, and let's apply all of the factors I have introduced so far to their situation.
First, let's analyze their training program. Lots of aerobics = not much glycogen burned.  So, we know their workouts don't need glycogen replenishment, thus they don't need carbohydrates in their diet.  This person, just due to the fact that they are trying to lose weight, is likely genetically not carb tolerant.  I'm not saying carb tolerant people can't get fat, but it's just less likely with the prevalence of sweets and processed foods in the food supply these days.  This person is also not lean, so they need less carbs to lose the fat.  The person also has that lean limbs, chubby midsection effect going on, so it's likely they are consuming exactly the WRONG type of diet to see results from their training.  If this person went completely low-carb, they'd likely drop a lot of fat immediately.  Of course, it's definitely not that simple, and when you factor in different training methods and volumes it definitely gets more complex.
Charles always tells us, you must "earn your carbs."  This is completely true.  Factor #1 was all about how intense your activity is and how much work you do.  More work at a higher percentage of your work threshold means you can eat more carbs.  Period.  Factor #2 is about genetics but also your current condition, and how that dictates your carb allowance. Use the above two factors to fine-tune your intake and you might be amazed at what happens.
What's your personal experience with adjusting carb ratios based on your level of activity and other factors? Please tell us!
A note from Kat
Until the end of October, whilst I'm living it up on my holiday, I'll be introducing a series of posts from fellow Personal Trainers, BioSignature coaches, and wellness gurus. These are some of the most inspiring and useful people I know both on and offline, and I trust you'll enjoy what they have to say. I'll still be dropping by once a week with my own post and will be in touch via comments and email, so don't be shy! Read more from Kyle over at Achieve Coaching.