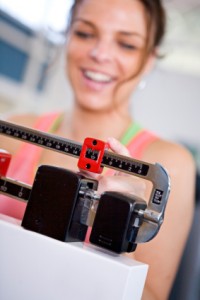 Let's get right down to business – today I'd like to talk to you about the 3 most important things you can do to kick-start fat loss. This is Part 3 in our now five part series aimed at giving you the very basics of, well, nutrition and fat loss!
You can check out Part 1 and Part 2 here:
In the Foundation of Nutrition we talked about the importance of structure, of starting the day right, and the basics on controlling possible fat-storing hormones such as insulin and cortisol. It's important to make sure you get these foundation points right before moving on to Fat Loss Kickstart! Taking control of your nutrition and health and achieving great fat loss results depends on doing 'first things first'.
Here are the top 3 things, in my opinion, that will help you to kickstart massive fat loss:
1. Meet your protein goal: your protein goal is based on your lean mass in pounds (weight minus body fat), and is a calculation you can use to determine your protein needs for health, fat loss, and building lean muscle. The range for women is approx. 0.9-1.5 grams pure protein per pound lean mass. For men it is approx. 1.5-2 grams. I just simplify it by using my total body weight and x it by a mid-range, i.e. 60kg (132 pounds) x 1.3 grams = 171 grams protein. Most meat/chicken/fish has 22 grams protein per 100 grams, an egg has around 12, protein shake – read the label!
2. Get proper recovery: without adequate rest and repair you will not progress with either fat loss or lean muscle development. For a lot of gym junkie's out there this means you are actually probably over-training! Not necessarily with the right stuff though. Make weight-training (3-5 times per week) your focus and only do short bursts of interval cardio. Recovery also means taking appropriate food and supplementation to wind down after training and at night. For example, coffee and sugar after training is very counter-productive, whereas glycine, magnesium and protein will ensure you get the results you're after. Similar rules apply to winding down at night. Recovery might also include a day of yoga/meditation rather than gym.
3. Have enough sleep! According to sleep specialists, a lack of sleep is a leading cause for obesity, heart disease and diabetes. And the 'best' part? You cannot get away with a sleep debt. If you've missed 2 hours a night for 100 nights in the past year, that's 200 hours you need to catch up on because it IS impacting your health (both physical and mental), and your ability to get lean! Do you seriously need to stay up for extra eps of your show du jour? Or catching up on emails/facebook/twitter? Even 30 minutes earlier bed-time can make a difference. Look at your morning routine as well – can you move faster and be more efficient in order to catch just a few more zzzzs? More and better quality sleep will help balance your hormones and ensure your hard work in the gym and kitchen actually pays off.

So – over to you. Have you been doing these 3 things in your own life? Where do you struggle, or what do you still have questions about? Comment below!

Remember –
Life is Now. Press Play.
Kat

Don't forget –
Life is Now. Press Play.
Kat x
PS
Ready to create business AND life in a way that allows you to ONLY be more of you, expanded and lifted and lit up from the SOUL?
I wanna show you how to take what's inside of you –
Unleash it to the world –
Monetise the FRICK out of it –
And then automate that shit like a MOFO so that you too can build your biz to multiple 7-figures and beyond, with multiple streams of recurring revenue from low through to high end ALL the things so that you can just do YOU every day,
Being EVER more of who and what you always were,
As the $$$ roll in!
This is the precise work I wish somebody had taught me when I first got started! And which took me about 6-7 years to start figuring out (largely 'cause I was scared of how tricky I thought it would be and didn't even try),
And which has now allowed me to create consistent automated income as high as 90k+ per WEEK!
We start Monday.
Full details and EVERYTHING we cover on the page!
All new live course!
Plus immediate access to my funnel and sales email swipe files (plus explanations on how to copy-write from soul for MAXIMUM result), as soon you sign up!
Time to stop one daying the biz you're here to create and the life you're meant to live and oh oh by the way also this –
The damn ease and flow it gets to be.
Come play with me, here: