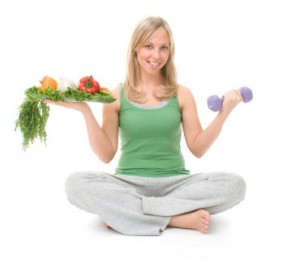 Today's post is a guest post by Holly Miller, a Vegetarian and healthy-eating enthusiast who writes for Coupon Croc. Holly shares her views on eating well and incorporating superfoods into your daily diet.
Healthy eating can be a challenge for many, with most people are discouraged from taking on a healthy diet because of the costs associated with healthy foods. Organic fresh produce can be prohibitive to the budget-conscious, and few discounts are available for these types of products. If you're looking to save money on health food purchases, be sure to spend your money wisely by investing in fruits, vegetables and grains that will give you the biggest bang for your buck. According to the Mayo Clinic, superfoods are the key. Superfoods are nutrient-rich foods that are powerful enough to help lower cholesterol, regulate weight and significantly reduce your risk for certain diseases and cancers. If you're looking to purchase healthier items for you and your family, stock your trolley with superfoods during your next visit to the grocery store.
Fruits
The next time you're in the mood for something sweet, opt for a fruity superfood instead of that slice of pie or donuts. Blueberries, concord grapes, oranges, pumpkin and pink grapefruit are some of nature's most delicious superfoods. Though small in size, blueberries are packed with antioxidants, vitamin C and can even lower your risk for heart disease and some cancers. But that's not all: Blueberries also work as an anti-inflammatory agent as well. One of the most widely accessible superfruits is watermelon. This melon variety helps to hydrate our system and also contains lycopene—a carotene, and carotenoid that is helpful in fighting some cancers.
Vegetables
The next time you decide to make a salad, be sure to include a variety of dark, green vegetables like spinach and broccoli. Not only will greens like bok choy and collard greens improve the taste and texture of your salad, they will also imbibe you with a fresh supply of lutein, a key chemical that protects the body against heart disease and stroke. Dark green leafy vegetables are also a good source of folic acid–vitamin B. Additionally, chemicals found in these types of vegetables work as an antioxidant, helping to purify your system of cancer-causing toxins.
Grains
Most of us never explore the truly exotic superfoods from the grain world. Grains like flax seed, chia, faro, freekeh and quinoa are some of the most nutrient-rich grains from which to choose. Quinoa is packed with protein, fiber and has a delicious nutty flavor, while freekeh aids in digestion. Surprisingly, chia seeds are packed with omega-3 fatty acids. Omega-3 fatty acids play an important role in brain function and human growth and development. Many nutritionists encourage the consumption of omega-3 fatty acids because they may also reduce the risk of heart disease.
Adding supergrains to your diet is simple. Get creative with your healthy snacks and dinners by adding a few of the most exotic supergrains. Add the heartier grains to your pasta and rice dishes or sprinkle more delicate grains like chia or freekeh onto your oatmeal. Try layering some into a blueberry yogurt parfait to add some texture, or try adding a handful into your next batch of muffins or cupcakes.
Don't forget to check out Holly's website CouponCroc for discount vouchers to save on everything from kitchen appliances to health supplements when you shop online. 🙂
Remember –
Life is Now. Press Play! 
Kat
PS.
My Personalized Mystery Box is her!
We will PERSONALLY select not one, not two, not three four five but SIX of our most transformative and holy FUCK yes courses for you.
PLUS! Getting one of my Mystery Boxes puts you in the running to win an entire 12 months worth of coaching FREE on top of your current STR subscription (valued at $7,499) 🔥
Click the link and get your own Mystery Box now: