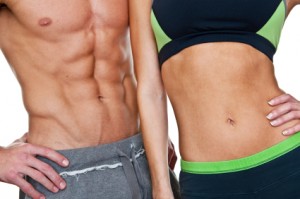 You may remember that a week or two back I introduced Lana and Larissa from Assassin PT. Today the girls are back to bust some serious myths on getting your abs ready for summer – and with a very VERY amazing freebie for you to kick off your beach-body plan this year …
Today's post is all about what NOT to do if you want to finally get those abs on show – I know you're going to want to read this 🙂
what you need to know if you want to get abs!
1. DON'T REFUEL ON CRAP
After a big workout session are you quenching your thirst and hunger with a sports drink and a protein bar or cookie?
These are packed full of artificial sweeteners, sugar and soy – the last thing you want for the six pack you just smashed yourself for! In fact soy can even promote fat stores in the belly!
Have a chunk of good quality MEAT or a good clean protein shake to get some protein into your system stat!
2. DON'T DO A 'ROUTINE'
Running on the treadmill for way too long and getting stuck in a rut with the same routine will have benefit for only a short amount of time.
Turn up the intensity with some intervals and mix things up a bit! Changing rep range, weight and TIME YOUR REST. You will be surprised how quick 45 sec zooms past!. It will do wonders for your results. Remember to tense your abdominal muscles with each rep – you don't always need to do specific ab exercise like crunches to train your abs! The human body is amazing at how fast it adapts to routine. Keep it guessing!
3. DON'T OVERTRAIN
Are you smashing your muscles with intense sessions 7 days a week and still no results?
Sounds like you need to help your body recover with supplementation and throw in a rest day or two.
If you want to lose weight, training 7 days a week will hinder the speed of your results – more is not better in this circumstance. Even if you're not over-training, just by working hard you will deplete certain 'flat abs nutrients'.
Refuel with good foods and supplements to help the recovery process and to finally lose weight around your belly. Our favourites are BCAA's, Glutamine, good quality protein powder (grab it on sale till Oct 2!) and Fish Oils. Your body will love you for it.
4. DON'T FORGET FAT
Scared of fats? You don't need to eliminate all fats to get the ABS you want, you just need to know the right types.
Fish, avocado, nuts (just not peanuts), eggs, coconut cream/milk, extra virgin olive oil and all good sources of fats that aid in fat loss.
We need fats for healthy cell formation, so eat it!
5. DON'T VALIDATE EATING CRAP
Kill yourself in the gym and that validates having a snickers as you wait for the tram home, right? Wrong. The reality is that even hours in the gym can't counteract a days worth of the wrong food.
Try having some nuts on your way home and fuel up on a piece of fish with veggies. This will help recovery and get you a step closer to a toned body and a ripped mid-section.
Remember, you are trying to CHANGE THE BALANCE, not keep the balance between exercise to food!
free 'get abs' workouts for a month? what the?!
So. With all of that in mind let's go smash an AWESOME intense and varied workout then back it up with the RIGHT food and supplements for fast results. After all, summer is almost here!
What's your take on all if this? If you are one of the first 10 people to comment on this post we'll do your workouts for you with a month FREE of unlimited access to our Bootcamp (valued at $205).
You get 7 sessions to choose from each week and you will also receive a welcome pack which includes:
Assassin PT Log Book to record goals, food and successes
Our Healthy Lifestyle Starter e-Guide
Be part of our amazing Assassin Community!
Pretty good huh?
Life is Now. Press Play.
Kat
Don't forget –
Life is Now. Press Play.
Kat x
PS
Programmed to Upgrade is happening gorgeous, and WHOOOOO MAMA is this the work that works.
25 days, you and me, 1:1, to quantum leap like you've NEVER leapt before.
This will be intense …
And a lil bit scary. But buckle up, because you KNOW you're ready for it.
SO fucking ready 😉
Programmed to UPGRADE!
25 Days, 1:1, with Katrina Ruth, to SCREW the Rules, SCREW the Norm, Go So Damn Extra, So Freaking Hot, So Fully SEEN, and Snap Your Future Into the Now So Damn Fast It'd Make Your Head Spin … even as you nod in certainty that of COURSE, this is what was ALWAYS supposed to be ..
Places are already filling, and we begin next week. If you know it's time to say yes to MAGIC, and creating your reality from the supernatural, and you're SO ready to drop the paradigm of always having to DO (and yet still not be there!) then message me now.
I'll get you the full overview, and talk personally with you about whether or not it's for you.
To the supernatural baby, and beyond …
PPS
I HAVE SOME BIG NEWS TO SHARE!
As of today, I'm opening up the doors to my Inner Circle, my private client mastermind.
This is THE most badass high level mastermind in the world for women who want it all – and are prepared to do what it takes to get it! Really what we're talking about is being prepared to be the PERSON.
And that's what I do. I help you remember ALL that you were, and then become it. ALL Of it.
This is my highest level private mentoring circle. The exact place where I have personally mentored dozens of this industry's most elite female entrepreneurs to break income barriers ranging from 10k months to multiple 7 FIGURE months, and everything in between. But more importantly than that – to become who and what they always were.
But know that this is not only (obviously) not just for the masses, this is also not just for someone who can afford to invest in a high level private coach. Being willing to throw money down is something which has absolutely zero correlation to being somebody who has what it takes to TRULY go next level as a leader.
If anything, in this industry, investing in a high level coach such as myself, is a rite of passage which veers just a little too much on the side of 'trend'. It's become something which 'everybody does', almost as a way of proving they play business and life a certain way.
Maybe even of trying to prove it to themselves.
Here is the reality which those who I am truly here to personally mentor and lead KNOW, the reality which my clients and all women like me as well as of course me personally have ALWAYS known:
We are VERY VERY DIFFERENT.
We are simply, smarter, faster, and have more presence. We can do more in our minds before breakfast than what most people can do in a freakin' WEEK, a month, a year.
We are not basic ass coaches trying to heave ho our way up a few extra thou a month.
We are the ones who have ALWAYS known we are 1% within the 1% within the 1% in terms of how we think, create, operate, how and WHAT we are tapped in too.
This is not arrogance, this is fact.
And there has NEVER been any question but that we will go all the way.
My clients are high level badasses who do the work, who have a proven track record BEFORE coming to me, and a BEING-ness which unquestionably separates them from the rest. They don't come to me to save them or lean down and hold my hand out so they can clamber up. They come because they are, quite simply, ready to go to the next level, already absolutely on their WAY there, and see in me something which they recognise because it is in them.
That 'can't stop won't stop' fire, and a level of 'unapologeticness' which, when truly understood and applied, can literally be the difference between 5-figure or low 6-figure and 7 or multi-7-figure entrepreneur.
So if you know who you are and it is THAT –
And you feel certain that you are ALREADY well on your way to to precisely where you're meant to be, but that being in MY energy could help you to drop in and get there even faster, and that with a couple of simple tweaks your current revenue could be doubling, tripling, heck QUADRUPLING and beyond in months, as it has done with numerous of my clients previously, well then –
PM me here http://m.me/katrinaruthofficial and we'll see if it's a fit. I'm excited to talk to you, and maybe – do biz and life with you.