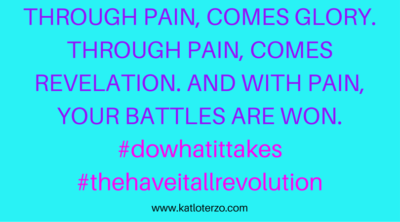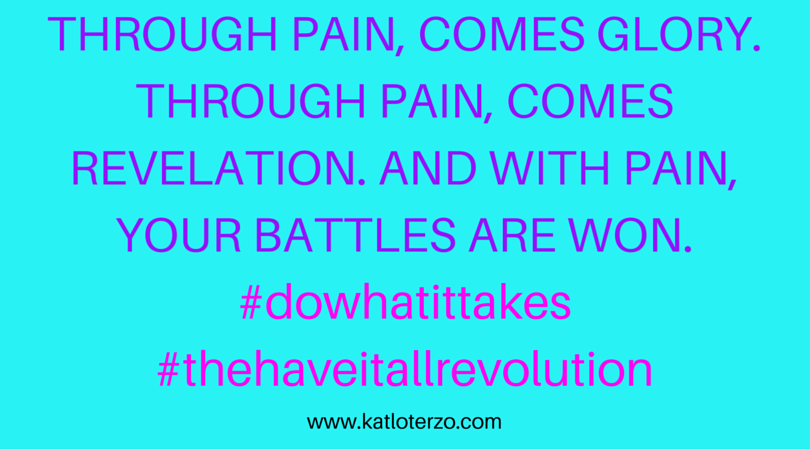 "She's trying to kill us!"
Silently he pleaded with me, our eyes locked together in connected agony as I bent to follow her orders, doing exactly what I was told even though it was excruciating to keep moving. I knew I had no choice.
"I know", my eyes said back to his. "We can get through this though. It's going to be okay."
The funny thing is, I'd seen him so many times before. A stranger with a familiar face; we'd never spoken a single word. You know how you just ignore people in familiar environments for YEARS sometimes? No reason to talk before. But this, this was different. We were going THROUGH something, and neither of us knew if we were going to make it. Our tormentor saw our pain and seemed to almost thrive on it. What a fucking bitch this girl was!
I hated her.
Suddenly he sank to his knees, spent; unable to go on. "Keep going!" my eyes begged him. "We're in this together!". I mentally sent him some of my energy and it seemed to work, because he picked himself up and continued to follow command.
I returned my focus to myself. Keep breathing. Stay calm. Don't give in to the anxiety, the panic, the need to escape. It was going to be okay. Over and over I repeated little mantras to myself; mantras I've used so many times before to change my state and achieve the task at hand, but keeping yourself focused on WORK is one thing. Trying not to completely fucking meltdown when under captive command of a wannabe Nazi fucking dictator is another thing.
It will be okay, it will be okay, you can do this, I said to myself, even as I felt the symptoms of nervous system shock start to set in. I suddenly felt freezing, as though I had goosebumps, even though I was sweating profusely – fuck, it was dripping off me; almost as though I was under a shower – and despite the fact that it was well over 40 degrees Celsius in this prison of a room, never mind the fucking HUMIDITY that followed you round like a second skin everywhere you went in this country.
From somewhere my mind dredged up a little fact:
"If you go cold in a hot room you're going into shock. You need to stop".
I couldn't, though, could I? We'd come this far and who knew what would happen if I submitted to the screaming wishes of my terrified mind. Who knew what she'd do, and whether I'd ever get up again off that floor!
I wasn't prepared to risk it.
I kept going. Breathe. Move. Breathe. Follow orders. No, no, no – do it properly! Do it as instructed! Stop trying to avoid the pain, YOU CAN'T AVOID THE PAIN. And I couldn't, I knew I couldn't. It was following me everywhere by this point; part of me. My head was spinning. I thought I might pass out. My vision was slightly blurry and it was all I could do not to run for the door.
But what was the point? I knew I couldn't; knew it wasn't even worth considering.
Never in my LIFE had I felt such constant, relentless, demanding, excruciating, wrenched from the depths of my SOUL, pain. Well, maybe childbirth, but you fucking go into that expecting it! And besides, you have people there to help you and they're there to get you PAST the pain. This bitch wanted to push me – and all of us – INTO the pain.
She was proud of it!
"There's NOWHERE FOR YOU TO ESCAPE", she said; freakishly reading my thoughts. "The only place for you to go is within".
I couldn't help it; I rolled my eyes and then quickly changed my expression in case she saw me and singled me out. She was right though; the only place to go was within. I went within. I had very little awareness of what everyone else in the room was doing; fuck I couldn't help anyone else if I collapsed; could I?! I did notice that my companion of the silent eye screams had fallen prey though. He wasn't moving. I didn't even know if he was breathing.
I went deeper within.
It was useless to try and fight it, I realised that now.
Succumb, I told myself.
Surrender.
She wants to see you bleed, fine! Let her! Show the bitch what you can handle. Show YOURSELF what you can handle, you might as well walk out of here knowing you gave it some SASS.
If you walk out of here at all, I didn't say to myself.
The thing I couldn't understand, is that she seemed like a nice normal chick. And this place; I came here all the time! Nobody ever treated me like this before … I thought I was safe here. I thought I knew what I was doing here. I thought I could show up here, put my time in, and SURE push myself to make it count, but I didn't expect to walk in, straight off an international flight for God's sakes, and be fucking locked up and TORTURED, with no respite, no care for what the heat was doing to us; fuck she hadn't even cracked a window or anything.
She clearly wanted to take this all the way.
Well, fine! I could play that game too.
My mind went back to the plea of my fellow captive. She was trying to kill us. There really WAS no denying it, and finally I just did what I'd been fighting for minutes now, and just – let go.
And suddenly it hit me:
What a fucking GIFT this torture was.
It was the.single.most.EXCRUCIATING thing I'd experienced all year, and possibly all LIFE (yes, giving birth aside!) and if I was honest (and to BE honest I'm kinda reluctant to admit this) –
I loved every second of it, and it was probably the best thing I'd had happen to me all year.
DO YOUR BEST BITCH! is what I was really saying even as I shot daggers at her with my eyes when she made for the door as though to give us respite and then instead turned the heat UP.
Was this what Stockholm syndrome felt like?
Was I falling in love with my captor?
Did I WANT her to keep doing this to me?! Fuck, I really was losing my shit but the truth is HELL TO THE YES I DID. I wanted her to bleed every DROP from me and never.back.down. I can't deny it, I LIKED the pain, I WANTED the pain, and most of all I BELIEVED in the pain and I KNEW –
This is going to change things.
I'm not going back from this.
And when I walk out that door AND I WILL WALK OUT I'm going to have to admit some serious shit to myself about avoidance, and playing the safe game.
I was moving faster now. Bodies were all around me. My silent comrades, fallen. It was clear that there wasn't much more to be given in this room; it would have to end soon. Only 2 of us remained.
Breathe.
Stay calm.
Follow orders.
We can make it.
FOCUS.
I felt myself slip into another place.
I was high now, the pain was fueling me. I was one with that fucker and even though I still hated HER I was also starting to really, really love her. I pushed myself harder. I was going to go out going all in, or die trying. My focus was insane, I was operating on another plane entirely; snapping my body in and out as she continued to bark commands, her voice sickly sweet and in direct defiance to the quick and accurate response it commanded.
I didn't care.
I kept going.
Faster. Tougher. More precise.
I was flying. THIS was what it was all about. This was how it was supposed to BE. This was what I WANTED, damnit; why hadn't they given it to me before?! Why had I told myself that good enough was even REMOTELY fucking acceptable when clearly what I NEEDED was to be stripped down, laid bare, and given a working over the likes of which yes I WAS terrified of but also which I CRAVED. And most of all what I needed was to work MYSELF over.
To GO within, just like she said. Fuck she was good!
I was lost in admiration, and wonder, even as I kept moving, kept going, didn't dare stop; knew that if I did I WOULD hit that floor like the rest of them.
And then suddenly, just like that, it was over.
Almost gentle now, she quietly instructed us to stay still for at least a few minutes.
And she left, with one simple word –
"Namaste"
What a fucking BITCH, I thought.
I LOVE HER.
And as I made my way downstairs, legs shaking violently and head still spinning, my mind was filled with a single focused thought:
"I have to check what time she's teaching tomorrow."
Don't forget –
Life is Now. Press Play.
Kat x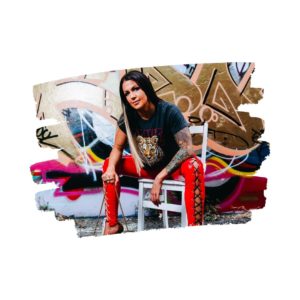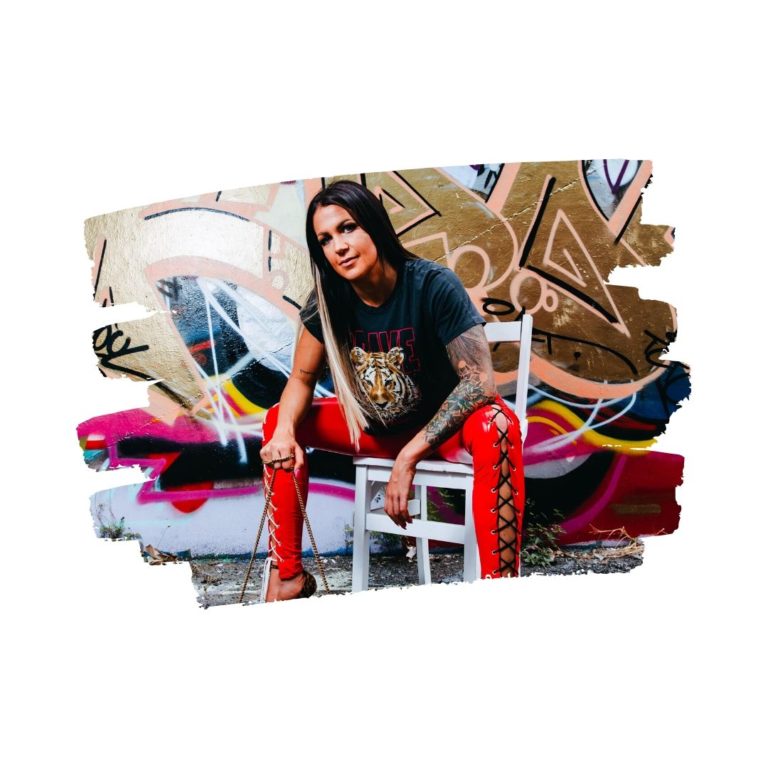 P.S.
Million Dollar Soul Team is here!
An absolute MUST for any entrepreneur who is ready to NOW start saying yes to the one day vision of where they're meant to be!
The Point by Point & Definitive Program on Finding, Building, Training, Empowering, and Flowing With Your Ultimate 'One Day' Soulmate Team, But Now!
https://thekatrinaruthshow.com/milliondollarsoulteam/
Learn exactly, and every step along the way, how I went from solo entrepreneur, to one and then two VAs even up to multiple 7-figures per year, to now being surrounded by the MOST incredible dream team on the planet! Everything you need to know for EVERY step on your journey in this area, plus the ongoing day to day and BTS of all of it! Taught by me AND the #KatNinjas, and includes access to our Standard Operating Procedures, Templates, Systems, and more, that you can use right away in your own biz, even if the entire team right now is, like it once was for me, YOU!
This 4 week program is about SO much more than simply the 'how' of finding, building, training, empowering, and flowing with your ultimate soul team. What it's really about? Getting TF outta your own way, whatever that looks like, to say yes to the business and life you actually came here for.
Come see what I made you, here: https://thekatrinaruthshow.com/milliondollarsoulteam/
P.P.S.
I'm re-opening Rich Hot Empire, today!
This is my 6 week 1:1 intensive, #KatrinaRuthFamous since 2016! It is THE way to work with me if you know you're meant to work with me 😉
During our 6 weeks together I take you through EVERYTHING there is to know around building your low end right through to high end multi 7-figure and BEYOND soul aligned empire, doing only what you love.
This isn't about where you are right now in business, this isn't about how much money you're making right now it's about who you are as a person.
Rich Hot Empire is about flicking the damn switch on who you're meant to be NOW!
Here's the thing –
The difference between you and the woman you see who is crushing it online, who's doing such an amazing job, who is so inspiring just through the ESSENCE of who they are –
Honestly, the difference isn't the systems and the structures..
The difference is she just has a HIGHER LEVEL OF BELIEF than you.
The belief in her God given right to have things work in a certain way
The belief to have business work in a certain way
The belief to have life treat her in a certain way
The belief to have the right ideas come through
The belief to have things just work out
She just believes and expects it!
What is your level of belief?
It's time to back yourself, but FULLY.
Its time to dig your damn heels in and DO the darn thing now!
This?
This is what Rich Hot Empire, and the work I do with you as a private client in this 6 week time together, is all about.
It's a time to really get into the structure and strategy in a DIFFERENT kind of way. To go behind the scenes of how I've done it, to build a multiple 7-fig per year biz which breaks all the rules, lets me be me, and yet is also highly structured … without at all feeling that way!
It's a pretty cool thing, to realise you figured out how to unleash ALL your madness, but fully, and NEVER compromise on what feels fuck yes and fly for you, and yet know you got your biz shiz sorted!
Guess what??
You get to have that too.
We dig ALL the way in to your belief stuff, mindset stuff, energetic alignment and ability to receive, everything INTERNAL that is stopping you from already being where you know you should and could, and what to do about it.
Rich Hot Empire gets such incredible results for people because it marries these two areas together. Full alignment to that next level identity you KNOW is waiting for you –
And full asskickery to do what you know you gotta do, with me right there by your side showing you how to do that, how to find the exact way that feels good and works for YOU.
Ready to go all in on you and truly BELIEVE you can have it all?!
Message me for the full overview: http://m.me/katrinaruthofficial
>>>Rich Hot Empire! 6-Weeks Personally to Grow Your Perfect Cult Tribe, Create and Launch Your Low-High End EMPIRE, and Set Up Multiple Recurring Income Streams to Take You to 7-Figures and Beyond, Doing What You Love! <<<
6-week personalised intensive high level mastermind
Weekly group training and support; multi-media training: visual + audio
'Done for You' Templates and Step-by-Step Worksheets
Personalised 1:1 coaching included, plus DAILY unlimited 1:1 access
My personal hand on your business success
Weekly group coaching call and hotseat with my other private clients
24/7 mastermind forum, networking and support
Very limited spaces
Results guaranteed
Not for everyone
I'm so excited to do this work with a small group of badasses who are willing to SHOW UP FOR THEIR SOUL no matter what. To walk away from all that is not serving, not actually working, not FILLING you. And to all yourself to bring your truest desires to life.
If that's you, or you've felt the call to work with me at this level, PM me now.
Apply via PM only http://m.me/katrinaruthofficial. I can't wait to speak with you!