News
Is Fasting Useful For Health Or Weight Loss?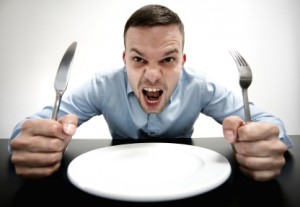 I'm definitely more of a 'live to eat' rather than 'eat to live' type of gal. If there's one thing I really and truly hate to do, it's skip a meal, and believe you me, you'd hate to be around me if that ever does happen. Which it pretty much doesn't – after all, I've always been quite smug in my knowledge that skipping meals only leads to a slower metabolism. That's what I've been taught, and that's the message I've been preaching.
So you can understand that I'm starting to feel a little miffed. I don't know if the universe is trying to tell me something, or if there's some kind of topic of the moment thing going on that I'm not in on, but it seems fasting is suddenly where it's at.
To be honest, I really don't know why I haven't been open to the idea previously. If you've visited me here more than once or twice you'll know that my ideas about nutrition stem from getting back to basics. Learning how to eat in the way that our caveman ancestors did (spear optional) in order to create a lean physique, vibrant energy, and exceptional health.
And if you think about it, there's nothing new about the concept of occasional fasting. After all, there really is nothing overly 'motherly' about Mother Nature, is there? The term conjures up an image of a protective benevolent type; 3-course meal in hand. Yet if you were to spend even a week lost in nature you'd likely soon find yourself forced into a fasting situation, and there'd be jack-all you could do about it. Of course if you decided to set up camp permanently, maybe join a tribe and go a-hunting, I'm sure you'd figure out where the food was. But that's not to say it would be readily available in time for dinner.
We've been programmed to believe that, while going hungry is one thing, skipping right through a meal or two is just foolish. In fact, a medical journal I came across last week backed this up fairly avidly:
"One of the worst things that you can do for your body in terms of detoxification is doing a fast. That was the idea about 20 or 30 years ago, but we know now that your body actually needs specific nutrients to be able to perform its job of detoxification."
And why would we bother fasting anyway, with 24-hour stores a-plenty and the cupboard always a handy back-up? A quick search on Google gives you plenty of data both for and against, with the benefits of fasting ranging from detoxification, to will-power, even to spiritual enlightenment. And the naysayers predicting you'll only end up putting on more weight in the end, and that any weight you do lose will just be water weight.
But according to Mark Sisson of Mark's Daily Apple, skipping meals may even be healthy, is actually very natural, and could even contribute to greater results in your quest for health and wellness. And, as much as I hate to admit being wrong, I'm starting to sway my thoughts in the same direction. How can I promote a back to basics approach to nutrition without taking into account the ups and downs of feeding oneself in nature? Just doesn't make sense, does it?
Of course the proof is in the pudding (or lack thereof), and that's where we need to lay down a couple of important ground rules for successful fasting.
It's still not okay to routinely skip meals (such as breakfast) just because you're busy or tired, and then load yourself up on poor quality foods for the rest of the day.
This is partly because the whole concept of fasting in nature is that it is sporadic, controlled in large part by the seasons, your hunting skills and the prey available, and perhaps the generosity of your fellow tribes-men. Skipping a certain meal each day is just a bad habit and does not count.
If you're not eating right in the first place, you're not going to benefit greatly from fasting. Were you to live on the land, you'd have little choice about what to eat and would enjoy a diet of animal meats, fats, the occasional veg, and perhaps some nuts, seeds and berries. If you're currently living on processed foods, take-aways, lots of whole-grains and starches, with plenty of fruit and just the occasional serve of lean protein, then you're not adequately equipped to benefit from complete fasting.
Food fasts and water fasts are not the same thing. Keep your fluids up if you do try skipping a meal.
Don't assume you can't be active. Conventional fasting wisdom tells us to rest when we fast, but how natural is that? I can't imagine I'd be taking it too easy if I lived on the land and was out of food. Would you? Of course you don't have to shoot for any world records that day, but follow your normal routine.
Have you ever tried fasting or thought about fasting? What have your experiences been?
Life is Now. Press Play.
Kat
Don't forget to leave a comment on this post in the 'post a comment' section just below. If you're reading from RSS or email you'll have to enter the blog to do this. You can do that by clicking on the title of this piece. 'Post a comment' is at the article end, right under the 'share this' and 'related posts' options.
If you haven't yet subscribed to this feed, what are you waiting for? Do it now. You can choose either email or RSS by clicking here. If you enjoyed this article please forward to your friends. Thank-you!
PS
Expansion.
10 Days of Live Soul Transmissions, to Help You Find and Follow the Messages Within
Day 1) Trust
Day 2) Certainty
Day 3) Self-Belief
Day 4) Empire Creation
Day 5) Your Deepest Message
Day 6) Following Soul Guidance in All Areas
Day 7) Faith vs Fear
Day 8) Accessing Flow, and Superflow
Day 9) Expanding Time
Day 10) Expanding Money
Every day will be a LIVE soul led transmission.
This will take place on Facebook video, held at a variety of times in order to account for varying time zones, and scheduled only once we have begun. Our daily soul transmissions will be guided from MY higher self and directed from and for YOURS, to help you find and FOLLOW the messages within. The messages of your spirit, your consciousness, of the who you've always been and yet have managed quite well to cover up a lot of the time.
This is about stripping away –
And getting back to the CORE.
We'll dive day by day into the above mentioned areas –
And you'll receive all content and bonuses to keep for life.
There will be daily spirit prompts which you'll receive after each training.
And plenty of time opportunity connect with me throughout, receive transmissions direct to YOUR questions, and absorb more even than what comes through on the trainings, via the energy we'll create in this collective!
It's very rare for me to know in advance exactly what is coming through day to day.
I certainly don't have the details of each day's content. But I know that these areas have been on my heart to talk about, in particular around belief, around certainty, around living from FAITH.
We know that exactly what is meant to come through for you WILL, and then some. And that if you intend and allow for it to, it will change, most likely before we even begin, due to your energetic commitment, the direction of your LIFE!
Meaning: direct it back to absolute soul alignment.
*** NEVER Seen Before Bonus! ***
As part of this, I've been guided to offer a NEVER before seen bonus … one I feel super vulnerable about sharing!
It's the exact journaling I did to allow the download of THIS offer through. How I allowed the idea to bubble up. You'll see my doubt, uncertainty, annoyance. You'll see what I discarded. How I went through the layers. And how I KNEW, this was the one.
I'll ALSO add in copies (screenshots) of my conversation with my COO Ash, where I was talking through the idea and allowing it to come to life.
I want to show you the exact Idea to Launch process!
This bonus alone is EASILY worth the cost of this program, particularly when you hear the mindset side of it, in terms of STAYING THE COURSE and refusing to back away from my self until the idea showed up!
I refuse not to create!!
AND, when you register for EXPANSION today (and how could you not?!) you'll also receive early access to the Pre-Work. This is ALSO never seen before, and brand new just for you – and it's a guided meditation on remembrance, to help you connect back to deepest self and the most certain truth of your destiny, before we even begin.
Perfect priming, for when we expand RAPIDLY into all that is coming through in this work!
Of course I could now go on and on here, about what I could or should have charged for this, and what it's actually going to be …
Or about all my accomplishments on line and off, with money, with purpose, with passion, with flow …
I think you know all this anyway. Even if you just me! Your soul feels what matters. And that's ALL that matters.
But I will say this:
You've always known it's supposed to be about ALL that is inside of you. That it's meant to COME from a place of purpose, passion, and SUPER super flow. And that if you just.freaking.trusted, and showed up FULLY from that place, you'd be living in a different reality already.
THE ONE INSIDE OF YOU.
If that's true for you right now, then LET'S GO CREATE THAT REALITY.
Right now
Press play for regular, (super fuck yes!!) upfront or payment plan
OR
Press play like a VIP, and receive the full course, plus 10 days direct photos or screenshots of my ACTUAL personal journaling, so you can see how I create and expand my life, PLUS a VIP only follow-on live Hotseat, where you'll receive a personal transmission just for you, if you'd like one! Payment plan also available.
>>> https://thekatrinaruthshow.com/expansion
We start Monday 17 December, US time!