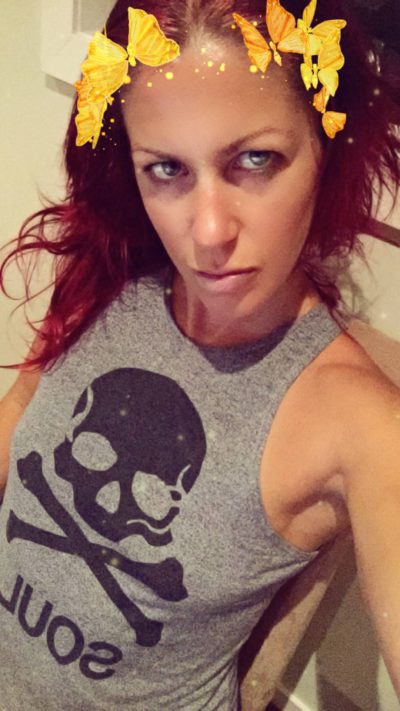 I know you're a wanderer, born to be free and roam, and this is what I want to say to you.
It's okay.
It's okay that your soul is eternally restless and that as much as you try to settle it, stem it, find the thing, or the one, which will keep you, rest you, have you, hold you, allow you to be you, deep deep oh so deep down within where you mostly dare not look because oh! The tiredness of it at times! you know –
You'll never be done seeking.
It's okay.
It's okay that you want so desperately, at times, to be certain of the path ahead of you when the truth which darling you and I BOTH know is that you cannot see –
That which you cannot know –
And you cannot know –
That which has not been laid out –
And the path simply cannot BE –
Laid out –
Oh so pretty and ready before you –
When, don't you see?
It's okay.
It's okay that this scares you.
That, in fact, perhaps, and perhaps this the first time you really see this, feel this, know this, live this, breathe this, are this, the thing which really scares you?
Is to be you.
It's okay.
It's okay! That at times you don't know how to be you, you don't know what it means to be you, you don't know who can SHOW you how to be you, you don't know how to RESIST you, but if only you could SEE you.
It's okay.
It's okay that nobody told you –
That you didn't know –
That they didn't SHOW you –
That there is nothing to use as an EXAMPLE –
And that yet you still can see SO FUCKING CLEARLY that the WHOLE freaking THING is about leaping –
And leaping –
And leaping –
And LEAPING –
Without a net, or, really –
Even the desire for one –
And that to leap.
Really!
Will be your destiny.
For always.
And always.
Amen.
It's okay.
It's okay that you're at times so RECKLESS so STUPID so FOOLISH so foolHARDY and such a CHILD.
It's okay that you judge yourself more harshly than ANYBODY else could dare, would care, would know how, but that YOU still care –
That they like you.
That they want you.
That they need you.
That they VALIDATE you.
That they HOLD you.
It's okay!
It's okay that you want to say FUCK THE WORLD and SCREW THE RULES and I'LL DO WHAT I WANT and HELL TO THE YEAH but that when the going gets tough and your head hits the pillow and its night time and still and you feel SO fucking alone that all you want, at times, for a moment, and maybe it's not even TRUE, but still –
Is to feel accepted.
To be acknowledged.
And most of all?
To be seen.
It's okay that even though you can't see it, don't know it, can't FEEL it, that it's all just a MYSTERY that you DEFINITELY still know that part of it, most of all, fuck! Maybe all of it –
Is to be SEEN.
Be HEARD.
Be KNOWN.
And to lead.
Message.
Rule.
It's OKAY.
It's okay that you were born for so much MORE and that this DOES require you to be someone they COULD not, would not want, don't even THINK of, and that you ARE going to judged for it, hated for it, cast AWAY for it.
It's OKAY. It's okay and you can MAKE it and you can DO this and you HAVE what it takes and you can fucking OWN this and it's all –
Just –
O.FUCKING.KAY.
It's okay.
And it's okay.
And it's oKAY.
To be you.
All in.
All the WAY.
And FUCK THE WORLD!
It's okay so okay and the sooner you SEE it's okay and LIVE it's okay the better because here is what is SO not fucking okay.
It's NOT OKAY.
It's not okay. That you STILL don't fucking show up. That you have this art inside of you. That you hold it in. That you don't CARE. Because if you CARED about it you'd be LIVING it and fuck YOU if you have anything to say aside from that.
It's NOT OKAY.
It's not okay. That after all this time. You don't fucking show UP, and yes I said it again and I'll say it again and I wish I could SHOVE IT DOWN YOUR THROAT so you could actually FEEL it.
It's NOT OKAY.
It's not OKAY. That you fight –
Not the world!
As you came here to do.
Not the FIGHT.
Which you were born to prevail in.
But instead!
That you fight your own God damn SELF.
What?
You think you still have TIME?
You think you have to get READY?
You think your fears are VALID?
IT'S.
NOT.
OKAY.
It's not okay that you BREAK your own spirit, day after day after ever loving DAY, that you don't understand and live by the truth OF the human spirit which is that we WANT to be pushed we WANT to be confronted we ARE fucking gifted and we MUST let it OUT.
It's not OKAY.
It's not okay that you play –
Like a child –
A game of business and life like it's a freaking REHEARSAL and not even THAT because if you were truly rehearsing to then PLAY LIFE you'd do it LIKE your life DEPENDED –
On it.
On you.
On this day.
On this moment.
On this NOW.
But instead?
You float.
And you maybe.
And you one day.
And you PRETEND.
That you're creating something.
Saying something.
Doing something.
Being something.
But what you're really showing?
Nothing.
We don't see you.
We don't know you.
We don't hear you.
We don't care.
Because you don't LET us.
And your greatest desire, in all of this, in the wandering and the seeking and the roaming and the never ENDING –
Was to be seen.
Be heard.
For what's inside of you.
For what must come out of you.
For what you lock AWAY in you.
It's not okay.
That, as with all of those who you look to with scorn or with sorrow or with the imagining that THEY don't get it –
You're making a life.
As one of them.
You say you WILL you say I AM you say it's DONE, but don't you see?
If it was and it were?
We'd see it.
So stop making it okay.
To run and to hide.
And really, JUST:
That's all.
The End.
AFTER ALL…
Life is NOW Bitch. Press PLAY Now.
Or get out of the way.
Kat
Life is Now. Press Play.
Kat x

PS
I want to help you to build a business you LOVE, and that meets your every want and desire, in a real and true way, whilst also resulting in you making a LOT of money, fast, and impacting a lot of people, also fast, in the way you know you were born for!
My most transformative 1:1 intensive EVER … shifting people into EPIC income and success since 2016 is back, for the first time in 2019! I'm so excited to bring this signature transformative work back!
Rich Hot Empire!
Work With Me for 6-Weeks Personally to Grow Your Perfect Cult Tribe, Create and Launch Your Low-High End EMPIRE, and Set Up Multiple Recurring Income Streams to Take You to Multiple 7-Figures and Beyond, Doing What You Love!
This round is even more special as I will be re-recording all original content, with you there live with me and alongside me AND you will also receive all original content; the exact trainings which has made this program my most successful ever, with clients repeatedly saying they achieved more in 6 weeks with me than they had in 2 YEARS beforehand! This work is for entrepreneurs at ANY starting point, as it's about who you are as a person not where you're at. I've had clients anywhere from total start-up, to already doing 500k+ / year go through Rich Hot Empire and all who have done this work have gone to a level of income as well as alignment and FLOW which they couldn't previously even imagine!
6-week personalised intensive high level mastermind
Weekly group training and support; multi-media training: visual + audio
'Done for You' Templates and Step-by-Step Worksheets
Personalised 1:1 coaching included, plus DAILY unlimited 1:1 access
My personal hand on your business success
Weekly group coaching call and hotseat with my other private clients
24/7 mastermind forum, networking and support
Very limited spaces
Results guaranteed
Not for everyone
STARTS THIS MONTH!
I'm so excited to do this work with a small group of badasses who are willing to SHOW UP FOR THEIR SOUL no matter what. To walk away from all that is not serving, not actually working, not FILLING you. And to all yourself to bring your truest desires to life. If that's you, or you've felt the call to work with me at this level, PM me now. Bonuses and fast action-taker investments apply to all successful applicants, but for the first 5 to say yes there is a very special $2000+ bonus specific around Soul Shifts & Money Makin', and which, in and of itself even before we begin RHE will have shit changing for you FAST.
Apply via PM only. I can't wait to speak with you!
PPS
HAVE YOU JOINED PURPOSE PASSION FLOW ACADEMY?
My 'Going Fully Quantum' training will break down ALL of what we've discussed today, and teach you the finer details and finesse of it, as well as exactly what needs to be true for you to APPLY it, not only into the practical actions you need to create THAT money flow and THOSE results, but also in terms of ALL the energetics of it, especially the 'being and non-being' around dropping in to superflow so you can be shown, create, receive, AND of course the being around not being one of those people who just can't seem to choose faith and are ruled by fear. We'll also talk about creating and integrating the exact wording, beliefs, emotions, energies YOU need for all of this to switch effortlessly for you, as you've always known it would.
In other words: EVERYTHING you need to know to go fully quantum, and double your income in 30 days or less, or whatever else you choose!
Where will you find this training?
Why, it's one of the very first training in 'Remembering Who You Always Were', which. is our June intensive for Purpose Passion Flow Academy, my SUPER low-cost monthly membership mastermind!
And this training?
Will change your freaking reality. Well – it will REMEMBER it.
It's all available to you gorgeous.
You know this already.,In the quantum it is DONE. And in Purpose Passion Flow Academy, and especially our June intensive 'Remembering Who You Always Were'? We gon' done do it.