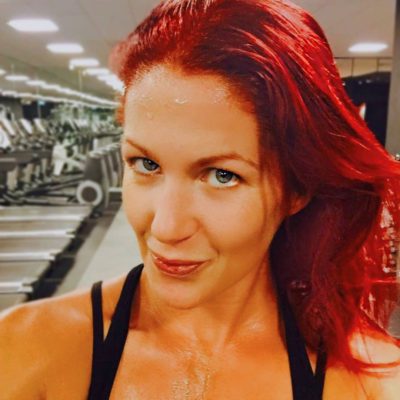 I've started 5 different blog posts this morning and they have all been COMPLETE rubbish, so much so that I'm just about at the point of throwing my hands up and deciding today is just not a day for something to unleash. Hey – maybe later today the muse will strike me, inspiration will flow, I'll create something amazing and sell the FUCK out of one of my offers while I'm at it!
That IS indeed possible, no doubt about it. That muse of mine tends to strike at all sorts of odd hours at the day so there's nothing to say that I can't create, message, show the fuck UP in afternoons. Who said it HAS to be mornings?! Who? WHO?!
Okay, it was me. And you know what – I'm okay with that. I'm okay with telling myself this is how it IS, bitch. You do what you SAID you would, you do it WHEN you said you would, you do it no matter how GODDAMN CLUNKY AND AWFUL it feels even right now as I write it (could be 'cause I'm trying to type straight after a Muay Thai session!), you do it because that is who you are and you do it because you ACTUALLY –
Actually REALLY –
Give a fuck.
About results.
About your identity.
About BEING that revolutionary fucking leader you inspire your community to be.
Whether you feel like it.
Whether you don't.
Day in.
Day out.
For EVER!
No matter –
If it's awesome and it lifts you and excites you and you feel so damn on purpose and POWERFUL or no matter if it feels like grating nails down a blackboard and you KNOW that you KNOW that you KNOW that this shit IS shit and you should just delete again, start over again, not publish again, not press PLAY again.
Not press play?
NOT press play?
REALLY.
Nobody said –
I sure didn't –
That pressing PLAY is something that always feels like rainbows and unicorns. You wanna know what pressing play feels like?
It feels like showing the fuck up NO MATTER WHAT.
It feels like knowing who you ARE –
Who you're choosing to BECOME –
Where you're going, what your intentions are, the fact that you ARE committed to them –
And then acting accordingly.
And if you want to know the truth, the truth is that the fact I produce so much content day in and day out does NOT mean I'm inspired day in and day out. Or – scratch that – it doesn't mean I'm inspired BEFORE I create.
Inspiration comes from pressing play.
Clarity comes through ACTION.
RESULTS comes from doing the work, plain and simple, and that is what this is about.
Remove emotion.
Do the fucking work.
Don't let your DREAMS –
Be bigger than your bullshit!
That doing the work you were called to do has to be COMFORTABLE.
Sometimes it WILL fucking hurt.
Sometimes it will feel AWKWARD, which is almost even worse!
Sometimes it will just make you ANGRY or ANNOYED or so damn frustrated that you want to scream, because God damnit you WANNA FEEL THE RUSH OF THE FLOW!
Through all those times.
Through every time.
If you just keep showing up.
One foot in front of the other.
Do what you SAID you would do.
Do what the INSANELY successful never say die version of you would do!
Follow the PROCESS.
The difference between those who make it, and those who will not be stopped is simply that those you SEE and BUY from and FOLLOW and are INSPIRED by and aspire to BE like?
They were the ones who kept being there to fucking see.
Being a leader is HARD at times, and certainly uncomfortable. There will be days when you want to run and hide, or when you simply don't 'feel' it.
But if you want it –
If you INSIST upon it –
If you've decided that THIS IS WHO YOU ARE.
Then you'll do your fucking job.
Don't forget –
Life is Now. Press Play.
Kat x

PS
1:1 INTAKE IS OFFICIALLY OPEN!

🔥
Next Level Empire is officially open for late November intake! 💜
I'm calling in my next intake of driven badass LEADER women who want to work with me 1:1 to FOLLOW SOUL and achieve ALIGNED AF fame, income growth, more.
Yeahhhhhh … this is about unapologetically claiming your place as one who is MEANT to be seen and heard by everyone!!
Next Level Empire baby!
Multi 7-Figure Empire Expansion For Unapologetically Badass & Driven Women Who Are Ready to Be Seen By the WHOLE Damn World
6 weeks.
1:1
You and me
This is for the women who already have a message, an audience, and are making money online and who are now ready to put some damn WHEELS on the thing.
We will be going deeper into message clarity
We WILL be nailing down what you're selling, and how you're selling it, for maximum conversion and flow
We WILL be getting you fully connected to the badass leader within who KNOWS she is meant to run the damn thing
But these things are just the warm-up, because let's face it –
You already message
You already show up
You already sell
You're already ROCKING what you're doing right now
So what you're here for, and what I'm here for with you?
Is to blow the damn thing up.
MAXIMUM reach.
RAPID growth of audience
MASS visibility
MEDIA TAKEOVER
NEXT level leadership status, and being the one who is KNOWN as the Queen
And sales EXPLOSION
I'm taking what I'm doing in my business to CONTINUALLY claim my place at the top, and to take my message to the masses whilst also RAPIDLY growing following and income,
And showing it all to you
Exactly how we do it
What precisely is in place
What we had to have in place for it to work
What we do day to day to elevate fame, income, purpose, ALL of it
And then I'm going to work with you personally to roll it out
Next Level Empire baby:
For the women who were born for more,
And who are done with circling repeatedly around the same damn pond and kidding themselves they're gonna find it there.
Ready, and know it's time? It just might be 

😉

💜
PM me now

for the full overview, and to know if it's for you. x