News
McDonalds Are Taking Long-Life Food To A Whole New Level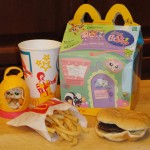 I always had a bit of suspicion around the idea of fast food shelf-life after once leaving a Cheeseburger in my car for a few days (by accident, and it was over 10 years ago – back when I used to eat that stuff!). Anyway, it still looked good enough to eat, which was oddly worrying. Of course I never thought to fully test out it's durability, but this writer did. Visit The Consumerist to see the full story. Ewwwwwwww.
"It smelled delicious for a few days. I'd get a whiff of those yummy French fries every time I walked into my office. After a week or so, you could hardly smell it. My husband worried that when the food began to decompose, there would be a terrible odor in our home. He also worried the food would attract ants and mice. He questioned my sanity.
NOPE, no worries at all. My Happy Meal is one year old today and it looks pretty good. It NEVER smelled bad. The food did NOT decompose. It did NOT get moldy, at all."
I'm thinking you might wanna re-think that post drinking late-night snack?
Life is Now. Press Play.
Kat
PS: I didn't eat it when I found it. But I was tempted!
If you liked this post please tweet it below. Thankyou!
If you're a regular reader and haven't been active in the BodyIncredible community then now is the time – I want your involvement, your feedback, and your questions! So why not make this the day to leave a comment before you go – if you're reading from RSS or email you'll have to enter the blog to do this. You can do that by clicking on the title of this piece. 'Post a comment' is at the article end, right under the 'share this' and 'related posts' options.
If you haven't yet subscribed to this feed, what are you waiting for? Do it now. You can choose either email or RSS by clicking here. If you enjoyed this article please forward to your friends. Thank-you!
PS
My Advanced High-Level Manifestation Intensive is about to kick off, and I'd love to invite you in!
4 Weeks of Hardcore Alignment & Asskickery to Kick Fear to the Curb and Live Your Every Dream in 2019!
https://thekatrinaruthshow.com/highlevelmanifestation2019/
What this is about? You finally doing what you say you're going to do, basically! In business, of course. But also in life, and every part of who you are.
And it's time to stop.
Stop making it so damned HARD.
Stop letting your blocks, your inner barriers, your fear, the self-worth bullshit RULE you.
Stop running around like a chicken with its head cut off and no real direction!
And for the love of God stop telling yourself the answer is outside of you when it was always within!
Instead?
Well, isn't it obvious?
Say yes to you.