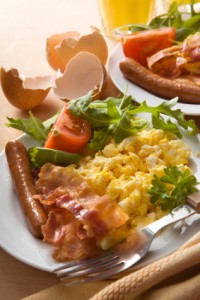 One of the top all-time questions I am asked as a health coach is "when do I need to eat breakfast by?" This is usually prefaced by comments like:
I just don't get hungry in the mornings
I feel sick if I eat first thing
I can't face food until I've been up for a few hours
I don't have time to eat first thing
I go straight to the gym as soon as I get up, so I can't eat until afterwards
Whilst I'm not against purposeful fasting from time to time, and even believe that it can help you to become more insulin sensitive and thus drop body fat faster, my rule on day-to-day breakfast strategies is pretty simple. Eat protein. Do it within 30 minutes of rising.
breakfast: the key to super-charging your metabolism
We all know that eating a proper, healthy breakfast is important to maintaining a raring metabolism as well as to creating stable energy and good mental focus for the day ahead. But did you know that waiting till you've been up for a few hours to eat can put your body into a cortisol-driven and fat-storing state? This is particularly relevant if you suffer from busy-stressed-life syndrome (it's a real syndrome!), if you're training first thing, or if you're human and tend to make poor eating choices later in the day if you don't lay a good foundation from the get-go!
The truth is that you should be hungry if not STARVING within 30 minutes of waking. Feeling this way may not be common, but it certainly does reflect a healthy morning appetite! Recently I've had a few clients comment worriedly that they just can't stop eating in the mornings and my response is GOOD. That's awesome! Nothing better than a nice strong wake-up call from your metabolism to tell you that your hard work is paying off!
And I most definitely relate – sometimes I can hear my tummy growling before I've even removed my sleep mask. I'm more of a 'live to eat' kinda gal, so these are the days when I do tend to eat straight away no matter what. I have been known to go to work un-showered, make-up less, and with a full boofhead of frizz rather than miss my breakfast.
But there are also other days when I am so tired from the day before that I just don't care, when I've pigged out until late the night before and probably am still digesting yesterday's food, or when an accumulation of busy-ness and stress quite simply means that I'm just not hungry. These are the kind of days when I'll be 2 coffees and a couple of blog posts in before I realise I feel like absolute crap and may have even gone past the point of no return in terms of the way I'm going to feel for the whole rest of the day!
Delaying your first meal not only can leave you dizzy, light-headed or just plain old tired and grumpy, but it can also severely ramp-down your metabolism, can elicit a lasting stress response based on your survival-instincts, and ultimately it can make it very tough for you to meet your fat loss goals. Not least because your defences will be far lower when you come across any tasting looking treats later on in the day!
My advice? You spend so much of your time; your whole life even focusing on other people's needs and the urgency that comes from constantly wearing several hats at once. Why not make this one thing something you commit to doing for yourself no matter what?