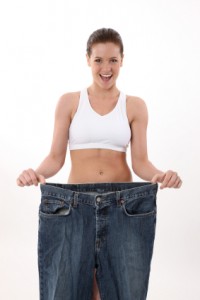 Blocking factors are things you probably don't often think about which nonetheless can dramatically impact your ability to lose weight.
For example, you no doubt already know that getting in great shape is not simply about calories in and calories out, but have you really thought about what it does take? I don't just mean the obvious stuff either. I'm talking about factors you've probably heard of but yet don't attribute massive importance to.
Factors such as:
Your food quality
Your food quantity
A possible gluten intolerance
A possible lactose intolerance
Other food intolerances
Your digestive health
Underlying levels of toxicity
Your mindset
Time and again I've worked with people who really do seem to be doing 'everything right'. They're choosing great paleo-style foods, they're hitting the gym properly, they have no particular issues with stress or sleep, and they really just seem to be 'poster' health freaks on the surface of it all!
But still they don't achieve their goals.
If you've ever been in this position, or perhaps currently are, I don't have to tell you that it's incredibly frustrating.
So let's agree NOT to remain in blissful ignorance (especially as it's not that blissful anyway!), and talk about what you can do to smash through your blocking factors.
3 key reasons you can't lose weight
Let's look at the first 3 of those blocking factors for today.
reason you can't lose weight #1: food quality
When we spoke about supplements (this post is an excerpt from my new free Fat Loss Manifesto on Woman Incredible) I mentioned that 'we shouldn't need supplements in a perfect world'.
The same rule applies for investing in quality (organic or biodynamic) food. In theory, any fresh food should be enough, but consider the following:
Conservative estimates indicate up to 56% more nutrition in organic foods
More nutrition means more tools for your body to detoxify stored fat and prevent future fat storage
More nutrition also means faster satisfaction from food, meaning you will need to eat less and will be less likely to crave sweets or junk food
Organic food tastes better!
The biggie: eating organically massively reduces your toxic load as you won't be consuming up to 15kg p/year of food based pesticides, herbicides, fungicides, and antibiotics and medication from poorly farmed animals. These toxins go straight to your fat cells and will slowly but surely have an accumulative effect on your health as well!
reason you can't lose weight #2: food quantity
One of the major blocking factors I see time and again is people who don't lose fat simply because they don't eat enough.
It's not uncommon for me to see a food diary with a break between 12.30 and 7 or 8pm, and sometimes even an evening workout (maybe on the back of a few nuts) in that space!
If this sounds familiar to you, and particularly if this sort of meal spacing leaves you constantly fighting cravings, then you need to get busy with some more eating!
Ideal for fat loss if you are moderately active is 4-6 meals per day, mostly fairly equal in size, and all with some form of animal protein.
Protein shakes (this is my favourite!), full fat organic yoghurt or ricotta, and nuts and seeds are all great as snacks, but if it's a meal animal protein is better. Of particular importance is your mid-morning meal (assuming you have breaky under control). Many of my clients notice their body fat suddenly shift when they add in a mid-morning 'mini meal', and they also comment on reduced cravings.
reason you can't lose weight #3: gluten
There are 2 primary concerns I have with gluten as a regular part of your diet.
1. If you're regularly eating gluten, what are you not eating instead? I.e. are you truly getting enough good quality protein and fresh greens if you're filling up on breads, pastas, crackers etc?
2. If you're intolerant to gluten, knowingly or not, and still eating it, you are causing an inflammation response which will impact everything from your weight, to digestive health, hormones, mental acuity, sleep, joint pain, and many everyday health complaints.
We all know someone who has a dramatic 'weight loss after dropping gluten' story, and yet still so many women resist the idea of giving this drug-like food up. Trust me, I get it. I really do. I LOVE crusty bread. But I love even more looking and feeling a certain way.
According to the people I listen to, the vast majority (80%+) of people ARE intolerant to gluten, and in fact many health experts believe it is not a food ever designed to be consumed by humans. If you want to know the impact it's
having on you, the smartest thing is to cut it out completely (be diligent, it's in everything!) for 2 weeks, and track the results. Measurements but also how you feel.
From there it's in your hands to decide what matters more to you – and please remember that there is no right or wrong here, the choices is yours. That being said it does pay to be informed about what works best for your body and your goals!
Next week I'll fill you in on the other 5 'blocking factors' for weight loss.
For now though, have a think about one or two changes you could make based on what you just read.