News
Stunning New Research On Why You Can't Lose Weight!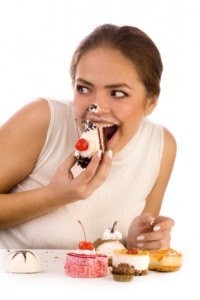 I've noticed a trend over the past couple of weeks. It has to do with why you can't lose weight. If you've been feeling bad about how quickly the pounds stack on at this time of year, then I just might have found the answer. Or answers. Funnily enough there seem to have been several major breakthroughs in weight loss science just recently. Isn't that exciting news?!
Now I'm not sure if I've observed this because I'm paying more attention to newspapers and online releases, or if it's (cynical Kat, bad Kat!)  just the media capitalizing on the current guilt-fest that is following our pudding-filled bellies everywhere we go.
Here's what I've discovered:
You Could Have The Junk Food Gene

According to the Melbourne Herald Sun, quoting the New England Journal of Medicine almost two thirds of us carry a rogue 'obesity' gene. Carriers of the gene find it hard to resist food and are more drawn to calorie-laden foods. Excellent news, I say. Up until now I've thought my 'need' for chocolate and cheesecake was just my eyes being bigger than my stomach, but now I can sit back and enjoy. After all, there's a 66% chance I've got bad genes, so really, resistance is futile.
Before you berate me for my lack of team spirit, let me tell you I'm not the only one raining on this parade. Sure, the reports surrounding this release have focused on your DNA being the culprit for a lack of willpower, but even one of the study researchers seemed to see that there must be more to it:
"The increase in obesity may be largely attributable to the wide-spread availability of inexpensive and energy-dense foods"
The article went on to finish with this carefully thought out nugget:
"The advice is the same – you will not become overweight if you do not overeat"
Uh, duh.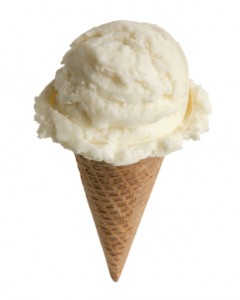 Your Tongue Could Be Making You Tubby
According to the London Mirror a simple at-home test could determine whether you're doomed for flabby thighs and a pot gut for life. It's all about taste buds.
Those with more of 'em are pretty much destined to become obese as they just have too much of a good time whenever they indulge in sweet or savory joys.
If you've been struggling to resist the Christmas goodies then set your mind at ease by purchasing some blue food dye. Wipe it across your tongue with a cotton bud. If you're tongue is quite blue (as opposed to pale blue with gaps) then you can rest easy. You put on weight over the holidays because you were destined to. I'll bet that's a relief!
You Might Be A Low-taster
Now this one might be a little confusing because it's in direct conflict to the previous discovery. You see, those with more taste buds are actually 'super-tasters'. This means that they get more enjoyment out of so-called boring foods like vegetables or plain meats, and therefore don't feel the need to eat as much.
So if that blue food dye test didn't work for you, then you might want to go with this theory.
What I Really Think About Why You Can't Lose Weight

There's probably an element of truth to everything you read about or hear on weight loss. I hope you appreciate by now that simply 'eating well and exercising' is not enough. Wish it were, but it ain't. Sorry.
But that sure doesn't mean that there's a magical explanation or answer out there. One 'missing link' so to speak. It's usually a combination of things, and yes, heightened taste sensitivity, or a faulty 'stop eating' signal could be part of that (these responses are often a reaction to poor eating habits over the years – for example, eating loads of sweet foods will make you more immune to the taste of sugar, and thus result in you eating more and more sugar in order to get that sweet buzz).
So yes, maybe your hormones are out of whack, or you've more of a natural inclination toward sweets than most, or you've put your body through too much cardio or too many diets over the years and now your metabolism is acting like a rebellious teenager.
And if this is you –
So what? It's only an excuse if you're looking for one.
You could give up now, or you could keep plugging away. Trusting Knowing that one day all those pieces will start coming together.
Life is Now. Press Play.
Kat
Link Love
In the spirit of holiday irreverence, here's a fantastic article I came across on Calorie Lab last week. It's all about why you should party hard, chow down like there's no tomorrow, and basically just hit the holiday season with a no-holding-back attitude. Or of course you could do the opposite and feel amazing come January.
Don't forget to leave a comment by clicking on that option just below. And if you haven't yet subscribed to this feed, what are you waiting for? Do it now. You can choose either email or RSS by clicking here. If you enjoyed this article please forward to your friends. Thank-you!
PS
Expansion.
10 Days of Live Soul Transmissions, to Help You Find and Follow the Messages Within
Day 1) Trust
Day 2) Certainty
Day 3) Self-Belief
Day 4) Empire Creation
Day 5) Your Deepest Message
Day 6) Following Soul Guidance in All Areas
Day 7) Faith vs Fear
Day 8) Accessing Flow, and Superflow
Day 9) Expanding Time
Day 10) Expanding Money
Every day will be a LIVE soul led transmission.
This will take place on Facebook video, held at a variety of times in order to account for varying time zones, and scheduled only once we have begun. Our daily soul transmissions will be guided from MY higher self and directed from and for YOURS, to help you find and FOLLOW the messages within. The messages of your spirit, your consciousness, of the who you've always been and yet have managed quite well to cover up a lot of the time.
This is about stripping away –
And getting back to the CORE.
We'll dive day by day into the above mentioned areas –
And you'll receive all content and bonuses to keep for life.
There will be daily spirit prompts which you'll receive after each training.
And plenty of time opportunity connect with me throughout, receive transmissions direct to YOUR questions, and absorb more even than what comes through on the trainings, via the energy we'll create in this collective!
It's very rare for me to know in advance exactly what is coming through day to day.
I certainly don't have the details of each day's content. But I know that these areas have been on my heart to talk about, in particular around belief, around certainty, around living from FAITH.
We know that exactly what is meant to come through for you WILL, and then some. And that if you intend and allow for it to, it will change, most likely before we even begin, due to your energetic commitment, the direction of your LIFE!
Meaning: direct it back to absolute soul alignment.
*** NEVER Seen Before Bonus! ***
As part of this, I've been guided to offer a NEVER before seen bonus … one I feel super vulnerable about sharing!
It's the exact journaling I did to allow the download of THIS offer through. How I allowed the idea to bubble up. You'll see my doubt, uncertainty, annoyance. You'll see what I discarded. How I went through the layers. And how I KNEW, this was the one.
I'll ALSO add in copies (screenshots) of my conversation with my COO Ash, where I was talking through the idea and allowing it to come to life.
I want to show you the exact Idea to Launch process!
This bonus alone is EASILY worth the cost of this program, particularly when you hear the mindset side of it, in terms of STAYING THE COURSE and refusing to back away from my self until the idea showed up!
I refuse not to create!!
AND, when you register for EXPANSION today (and how could you not?!) you'll also receive early access to the Pre-Work. This is ALSO never seen before, and brand new just for you – and it's a guided meditation on remembrance, to help you connect back to deepest self and the most certain truth of your destiny, before we even begin.
Perfect priming, for when we expand RAPIDLY into all that is coming through in this work!
Of course I could now go on and on here, about what I could or should have charged for this, and what it's actually going to be …
Or about all my accomplishments on line and off, with money, with purpose, with passion, with flow …
I think you know all this anyway. Even if you just me! Your soul feels what matters. And that's ALL that matters.
But I will say this:
You've always known it's supposed to be about ALL that is inside of you. That it's meant to COME from a place of purpose, passion, and SUPER super flow. And that if you just.freaking.trusted, and showed up FULLY from that place, you'd be living in a different reality already.
THE ONE INSIDE OF YOU.
If that's true for you right now, then LET'S GO CREATE THAT REALITY.
Right now
Press play for regular, (super fuck yes!!) upfront or payment plan
OR
Press play like a VIP, and receive the full course, plus 10 days direct photos or screenshots of my ACTUAL personal journaling, so you can see how I create and expand my life, PLUS a VIP only follow-on live Hotseat, where you'll receive a personal transmission just for you, if you'd like one! Payment plan also available.
>>> https://thekatrinaruthshow.com/expansion
We start Monday 17 December, US time!