News
The REAL Health Benefits Of Dark Chocolate
I've always argued that chocolate is good for you. And – laugh though everybody has – I've been quite adamant that it doesn't cause weight gain. I'm a chocoholic from way back (in fact a high school friends' husband recently blamed me for her chocolate addiction!), and although I've had times when I've struggled with my weight, I've always had this intrinsic knowledge that the chocolate wasn't the problem.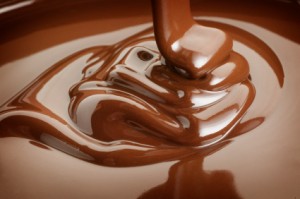 Sure, I've been scoffed at, mocked and jeered at, but it hasn't held me back from my quest to personally taste-test every different cocoa blend this world has to offer. Of course I've always known that I come across as a bit silly (the lady doth protest too much, methinks), but I haven't let it get me down.
Anyway, you can imagine my absolute GLEE when Charles Poliquin announced in my BioSignature hormone testing course that chocolate is always recommended to his weight loss clients. I had to stop myself jumping out of the chair with an almighty "I KNEW it!"
Of course there are a few rules (well, only 5), but hey – if it means you get to indulge guilt-free then I'd say it's worth it, wouldn't you?
1. Raw chocolate is definitely the way to go. Not only is it absolutely delicious, and so satisfying that it honestly is hard to overeat the stuff, but the health benefits are simply stupendous. I'm talking heart health, antioxidants, mineral deficiencies and more! Check out this brief video to see for yourself –
2. Did he really say chocolate helps with weight loss? Yep, you heard right. The truth is that anything with health benefits is by definition useful for weight loss. Excess body fat is most commonly a result of toxic overload and poor nutrition – nutrient-dense foods detoxify and thus help your body to shed stored fat. For example, if you've perused some of my older posts you'll know how true this is of fat, even saturated fat, despite what conventional wisdom has to say. And, while raw chocolate is ideal, the health benefits of regular dark chocolate also make it worth your while. This is due in large part to the antioxidants (polyphenols), which have been linked to anti-carcinogenic activity in animals, prevention of cancers and inflammatory bowel diseases, and stress management through the absorption of those nasty (aging!) free radicals.
3. Shop smart. I'd recommend no less than 70% (cacao) dark chocolate. This is because anything less has too much sugar, and sugar causes an insulin spike which leads to increased fat storage. While brands may vary slightly in sugar content, the average amount p/100 grams of 70% is 20 grams. Milk chocolate has around 50% sugar – a huge difference. 85% dark chocolate can have as little as 5 grams of sugar. Although it tastes very bitter at first, most people say that they "love it" after a week or so, and in fact can't even stand to eat milk chocolate anymore! The really good news is that raw chocolate, which is still your number one health choice, is typically completely sugar free! It's not as easy to find, but many organic or health food stores now stock it. My favorite brand is Living Earth, and (for my Melbourne readers) I order it through Miss Organic along with my fresh foods.
4. Keep it to 90 grams (max) per day. I say this because it's what Charles Poliquin recommends, and given he's trained Olympic gold medal holders in over 10 different sports and studied hormones/nutrition for over 30 years, it's a cert he knows what he's talking about. My advice – unless you're a ripped 200 pound athlete then I wouldn't go as high as 90 grams. Chocolate is still a very energy-dense food, particularly if you do go with 70% rather than 85% or raw (all things in moderation!) Stick to around 40-50 grams, with 90 as your pig-out back-up. The only catch (and again, thanks Charles for the tip) is that you must shave it with a cheese grater first. This helps to release the flavor, but it also slows down the eating!
5. Keep it organic. No exceptions. Lindt is a favorite here in Aus amongst dark chocolate lovers, but it doesn't make my short-list. This is because it's not organic. Non-organic chocolate can have over 200 different chemicals in its make-up, and synthetic chemicals (which are toxic) are stored in your body fat, causing it to expand. There are plenty of organic brands available these days, and even supermarkets stock them. Not only are they better for you, they taste much yummier than conventional. Another consideration is the metal lead, which is commonly present in chocolate and has been linked to brain damage, retardation, anemia, and behavior problems. When it comes to lead-free chocolate, raw is definitely the safest option.
For me the best part about quality chocolate is not that I can eat it guilt-free, it's that even the littlest amount satisfies. As far as weight goes, overindulgence has never seemed to affect me previously, but I can't say I loved the out of control feeling of pigging out on the stuff! Oh – and I'm not ashamed to say I've had quite a bit of fun playing "I told you so" to all those chocolate nay-sayers from years gone by. The really good news? Now it's your turn!
Life is Now. Press Play.
Kat
PS
Did you see this? SYDNEEEYYYYYYY!!!
New! 'Uplevel Your Shit' 2-Day Business Smackdown Intensive Mastermind in Sydney this April 23 and 24!
Want to spend 2 amazing days with me AND my in-house marketing ninja / COO of The Katrina Ruth Show Ash Gregory this April?
I'm putting together an exclusive and VERY intimate high-level LIVE mastermind event for high-level badasses who are willing to do the work to uplevel their shit … fast!
We're talking:
– exploding new client and audience growth (aka lead gen as fuck, the soul way)
– monetisation of YOU
– how to make money all day every day just for being you … you know, FULLY you
– automation of money flow and ALL biz growth / audience growth systems so that you can do even MORE of just being you and letting the whole thing flow
*** This is a HANDS ON implementation event, the likes of which I have not offered in 5 years!! Sydney ONLY! ***
The purpose of this time together, aside from of course ALL the fun and connection and shenaniganery, is for you to walk out ABSOLUTELY crystal clear on:
* The vision of the next level you it's now time to step into
* Your true from soul message and purpose work
* Your soulmate clients and followers, and EXACTLY what to do and how to do it to call them in on repeat, like magic, 'as if from nowhere', daily
* Your current / new offerings, from low ticket to high ticket, as well as a baseline model for how to go from idea -> launch the flow way on repeat moving forward
* Your sales funnel* Sales copy
* Sales methodology, marketing, advertising, the works
* Positioning yourself as the next level leader who you know you are, and how to show up accordingly
* Multi-millionaire money mindset, and your blocks to that SHREDDED
* What you need to choose, clear, own, BE in order to step fully into your badassery
* And much more besides (PM for deets)
You will also have fully COMPLETED:
– Your current/ new offers from low through to high ticket
– Your funnel / new funnel, from flow
– ALL required sales copy / sales pages and materials
– Any advertising / marketing extras you need in place
Aka we are working side by side to build this shiz niz OUT right there in the room!
Ongoing support (a lot) is included in this, with myself AND my team, and there is also 1:1 with me included.
This will sell fast. I haven't offered anything exactly like this ever, and anything close in 5 years, and places are strictly limited! The investment is of course not for everyone however FAR lower than what you may expect.
Pm me now for the full lowdown! #woot!