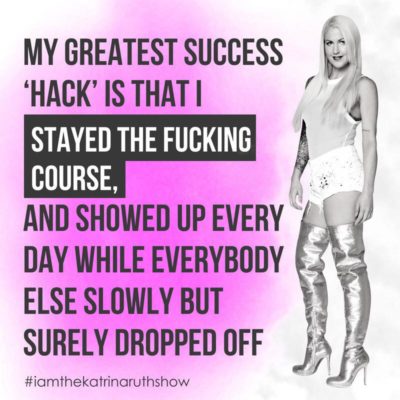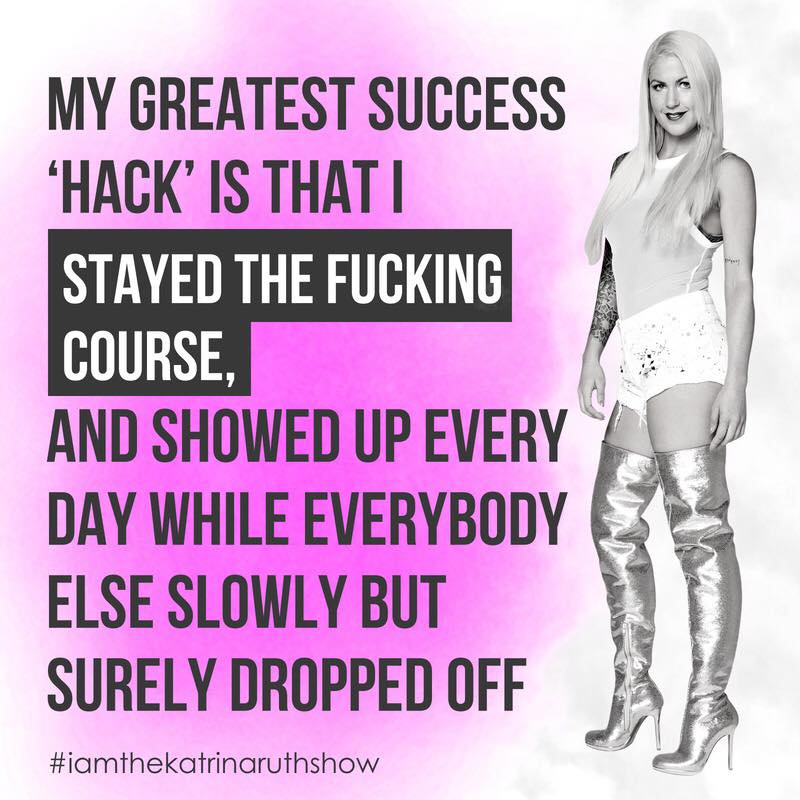 The greatest discipline, is the discipline of being the you who you would be if already there, even though the one you're choosing to be right now is freaking the fuck out about it.
Stop.
Just press pause, for a moment.
Stop running.
Stop pushing.
Stop the crazy internal dialogue about EVERYTHING.
And REALLY take a minute to tune in, to look to the future you SAY you're working so hard to get to, and to get very very clear on what would be in place in your life, at that point.
I mean actually WRITE THAT SHIT DOWN. The specifics. The actual exact shit you'd have in place, if you were that person.
You want to go DEEP on this, and look at:
– Beliefs
– Thoughts
– Feelings
– Emotions
– Your energy, the 'vibe' of you
– And of course actions, what you'd be doing, if you were already 'there'
If you're serious about GETTING there, and you understand how life works, how manifestation works, how GETTING to there works (and then realising you're still not there haha, as there's already a new there), you'll understand that the only way to BE there is to BE there.
It's not confusing at all, if you think about it, and it makes TOTAL sense!
How can you be there if you're not there? You can't!
But, what you CAN do, is practice being that person and FUCK THE FEAR that says you can't yet.
Imagine – !
If every day –
In your business, and with every move you make, every choice you have to weigh up, every action or step you take, you did it as THOUGH YOU WERE ALREADY THAT PERSON.
How do you think that might VERY fucking quickly shift shit for you?

Do you think that if you start to shift the environment within you –
And the one you're choosing to live in –
That it might change your inner state AND your physical outcomes, to reflect what you're acting as though is already wil?
This is some straight up quantum physics shit here. You can try and pretend that that's NOT HOW IT IS, but that don't make it any less true.
What you see is only ever what you are perceiving.
Wanna change what you see, change what you CHOOSE to perceive; recognise it IS a choice, and simply ACT LIKE IT'S ALREADY IN FRONT OF YOU.
Voila, it'll soon appear!
Of course, if this is going to work for you, it's going to require you to BE THAT PERSON IN ALL AREAS, from the greatest things down to the tiniest, which means you need to start paying attention to your EVERY move.
Would the next level you have spoken to that person like that?
Would she hold herself that way?
Would she get up at that time of day, go to bed at that time of night, do those things as her evening or morning rituals?
Would she flake out like that? Hide from her truth like that? Post on social media like that?
How about where she would post? In what way? What would the tone be?
What about her marketing, her communication, her overall way of 'showing up' and expecting people to listen to her or follow, what would that look like?!
Would she carry that purse?
Wear her hair like that?
Treat her body like that?
Operate that way in her relationships?
Be that kind of parent?
That kind of boss?
That kind of mentor?
That kind of person?
What decisions would she be making with her money right now? What investment or wealth building strategies would she have in place, however tiny and slow-moving they may need to be?
What would she be ALL FUCKING OVER that she's right NOW avoiding still?
What would she have let go of that she's bullshitting herself she can't?
What else?
What else?
What else?
Do you realise you can literally BE THE PERSON NOW, but that it literally takes THIS level of paying attention, to your every move, if you want that to be something which manifests fucking FAST, rather than something you hopefully / maybe / one day / get to?
Are you willing to press pause with just about every move you make, stop, tune in, and ask – 'what would the next level me do here?'
Are you willing to then DO it? RELIGIOUSLY, and no matter how scary or confronting?

Most people just won't.
They'll decide it's too extreme.
Or that it should get to 'be more flow' (not realising that flow comes from a foundation of discipline, and getting CONNECTED to soul and source, and that that is a PRACTICE!!)
Or they'll just continue to believe their own bullshit.
OR they'll act as though they kinda sorta didn't even notice.
'Oh, I forgot! I guess I just forgot again … I guess I just forgot to LIVE MY FUCKING LIFE.
I guess I just forgot to do the damn work of BECOMING what I saw inside of me.
Oh well …'
Oh well indeed.
Oh well how about THIS – !
At some point, you're going to have to step up and acknowledge that whilst YES everything you see inside of you is real, and available, for you, and also it IS available now, that if you WANT it?
You ARE going to have to make it fucking happen.
It is a choice.
It is a practice.
It is a discipline.
And the GREATEST fucking practice and discipline, if you actually want what you THINK you're striving to get to, is to stop thinking about it as 'working towards', and to start, instead, 'acting from'.
You already have the knowledge of how to be this person inside of you.
It's NOT that hard.
But it does take courage.
It does take resilience in the face of pushback, or fear, or confrontation.
And it does take repeatedly stepping outside of your comfort zone, no matter how much you don't WANNA.
Wake up, finally, and realise that while you absolutely CAN have it all, that that in no way or shape or form, means you will.
And then?
Do something the fuck about it.
Remember –
Life is Now. Press Play.
Kat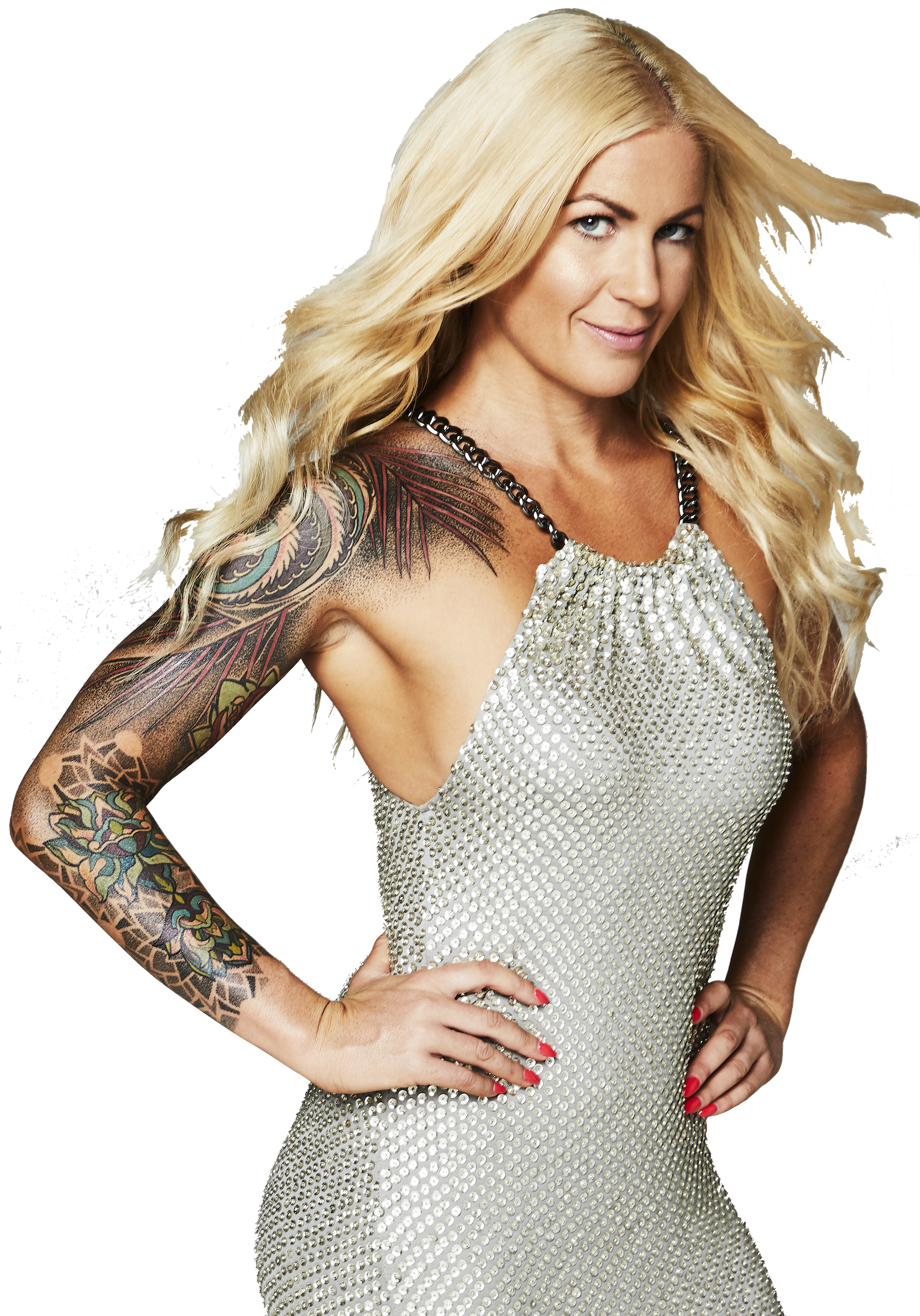 PS
Change Your Habits, Change Your Life starts TODAY!
Have you said yes yet?!
If not why not?!
Say yes to CHANGE YOUR HABITS AND CHANGE YOUR LIFE WITH ME!
27 Days with Self-Made Multi-Millionaire Katrina Ruth, to Get Your Ass Firmly KICKED, the Inner Switch to Being All of You FLICKED, and Your Fear and Resistance Well and Truly LICKED, so You Can Finally Create the Business, Money, Body, Life and Lifestyle You KNOW You're Meant to Have!
Sign up TODAY and get early access to the Facebook group and our pre-work!! 
>>https://thekatrinaruthshow.com/changeyourhabitschangeyourlife/
PRE-WORK IS NOW LIVE in the group for you and it is CRUSHING!
Say yes to CHANGE YOUR HABITS AND CHANGE YOUR LIFE WITH ME, and here's what we'll be working on – !
1) The daily doin' of the WORK, exactly what you need to know and also be DOING, and exactly HOW to do it, in your biz-niz, so that you see.results.stat! 
We're talking –
Messaging / communication
Marketing
Branding
SELL-ing
Social media shiz-niz
Creating new offers as well as managing existing offers / content you gotta get out
Client careManaging and running a team
PR / getting your name out there / building your tribe
General multi-million $$$ admin and badassery
Basically, the HABITS side of running and continuing to GROW a successful and soul-aligned biz. What, you think I sit down every day and try to figure out what I need to do to run this show? God no! I have it LONG ingrained into who I am, I'm like a well oiled machine and both I AND my team just get shit done, because I learned already over the years what needs to BE a habit and a daily discipline, and then I locked that shit in.
Now I'm gonna show YOU.
2) The whole 'being the person' side of things. The MINDSET of discipline and habit creation is pretty damn critical, I know I don't have to tell you. No point me telling you what to do if you don't know how to do it! Aka – if you don't know how to get the fuck over your own SHIT and step into the work of being fully you!
That's why the DEEPEST work we'll be doing in this time together is around the inner game, of releasing your demons, your fears, your 'I'm not good enough', your RESISTANCE, your uncertainty, and your 'I'm not ready nonsense'.
I am a MASTER at getting badass peeps like you into deep alignment and connection to all they are MEANT to be, and then into naturally and automatically DOING THE WORK. I can't wait to kick your ass on the inner game side of things as it is TRULY where my results come from! Speaking of which –
3) The daily discipline of training your MIND for continual success.
Everybody who knows me knows I LOVE to journal, to go deep into my sub-conscious mind, to connect to my higher self, and to create from that place. The HABIT of doing this has, quite literally, formed me into the woman I am today, with this empire and EVERYTHING else I've created.
If there's one habit I'm MOST excited to kick your butt around and support you to FULLY understand and know how to do, it's this one. I'll be sharing DAILY journaling prompts and guidance with you to not only form this habit, but also understand how to most effectively use it!
4) Flicking the INNER SWITCH so it all just flows and goes!
Okay THIS one I know for sure is probably the single most valuable 'change your life' hack I could ever share with you.
Can I be honest with you?? Duh … not sure why I'm asking that; it just came out! Honestly then – I'm a pretty lazy person by nature. I HATE to do shit I don't wanna do! I SUCK at willpower to just 'get shit done'. My LIFE hack is that I know how to just BE THE DAMN PERSON. I just make myself INTO the version of me who finds it easy to be disciplined, on top of things, connected to her art and her message, and ROCKING it in business, fitness, life!
And it all has to do with accessing an internal 'switch' which we all have, to basically turn OFF the patterns that say you can't or aren't worthy or that it's too hard and to instead get FULLY connected to a true desire and excitement around doing what needs to be done!
You are going to LOVE this one!
Aside from all of the above, which is honestly kinda EVERYTHING (and then some) that you need to know about rocking business and every day LIFE, we'll also be looking at locking in being the YOU who you want to be and doing the DO that that you would do (!!) in:
– Fitness
– Parenting if relevant
– Relationships (romantic, but also friendships and of course CLIENTS)
– Self-care
– Connection to source and soul
– Fun and adventure and living a damn life you love in every possible way!
I could go on and on here, couldn't I? There's SO much more besides all of this that I know will go into. Including of course cultivating a habit of BELIEVING and SEEING and EXPECTING only elevation, abundance, MONEY growth, expansion. Hoo boy, that's a big one we'll cover!
But here is what it comes down to:
You KNOW already inside of you who you're mean to be –
You KNOW it's available and fully possible –
You KNOW it's time to get the fuck over yourself, and do the WORK –
And you DO ALSO KNOW that there's a way for it to be easy!
Join Change Your Habits, Change Your Life TODAY, and let me show you how.
https://thekatrinaruthshow.com/changeyourhabitschangeyourlife 
<—- we start today, Monday September 24, US time!!
PS
Expansion.
10 Days of Live Soul Transmissions, to Help You Find and Follow the Messages Within
Day 1) Trust
Day 2) Certainty
Day 3) Self-Belief
Day 4) Empire Creation
Day 5) Your Deepest Message
Day 6) Following Soul Guidance in All Areas
Day 7) Faith vs Fear
Day 8) Accessing Flow, and Superflow
Day 9) Expanding Time
Day 10) Expanding Money
Every day will be a LIVE soul led transmission.
This will take place on Facebook video, held at a variety of times in order to account for varying time zones, and scheduled only once we have begun. Our daily soul transmissions will be guided from MY higher self and directed from and for YOURS, to help you find and FOLLOW the messages within. The messages of your spirit, your consciousness, of the who you've always been and yet have managed quite well to cover up a lot of the time.
This is about stripping away –
And getting back to the CORE.
We'll dive day by day into the above mentioned areas –
And you'll receive all content and bonuses to keep for life.
There will be daily spirit prompts which you'll receive after each training.
And plenty of time opportunity connect with me throughout, receive transmissions direct to YOUR questions, and absorb more even than what comes through on the trainings, via the energy we'll create in this collective!
It's very rare for me to know in advance exactly what is coming through day to day.
I certainly don't have the details of each day's content. But I know that these areas have been on my heart to talk about, in particular around belief, around certainty, around living from FAITH.
We know that exactly what is meant to come through for you WILL, and then some. And that if you intend and allow for it to, it will change, most likely before we even begin, due to your energetic commitment, the direction of your LIFE!
Meaning: direct it back to absolute soul alignment.
*** NEVER Seen Before Bonus! ***
As part of this, I've been guided to offer a NEVER before seen bonus … one I feel super vulnerable about sharing!
It's the exact journaling I did to allow the download of THIS offer through. How I allowed the idea to bubble up. You'll see my doubt, uncertainty, annoyance. You'll see what I discarded. How I went through the layers. And how I KNEW, this was the one.
I'll ALSO add in copies (screenshots) of my conversation with my COO Ash, where I was talking through the idea and allowing it to come to life.
I want to show you the exact Idea to Launch process!
This bonus alone is EASILY worth the cost of this program, particularly when you hear the mindset side of it, in terms of STAYING THE COURSE and refusing to back away from my self until the idea showed up!
I refuse not to create!!
AND, when you register for EXPANSION today (and how could you not?!) you'll also receive early access to the Pre-Work. This is ALSO never seen before, and brand new just for you – and it's a guided meditation on remembrance, to help you connect back to deepest self and the most certain truth of your destiny, before we even begin.
Perfect priming, for when we expand RAPIDLY into all that is coming through in this work!
Of course I could now go on and on here, about what I could or should have charged for this, and what it's actually going to be …
Or about all my accomplishments on line and off, with money, with purpose, with passion, with flow …
I think you know all this anyway. Even if you just me! Your soul feels what matters. And that's ALL that matters.
But I will say this:
You've always known it's supposed to be about ALL that is inside of you. That it's meant to COME from a place of purpose, passion, and SUPER super flow. And that if you just.freaking.trusted, and showed up FULLY from that place, you'd be living in a different reality already.
THE ONE INSIDE OF YOU.
If that's true for you right now, then LET'S GO CREATE THAT REALITY.
Right now
Press play for regular, (super fuck yes!!) upfront or payment plan
OR
Press play like a VIP, and receive the full course, plus 10 days direct photos or screenshots of my ACTUAL personal journaling, so you can see how I create and expand my life, PLUS a VIP only follow-on live Hotseat, where you'll receive a personal transmission just for you, if you'd like one! Payment plan also available.
>>> https://thekatrinaruthshow.com/expansion
We start Monday 17 December, US time!