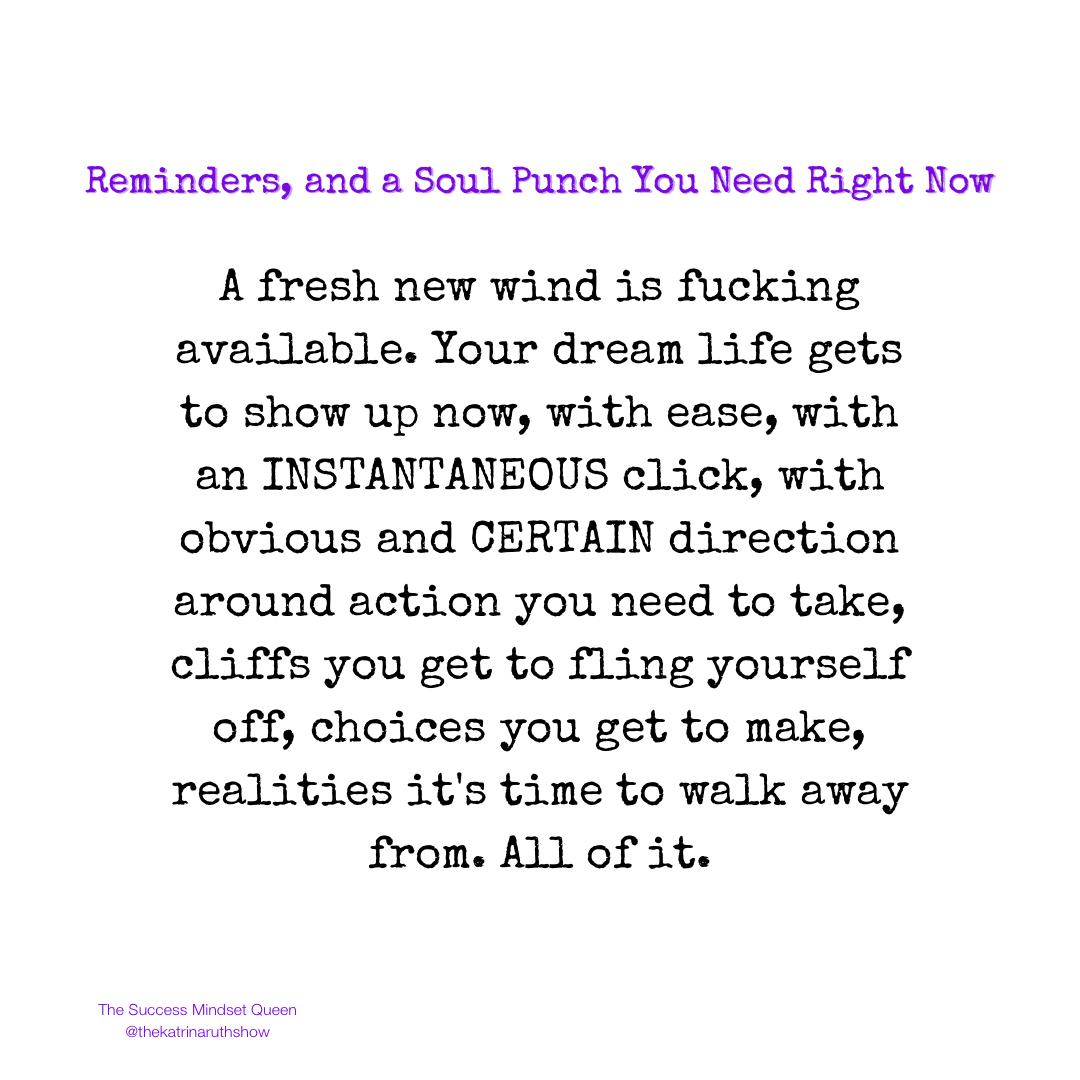 A fresh new wind is fucking available. Your dream life gets to show up now, with ease, with an INSTANTANEOUS click, with obvious and CERTAIN direction around action you need to take, cliffs you get to fling yourself off, choices you get to make, realities it's time to walk away from. All of it.
A MIRACLE is available right now. In that area of your life where I know you're hurting. I know it's hard. I know you feel defeated at times, or back against the wall, or just have no idea what to do. It gets to change. You get to decide right now that you always have power, and choice. You GET to WIN. Yes.
A miracle is available with your health. Your energy, your focus, your vitality. Your body, and the bits that just won't seem to QUITE get up to speed. I don't care whether it's an aesthetics thing you're ready to feel change in. An inner game thing. A mindset shift. A letting GO. All of it! That miracle is available. Claim it. Yes.
A miracle is available with your BUSINESS right now. The parts which feel stuck. The parts you've no idea how to deal with. The parts you're over. Or maybe it's just the next level of epic expansion and explosive growth, revenue, impact, fulfilment, all of it. And you're ready. It's time. Claim it. Yes!
A miracle is available in your personal life. The things you yearn for a deeper YES in. The things you're worried about how to deal with. The bits where you're not QUITE owning truth. The shift gets to occur. It gets to be this week. It gets to be today even. CLAIM it. Yes!
I want you to know that no matter how derailed you may feel at times, no matter how long you've been waiting in certain areas, no matter how entrenched in the quagmire of fuckery you at times feel in others …
you are mother-freaking worthy, just who you ARE is of high high value – IMMEASURABLE, even, the work you are here to do in the world is DEEPLY needed, and you GET to see things change in the most exciting of ways.
THIS GETS TO BE THE MOMENT YOU LOOK BACK ON AND SAY "WOW! AND THEN MY WHOLE LIFE CHANGED!"
> it does not have to be endless
> you don't have to stay stuck
> you don't have to accept only having it 'that good' in certain parts of your life
> and you get to square your shoulders, boobs out, eyes on the horizon, determination in your jaw and DECIDE, that today?
Is the day you decided to dig your heels even deeper into certainty.
And the first thing it takes?
Deciding it gets to change on a dime.
A fresh wind is always available. CLAIM it. And then ask –
"God, show me. What is the ONE next move I need to make?"
Do it.
Repeat.
Surrender.
Repeat again.
YOU'VE GOT THIS.
And I love you.
Now remember – !
Life is Now. Press Play.
Kat
PS
The first free challenge I have run in years starts … today! I am preparing a FB group for it now, and Day 1 will drop late in the day US time (Monday). The Own Your Value & Worth 10-Day Challenge gorgeous! Are you in?
COME BE IN! 
https://thekatrinaruthshow.com/ownyourvalueworth > it's time. x
DON'T FORGET –
Life is Now. Press Play.
Kat
PS.
Is it time to go all in with me, 1:1? Breakthrough Private Mentoring is open now.
This is about BLOWING UP your business + money results …
by BREAKING off what is no longer needed or never was –
REVEALING the heart and soul and unapologetic raw wild YOU-ness of it all …
and combining the inner game | energetics | GOD-led supernatural + spiritual as well as the hands on do-the-WERK bits,
of being the leader who CAME here to make and impact millions –
start a revolution –
and knows that it is now TIME.
This is for you if you are already 'successful',
yet you feel in many ways as though you are barely warmed up
and you KNOW there is something so much deeper
Parts you've been ignoring
Parts which need breaking off
and an IMMEDIATE expansion of money | business | soulmate community but most of all YOU flow,
which gets to occur.
Message me,
IF IT'S TIME.