News
Too Busy NOT To Exercise Or Eat Well?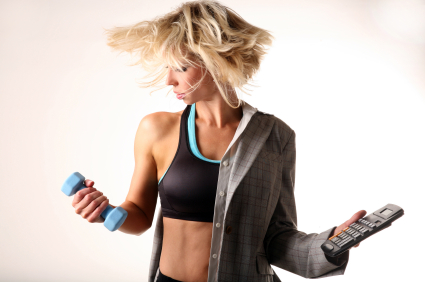 One of my all-time favourite quotes is from Nelson Mandela, and it goes like this. "I'm so busy today, I don't have time not to spend an hour on my knees (in prayer)". To me, this just epitomises the very essence of my life. My dream life, that is. I've long been a fan of taking time for goalsetting and planning in order to ensure that the rush of daily life doesn't sweep away my progress toward important milestones, but it's obviously something that's easier said than done. Yet on those occasions when I do make time for working on my big goals, or even planning my schedule so that I know when I can work on them, I feel fantastic. In control. And clear about what I need to do, and when I will be able to do it.
Matter of fact, I've just spent the past 2 hours of the early morning enjoy some alone time with my Productive Flourishing planners and a cup of coffee – for some unknown but happy happy reason Alyssa decided not to wake up super-early (and is now still sleeping at 8am!)
It's amazing how obvious the need to take this sort of time out is when we actually do so, isn't it? It's equally amazing how effective we can become at putting off projects, tasks, or goals that really tie in to our values and to what we want to get out of life, because we're just so busy and over-scheduled. Doing stuff that we probably won't care about in 5 years time. And I think the rules of taking time out despite a crazy life apply particularly well to meeting your health and fitness goals.
To Busy Not To Hit The Gym?
You don't need me to tell you that improving your health and fitness will help you to focus better and be more productive. We all know the benefits of working on our bodies with good food and regular movement, but yet still we so often delay and procrastinate. Personally it took me a good few years to really form proper habits in this areas, and that was despite working full-time in the fitness industry! If you want to see what a different person I was then (physically) I have my before and after shots over on this page about my book.
Of course aesthetic benefits of healthy living are just the beginning. For me, the reason I know I will always take time for exercise and eating well despite how busy I might be has a lot to do with feeling in control. I've come to define myself in part by how I look and feel, and it's important to me to maintain that. Which means that it doesn't matter how much is going on in my life, I always take time for the gym. Naturally, this means other things suffer, but really – it all comes down to what you prioritise, doesn't it?
Is Your Life Full Of Urgent Unimportance?
Steven Covey has a great system for tracking your productivity. It basically comes down to making distinctions between tasks that are important versus simply urgent. In a lot of cases, we are all too easily swept up in the urgent but unimportant parts of our lives, while the stuff that truly matters to us gets put off for another day. Which really sucks. Personally I can think of nothing worse than getting to the end of a busy and exhausting week and realising that it was busy and exhausting because I filled it with stuff I don't care about and didn't really enjoy doing.
Just DO it? Not as easy as it sounds.
Why is it that we so often can't bring ourselves to 'just do it'. If it's exercise or eating well that you're procrastinating on, it might be worthwhile taking some time to think about this. Is it because the idea of forming a solid exercise habit is painful? Is it because there's so many other things you'd rather be doing (in which perhaps you have to admit that being fit and healthy isn't as important to you as you'd like to think)? Is it because you truly don't know where to start? Really? Or is it as simple as you're human, and sometimes you need a kick up the butt to make you get started on something you know you should be doing and will probably feel great about doing once you do get started?!
I don't have all the answers here. I can tell you that my exercise and nutrition habits are now set in stone, but that's been a very gradual process. One that I think remains successful because I have so irrevocably linked it to looking and feeling a certain way. But that doesn't mean that I'm great at creating new habits in other areas of my life – I could certainly do with some butt-kicking on money management, for example! Which reminds me – I think it's safe to say that if you've been striving toward any particular big goal for more than just a few months and haven't made progress, then it's time to admit you don't know it all and you might need expert support of some kind. If you've been striving toward something for a few years without enlisting help, then you really have nothing to whinge about. And could, perhaps, even be considered as a little bit crazy for imagining you're magically going to resolve a situation that you haven't yet managed to do so despite years of good intent. Definition of insanity?
I don't really have anything else to say here, as this is really more of a musing post than anything. But I'd love to hear what you think. Do you struggle to take time for the things that matter most? Or maybe you can share a tip for 'just doing it' and how being proactive has changed your life?
PS – 8.24 and Alyssa is STILL asleep! She must have known that writing this post was important to me today 🙂
Life is Now. Press Play.
Kat x

PS
I want to help you to build a business you LOVE, and that meets your every want and desire, in a real and true way, whilst also resulting in you making a LOT of money, fast, and impacting a lot of people, also fast, in the way you know you were born for!
My most transformative 1:1 intensive EVER … shifting people into EPIC income and success since 2016 is back, for the first time in 2019! I'm so excited to bring this signature transformative work back!
Rich Hot Empire!
Work With Me for 6-Weeks Personally to Grow Your Perfect Cult Tribe, Create and Launch Your Low-High End EMPIRE, and Set Up Multiple Recurring Income Streams to Take You to Multiple 7-Figures and Beyond, Doing What You Love!
This round is even more special as I will be re-recording all original content, with you there live with me and alongside me AND you will also receive all original content; the exact trainings which has made this program my most successful ever, with clients repeatedly saying they achieved more in 6 weeks with me than they had in 2 YEARS beforehand! This work is for entrepreneurs at ANY starting point, as it's about who you are as a person not where you're at. I've had clients anywhere from total start-up, to already doing 500k+ / year go through Rich Hot Empire and all who have done this work have gone to a level of income as well as alignment and FLOW which they couldn't previously even imagine!
6-week personalised intensive high level mastermind
Weekly group training and support; multi-media training: visual + audio
'Done for You' Templates and Step-by-Step Worksheets
Personalised 1:1 coaching included, plus DAILY unlimited 1:1 access
My personal hand on your business success
Weekly group coaching call and hotseat with my other private clients
24/7 mastermind forum, networking and support
Very limited spaces
Results guaranteed
Not for everyone
STARTS THIS MONTH!
I'm so excited to do this work with a small group of badasses who are willing to SHOW UP FOR THEIR SOUL no matter what. To walk away from all that is not serving, not actually working, not FILLING you. And to all yourself to bring your truest desires to life. If that's you, or you've felt the call to work with me at this level, PM me now. Bonuses and fast action-taker investments apply to all successful applicants, but for the first 5 to say yes there is a very special $2000+ bonus specific around Soul Shifts & Money Makin', and which, in and of itself even before we begin RHE will have shit changing for you FAST.
Apply via PM only. I can't wait to speak with you!
PPS
HAVE YOU JOINED PURPOSE PASSION FLOW ACADEMY?
My 'Going Fully Quantum' training will break down ALL of what we've discussed today, and teach you the finer details and finesse of it, as well as exactly what needs to be true for you to APPLY it, not only into the practical actions you need to create THAT money flow and THOSE results, but also in terms of ALL the energetics of it, especially the 'being and non-being' around dropping in to superflow so you can be shown, create, receive, AND of course the being around not being one of those people who just can't seem to choose faith and are ruled by fear. We'll also talk about creating and integrating the exact wording, beliefs, emotions, energies YOU need for all of this to switch effortlessly for you, as you've always known it would.
In other words: EVERYTHING you need to know to go fully quantum, and double your income in 30 days or less, or whatever else you choose!
Where will you find this training?
Why, it's one of the very first training in 'Remembering Who You Always Were', which. is our June intensive for Purpose Passion Flow Academy, my SUPER low-cost monthly membership mastermind!
And this training?
Will change your freaking reality. Well – it will REMEMBER it.
It's all available to you gorgeous.
You know this already.,In the quantum it is DONE. And in Purpose Passion Flow Academy, and especially our June intensive 'Remembering Who You Always Were'? We gon' done do it.