News
Why You Should Eat More Saturated Fat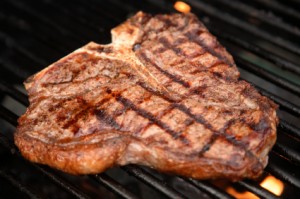 Tim Ferriss' blog has been a favorite of mine ever since I devoured his book The Four Hour Workweek sometime between Christmas Eve '07 and Christmas Lunch '07. And then turned right back to page one. If you haven't already given this one a read it truly will transform your life. But enough of the book plugging – I'll explain why I'm talking about a productivity blog in a moment. For now, let's talk about why you're here today. Nutrition. What should you eat? What should you cut out? Is it enough to simply watch your total calorie intake and follow the generalized 'conventional wisdom' advice of eat less fat and more whole grains?
Short answer? NO. And that's a BIG FAT no. Not if you're serious about your health and not if you truly want optimal energy and weight control for life. When something doesn't make sense, it's always a good idea to question the mainstream. Six or so years ago I was unhealthy, unhappy and overweight. Not extremely so, but enough that I'd had enough. I started looking around for alternatives to the norm. After all, I was already eating totally healthy – so maybe what I thought about healthy food (and what most health experts will tell you) was a little off base.
It turned out to be well off base. And one of the influences that contributed most voraciously to my mental and subsequent dietary turnaround was the work of Drs Michael and Mary Eades, specifically the book Protein Power. Coming back to Mr Ferriss – the thing I love most about Tim's blog is his ability to come up with well written and researched posts on just about any imaginable topic. Which is why I wasn't overly surprised (but was certainly thrilled) to see the title of his latest blog post in my inbox.
Check it out here – 7 Reasons To Eat More Saturated Fat with Dr Michael Eades and Dr Mary Eades. It's a great follow-on for anyone who's read my Eat Fat To Lose Fat post and would like more information. And just in case you're hesitating – let me tell you that since eating this way I've had increasingly less trouble managing my own health and weight and have been able to very successfully share my approach with clients and readers. The proof, as they say, really is in the pudding, and anyone has tried this approach or anything close to it will soon become intrinsically convinced that it's right.
Life is Now. Press Play.
Kat
Don't forget –
Life is Now. Press Play.
Kat x

PS
1:1 INTAKE IS OFFICIALLY OPEN!

🔥
Next Level Empire is officially open for late November intake! 💜
I'm calling in my next intake of driven badass LEADER women who want to work with me 1:1 to FOLLOW SOUL and achieve ALIGNED AF fame, income growth, more.
Yeahhhhhh … this is about unapologetically claiming your place as one who is MEANT to be seen and heard by everyone!!
Next Level Empire baby!
Multi 7-Figure Empire Expansion For Unapologetically Badass & Driven Women Who Are Ready to Be Seen By the WHOLE Damn World
6 weeks.
1:1
You and me
This is for the women who already have a message, an audience, and are making money online and who are now ready to put some damn WHEELS on the thing.
We will be going deeper into message clarity
We WILL be nailing down what you're selling, and how you're selling it, for maximum conversion and flow
We WILL be getting you fully connected to the badass leader within who KNOWS she is meant to run the damn thing
But these things are just the warm-up, because let's face it –
You already message
You already show up
You already sell
You're already ROCKING what you're doing right now
So what you're here for, and what I'm here for with you?
Is to blow the damn thing up.
MAXIMUM reach.
RAPID growth of audience
MASS visibility
MEDIA TAKEOVER
NEXT level leadership status, and being the one who is KNOWN as the Queen
And sales EXPLOSION
I'm taking what I'm doing in my business to CONTINUALLY claim my place at the top, and to take my message to the masses whilst also RAPIDLY growing following and income,
And showing it all to you
Exactly how we do it
What precisely is in place
What we had to have in place for it to work
What we do day to day to elevate fame, income, purpose, ALL of it
And then I'm going to work with you personally to roll it out
Next Level Empire baby:
For the women who were born for more,
And who are done with circling repeatedly around the same damn pond and kidding themselves they're gonna find it there.
Ready, and know it's time? It just might be 

😉

💜
PM me now

for the full overview, and to know if it's for you. x