News
Contest! I'm Giving Away A $250 Sports Pack Full Of Goodies!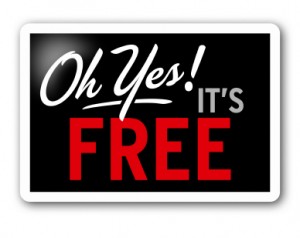 As a health blogger I am often asked to review different products. From e-books and info courses to real life books, audio and video packs, and sometimes even new sports performance goodies.
Here's the thing though. You guys actually don't get to hear about most of the stuff I am asked to review. Even if they offer me stuff for free for either myself or for you.
I have no interest in promoting something I don't see at least some use for and benefit of. Hopefully several benefits! A recent example is I was offered over $500 worth of free supplements to use at my will (i.e. for a contest such as this one). I said no after doing some research and realising that – even though the brand was very well marketed – the quality was rubbish.
Long story short, if I'm talking about something on Body Incredible or Woman Incredible then you can bet your bottom dollar that I like the stuff! In this case, I'm actually talking about JUICE!
let's cut to the chase: can juice be healthy?
As you know, I'm not a big fan of regular juice consumption from fruit, and not even really of daily fresh fruit consumption. I believe that we would only have access to even these natural sugars on a random basis rather than daily. Generally I'd even advise you to never drink juice day-to-day, because it can prevent you from reaching your fat loss goals.
Of course as with any 'rule', there are always a few exceptions. Green smoothies, for example, so long as they are predominantly vegie-based, can be a really healthy and easy (not to mention yummy!) way to get your greens. And recently I came across a new packaged juice that I actually don't mind at all for the occasional post-workout (weights!) sugar-load.
why on earth would you drink juice post-workout?
If you are lean and if you are very athletic, then it's reasonable to assume you want to either increase lean muscle (to further boost your metabolism), or that you want to at least maintain it. After training with weights you are what is called insulin sensitive. This means that your muscles will quickly zap up any sugars you may consume (healthy and natural is still best!), and use them to grow more lean muscle and thus help keep you lean.
Makes sense, doesn't it? If super-muscle-growth is a particular goal of yours then consuming a small amount of juice first thing in the morning may even be recommended!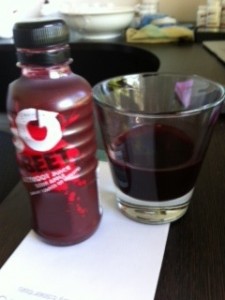 This particular juice, which is called GO BEET is actually more of a vegetable juice – it's 90% beetroot, and 9.9% apple – and it is a naturally rich source of dietary nitrate. According to the online info, scientific research suggests that the high dietary nitrate levels found in beetroot may help boost endurance and stamina during exercise, by allowing muscles to use oxygen more efficiently.
As inferred above, my take on this would be to use it only post-workout, as I'm not a huge fan of spiking insulin pre or during training.
Because it's mainly vegetable juice, Go Beet is not super-sweet. It kind of reminds me of childhood BBQs actuallly; probably because beetroot was always a staple on home-made burgers! I love the stuff 🙂
win a $250 Go Beet/Asics/Everlast/Puma/Nike sports pack!
The folks at Go Beet have kindly sent me this fabulous goodie back for one lucky Body Incredible reader. To be in the running, you simply need to comment on this very blog post and share your top piece of advice for keeping yourself motivated. I'll gather all of the entries into a survey next week for everyone to vote on and the most popular and useful piece of advice will result in its writer winning all of this great sports gear!
Here is what you could score!
1 x GO BEET T-shirt
1 x GO BEET cap
2 x GO BEET bottles
1 x GO BEET info pack
1x Puma backpack
1 x Asics water bottle
1 x Aussie Fit Step pedometer
1 x Everlast skipping rope
1 x Nike Elite Structure running socks
1 x Asics "chafe free" endurance gel
1 x Aussie Fit Workout Towel
1 x Pro-Form excersise ball
2 x 2kg hand weights
Whew! Not bad hey 🙂
If you'd like to know more about GO Beet and check out some of the great giveaways and promos they have on offer, simply head over and 'like' the GO Beet Facebook page.
Life is Now. Press Play.
Kat

Don't forget –
Life is Now. Press Play.
Kat x
PS
I HAVE SOME BIG NEWS TO SHARE!
As of today, I'm opening up the doors to my Inner Circle, my 12 month private client mastermind.
This is THE most badass high level mastermind in the world for women who want it all – and are prepared to do what it takes to get it! Really what we're talking about is being prepared to be the PERSON.
And that's what I do. I help you remember ALL that you were, and then become it. ALL Of it.
This is my highest level private mentoring circle. The exact place where I have personally mentored dozens of this industry's most elite female entrepreneurs to break income barriers ranging from 10k months to multiple 7 FIGURE months, and everything in between. But more importantly than that – to become who and what they always were.
But know that this is not only (obviously) not just for the masses, this is also not just for someone who can afford to invest in a high level private coach. Being willing to throw money down is something which has absolutely zero correlation to being somebody who has what it takes to TRULY go next level as a leader.
If anything, in this industry, investing in a high level coach such as myself, is a rite of passage which veers just a little too much on the side of 'trend'. It's become something which 'everybody does', almost as a way of proving they play business and life a certain way.
Maybe even of trying to prove it to themselves.
Here is the reality which those who I am truly here to personally mentor and lead KNOW, the reality which my clients and all women like me as well as of course me personally have ALWAYS known:
We are VERY VERY DIFFERENT.
We are simply, smarter, faster, and have more presence. We can do more in our minds before breakfast than what most people can do in a freakin' WEEK, a month, a year.
We are not basic ass coaches trying to heave ho our way up a few extra thou a month.
We are the ones who have ALWAYS known we are 1% within the 1% within the 1% in terms of how we think, create, operate, how and WHAT we are tapped in too.
This is not arrogance, this is fact.
And there has NEVER been any question but that we will go all the way.
My clients are high level badasses who do the work, who have a proven track record BEFORE coming to me, and a BEING-ness which unquestionably separates them from the rest. They don't come to me to save them or lean down and hold my hand out so they can clamber up. They come because they are, quite simply, ready to go to the next level, already absolutely on their WAY there, and see in me something which they recognise because it is in them.
That 'can't stop won't stop' fire, and a level of 'unapologeticness' which, when truly understood and applied, can literally be the difference between 5-figure or low 6-figure and 7 or multi-7-figure entrepreneur.
So if you know who you are and it is THAT –
And you feel certain that you are ALREADY well on your way to to precisely where you're meant to be, but that being in MY energy could help you to drop in and get there even faster, and that with a couple of simple tweaks your current revenue could be doubling, tripling, heck QUADRUPLING and beyond in months, as it has done with numerous of my clients previously, well then –
PM me here http://m.me/katrinaruthofficial and we'll see if it's a fit. I'm excited to talk to you, and maybe – do biz and life with you.