News
You Need To Know This: Understanding Food Labels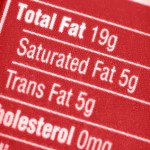 Read time: 2-3 minutes
We all know that eating processed, packaged and tinned foods is not a great idea. Michael Pollan put it best when he listed as one of his top ten rules for ideal health to "shop the aisles only". I prefer to take it one step further where I can and "shop the markets only". But let's be realistic. We're not perfect, we never will be, and I'm not entirely convinced that I'd want to be anyway. Occasionally something packaged will find it's way into our cupboards, and really, there's nothing wrong with that. In fact, keeping certain tinned foods at work can be good for food emergencies. It sure beats food courts. Outside of keeping back-up food at the office, there'll be occasions when you do go for convenience. Whether it's the kids demanding a treat, your tired brain luring you into the tempting depths of the supermarket, or the simple fact that you're not, in fact superwoman (or man :)).
So. Having accepted that we can't always live in a perfect fresh food organic world, it's to your benefit to fully understand food labels, and therefore be able to make the best of a less than ideal situation. For example, 'organic' as a label doesn't necessarily mean healthy. This is one reason I love having all my fresh food delivered by Miss Organic – everything they stock is 100% organic AND good for you – two characteristics that unfortunately don't always go together.
Decoding Food Labels: What You Need To Know
1. Check the fat. Not so much the total fat, but what it's made of. Trans fats are the big no-no – they're highly processed. I recently read that the original studies slamming saturated fats were actually done on a combination of saturated and trans, and that basically saturated fat was in the wrong place at the wrong time. Trans fat is the real baddy. In general, if the food is packaged, less total fat is better but the same rule does not always apply to non-packaged foods – real fat is great for health and for losing weight.
2. Check the kilojoules. You know I'm the last person to harp on about calories when quality is an issue, but when it comes to packaged foods, again, slightly different rules apply. As a guideline, you can keep kilojoules for snacks to 600-1000. This is based on a 'typical' adult (whoever that is!) and includes a low level of activity. I'd suggest that you can keep it even simpler by eating less packaged foods and on the occasions you do eat them, recognise that it's a deviance from normal habits anyway!
3. Check the carb content. A typical low-carb diet asks you to eat under 50 grams of usable carbohydrate per day. From experience I can tell you that when you eat adequate quality protein and fat then as low as 35 or 40 gives you excellent energy. So it's startling to consider that some snacks and packaged foods have up to 50 grams of carbs per serve. Even if you're not eating low-carb (and why wouldn't you, unless you're a ripped and carb-tolerant athlete), I wouldn't recommend more than 30 gram MAX per feed. To find out if you're carb-tolerant, or how to manage your food if you're not, consider having your BioSignature profile assessed.
4. Check the order of the ingredients. Ingredients are listed in order of greatest quantity. If anything ending in 'ose' (or clearly stated as sugar) is near the start, you've got problems.
5. How many words can you NOT pronounce? The more weird looking stuff is on the ingredients list, the lower the nutrition content of the food. A perfect example is whey protein – the more synthetic crap they add in, the worse the quality of the whey. They add all that rubbish in order to bring it up to a minimum standard of nutrition.
6. Consider what the smartest choice would be. If you find yourself in a pinch and have to grab whatever's at end to tide you over, consider what the best choice would be. For example, 100% nut butter is usually preferable to a nut bar, which will also contain sugar. Plain yogurt is better than flavoured. Choc-covered nuts are better than pure candy. You get the idea. Of course you could just consider going without altogether – nothing like a spontaneous fast!
The bottom line is that you can include packaged foods in your diet and still be very healthy. Are there any packaged foods you regularly include in your diet that you'd consider healthy? I'd be interested to know what the typical ratio is of packaged to un-packaged foods. I'd say mine is about 80% unpackaged. How about you?
Life is Now. Press Play.
Kat x
PS
I want to help you to build a business you LOVE, and that meets your every want and desire, in a real and true way, whilst also resulting in you making a LOT of money, fast, and impacting a lot of people, also fast, in the way you know you were born for!
My most transformative 1:1 intensive EVER … shifting people into EPIC income and success since 2016 is back, for the first time in 2019! I'm so excited to bring this signature transformative work back!
Rich Hot Empire!
Work With Me for 6-Weeks Personally to Grow Your Perfect Cult Tribe, Create and Launch Your Low-High End EMPIRE, and Set Up Multiple Recurring Income Streams to Take You to Multiple 7-Figures and Beyond, Doing What You Love!
This round is even more special as I will be re-recording all original content, with you there live with me and alongside me AND you will also receive all original content; the exact trainings which has made this program my most successful ever, with clients repeatedly saying they achieved more in 6 weeks with me than they had in 2 YEARS beforehand! This work is for entrepreneurs at ANY starting point, as it's about who you are as a person not where you're at. I've had clients anywhere from total start-up, to already doing 500k+ / year go through Rich Hot Empire and all who have done this work have gone to a level of income as well as alignment and FLOW which they couldn't previously even imagine!
6-week personalised intensive high level mastermind
Weekly group training and support; multi-media training: visual + audio
'Done for You' Templates and Step-by-Step Worksheets
Personalised 1:1 coaching included, plus DAILY unlimited 1:1 access
My personal hand on your business success
Weekly group coaching call and hotseat with my other private clients
24/7 mastermind forum, networking and support
Very limited spaces
Results guaranteed
Not for everyone
STARTS THIS MONTH!
I'm so excited to do this work with a small group of badasses who are willing to SHOW UP FOR THEIR SOUL no matter what. To walk away from all that is not serving, not actually working, not FILLING you. And to all yourself to bring your truest desires to life. If that's you, or you've felt the call to work with me at this level, PM me now. Bonuses and fast action-taker investments apply to all successful applicants, but for the first 5 to say yes there is a very special $2000+ bonus specific around Soul Shifts & Money Makin', and which, in and of itself even before we begin RHE will have shit changing for you FAST.
Apply via PM only. I can't wait to speak with you!
PPS
HAVE YOU JOINED PURPOSE PASSION FLOW ACADEMY?
My 'Going Fully Quantum' training will break down ALL of what we've discussed today, and teach you the finer details and finesse of it, as well as exactly what needs to be true for you to APPLY it, not only into the practical actions you need to create THAT money flow and THOSE results, but also in terms of ALL the energetics of it, especially the 'being and non-being' around dropping in to superflow so you can be shown, create, receive, AND of course the being around not being one of those people who just can't seem to choose faith and are ruled by fear. We'll also talk about creating and integrating the exact wording, beliefs, emotions, energies YOU need for all of this to switch effortlessly for you, as you've always known it would.
In other words: EVERYTHING you need to know to go fully quantum, and double your income in 30 days or less, or whatever else you choose!
Where will you find this training?
Why, it's one of the very first training in 'Remembering Who You Always Were', which. is our June intensive for Purpose Passion Flow Academy, my SUPER low-cost monthly membership mastermind!
And this training?
Will change your freaking reality. Well – it will REMEMBER it.
It's all available to you gorgeous.
You know this already.,In the quantum it is DONE. And in Purpose Passion Flow Academy, and especially our June intensive 'Remembering Who You Always Were'? We gon' done do it.