News
10 Absolutely Delicious Snack Ideas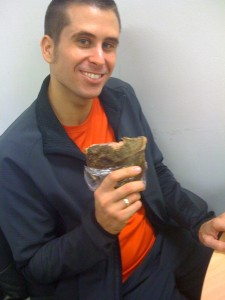 I couldn't resist taking this pic of Paul (fellow Personal Trainer) last week in the gym. I walked into the lunch-room mid-afternoon, and there he was – chowing down on a big ole hunk of beef. I have to say, I was pretty impressed! As fanatical meat-eaters go I thought I was up there, but this really does take the cake. And what a great way to get some quality protein in rather than head down the typical mid-afternoon sugar path.
Now I'm guessing that (appealing though it may be!) you might not feel quite ready to take things to this level of caveman-style behavior, so here's a list of my favorite healthy snack ideas. You'll notice they all include some fat and/or some protein – this will ensure your snack keeps your metabolism firing and it will also stop those nasty sweet cravings from setting in (or getting worse).
1. Gluten-free toast with avocado mash (take 1/2 a ripe avo, grab a fork, and mash with some organic sea salt, some pepper, some lemon, and some garlic or chilli if you're feeling brave).
2. Gluten-free toast with tahini, almond spread, cashew spread, macadamia spread (you get the picture). Add half a banana if you're really hungry or if you just worked out.
3. Full-fat organic plain yogurt with fresh seasonal berries (frozen will do if they're out of season). You can substitute organic double cream for the yogurt if you really want satisfaction. Good quality, natural fats will NOT make you fat – they'll actually help you to burn fat!
4. Full-fat organic milk (raw if you can get it) hot chocolate. Use dark organic cocoa powder – if you read my article The Real Health Benefits Of Dark Chocolate you'll know just how good this stuff is!
5. A boiled egg or two. Simple. Cheap. And extremely effective.
6. Trail mix – but not the tired old stuff from the store, which is typically way too full of sugary dried fruit. Make your own healthy blend with a selection of organic raw nuts, some goji berries (you can buy them at any health food/supplement store), and some dark organic chocolate (about 30 grams). Delish!
7. 1/2 of a quality organic protein shake. (The chocolate is my favorite, surprise, surprise!)
8. A chunk of quality cheddar cheese (organic is always best, around 40-60 grams is fine), with your choice of seasonal berries, goji berries, raw veggie sticks, or raw nuts.
9. Nando's chicken thighs – your back-up snack for when you're out and about and haven't planned ahead.
10. And finally, my fave – the mini-meal. This is pretty much my preferred snack because it's just so darn good for your health and your waistline. Plus I guarantee it'll stop those cravings. It's pretty simple – just take a mini version of your leftovers from dinner or lunch and enjoy! Be sure to include some of the protein and some of the veg, plus a little avo or olive oil for added satiety.
Oh – and if you see Paul on your travels then be sure to make a quick grab for his backpack. I'm betting there's some quality meat in there for you to add to your next meal!