News
3 Simple Ways To Lose Fat Today
Read time: 2 minutes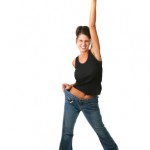 As you already know, fat loss is a science, and a pretty advanced one at time. Addressing or trying to understand hormonal imbalance, for example, can be confusing and overwhelming, and sometimes it's only natural that you feel like you want to give up. When this happens it's good to get back to basics and remind yourself that you do have the power to transform your body. Sure, maybe not as fast as you'd sometimes like, but then let's be honest. Maybe you're not as consistent as you know you can be.
When all is said and done the science of fat loss is one that is made up of tiny, but steady, steps. Here are 3 for you to follow today.
lose fat fast with these 3 easy steps
1. Have your coffee before training, not after. According to Coach Poliquin, caffeine and other stimulants spike the hormone cortisol, which is your 'stress' hormone and can help drive you to action. For this reason it's great pre-workout (early in the day), but for the same reason it's devastating post-workout. Elevated cortisol for a prolonged period of time can impair muscle recovery and tip your body into fat-storing mode rather than burning.
2. Change the tempo of your reps when lifting weights. If there's one thing that's a sure-fire method to weight loss failure it's never varying your training style. Having said that, one of the most effective methods to cause muscle breakdown and therefore boost lean muscle and metabolism is a slow and controlled tempo. Try 'powering up' strong on the concentric (lifting) phase of each exercise, and controlling down for 3-4 seconds on the eccentric. If you're used to high-speed circuit style training this may seem boring at first, but I guarantee you you'll be wiped by the end of it – physically and mentally.
3. For God's sake, refuel properly after training. You know that whole idea of having some quality protein post-workout? It's not just a suggestion. The timing of your post-workout nutrition will dictate whether your session results in improved lean muscle and lowered fat, or just broken down muscle and an overt cortisol reaction. A smart approach to post-workout nutrition is to have something protein and recovery based immediately after training (click here to see what I use and recommend after a weights session), and then eat a meal about one hour after that. Include solid food protein such as eggs, chicken, fish or red meat, a whole lotta green veg, and some organic butter. If you're lean you most certainly should be eating starches (healthy choices such as brown rice, low GI fruits, sweet potato) at this time. If you're not lean then this is the one time of day you can kinda get away with a small amount of starch.
Don't forget –
Life is Now. Press Play.
Kat x
PS
I HAVE SOME BIG NEWS TO SHARE!
As of today, I'm opening up the doors to my Inner Circle, my 12 month private client mastermind.
This is THE most badass high level mastermind in the world for women who want it all – and are prepared to do what it takes to get it! Really what we're talking about is being prepared to be the PERSON.
And that's what I do. I help you remember ALL that you were, and then become it. ALL Of it.
This is my highest level private mentoring circle. The exact place where I have personally mentored dozens of this industry's most elite female entrepreneurs to break income barriers ranging from 10k months to multiple 7 FIGURE months, and everything in between. But more importantly than that – to become who and what they always were.
But know that this is not only (obviously) not just for the masses, this is also not just for someone who can afford to invest in a high level private coach. Being willing to throw money down is something which has absolutely zero correlation to being somebody who has what it takes to TRULY go next level as a leader.
If anything, in this industry, investing in a high level coach such as myself, is a rite of passage which veers just a little too much on the side of 'trend'. It's become something which 'everybody does', almost as a way of proving they play business and life a certain way.
Maybe even of trying to prove it to themselves.
Here is the reality which those who I am truly here to personally mentor and lead KNOW, the reality which my clients and all women like me as well as of course me personally have ALWAYS known:
We are VERY VERY DIFFERENT.
We are simply, smarter, faster, and have more presence. We can do more in our minds before breakfast than what most people can do in a freakin' WEEK, a month, a year.
We are not basic ass coaches trying to heave ho our way up a few extra thou a month.
We are the ones who have ALWAYS known we are 1% within the 1% within the 1% in terms of how we think, create, operate, how and WHAT we are tapped in too.
This is not arrogance, this is fact.
And there has NEVER been any question but that we will go all the way.
My clients are high level badasses who do the work, who have a proven track record BEFORE coming to me, and a BEING-ness which unquestionably separates them from the rest. They don't come to me to save them or lean down and hold my hand out so they can clamber up. They come because they are, quite simply, ready to go to the next level, already absolutely on their WAY there, and see in me something which they recognise because it is in them.
That 'can't stop won't stop' fire, and a level of 'unapologeticness' which, when truly understood and applied, can literally be the difference between 5-figure or low 6-figure and 7 or multi-7-figure entrepreneur.
So if you know who you are and it is THAT –
And you feel certain that you are ALREADY well on your way to to precisely where you're meant to be, but that being in MY energy could help you to drop in and get there even faster, and that with a couple of simple tweaks your current revenue could be doubling, tripling, heck QUADRUPLING and beyond in months, as it has done with numerous of my clients previously, well then –
PM me here http://m.me/katrinaruthofficial and we'll see if it's a fit. I'm excited to talk to you, and maybe – do biz and life with you.