News
3 Simple Ways To Lose Fat Today
Read time: 2 minutes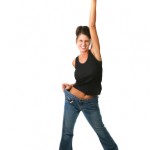 As you already know, fat loss is a science, and a pretty advanced one at time. Addressing or trying to understand hormonal imbalance, for example, can be confusing and overwhelming, and sometimes it's only natural that you feel like you want to give up. When this happens it's good to get back to basics and remind yourself that you do have the power to transform your body. Sure, maybe not as fast as you'd sometimes like, but then let's be honest. Maybe you're not as consistent as you know you can be.
When all is said and done the science of fat loss is one that is made up of tiny, but steady, steps. Here are 3 for you to follow today.
lose fat fast with these 3 easy steps
1. Have your coffee before training, not after. According to Coach Poliquin, caffeine and other stimulants spike the hormone cortisol, which is your 'stress' hormone and can help drive you to action. For this reason it's great pre-workout (early in the day), but for the same reason it's devastating post-workout. Elevated cortisol for a prolonged period of time can impair muscle recovery and tip your body into fat-storing mode rather than burning.
2. Change the tempo of your reps when lifting weights. If there's one thing that's a sure-fire method to weight loss failure it's never varying your training style. Having said that, one of the most effective methods to cause muscle breakdown and therefore boost lean muscle and metabolism is a slow and controlled tempo. Try 'powering up' strong on the concentric (lifting) phase of each exercise, and controlling down for 3-4 seconds on the eccentric. If you're used to high-speed circuit style training this may seem boring at first, but I guarantee you you'll be wiped by the end of it – physically and mentally.
3. For God's sake, refuel properly after training. You know that whole idea of having some quality protein post-workout? It's not just a suggestion. The timing of your post-workout nutrition will dictate whether your session results in improved lean muscle and lowered fat, or just broken down muscle and an overt cortisol reaction. A smart approach to post-workout nutrition is to have something protein and recovery based immediately after training (click here to see what I use and recommend after a weights session), and then eat a meal about one hour after that. Include solid food protein such as eggs, chicken, fish or red meat, a whole lotta green veg, and some organic butter. If you're lean you most certainly should be eating starches (healthy choices such as brown rice, low GI fruits, sweet potato) at this time. If you're not lean then this is the one time of day you can kinda get away with a small amount of starch.
Don't forget –
Life is Now. Press Play.
Kat x

PS
Ready to lock in the actual freakin' target of being that next level you with your MONEY??
This is the most powerful thing I have EVER created for you on this topic. One time only all new live, 6 weeks with me. There are literally only a handful of people on the face of the planet who have created the financial reality that I have from SOUL, and by saying a big 'fuck you' to all the rules. Not only that, but also consistently HELD it, for years. And NOBODY who also understands the energetics and quantum side of it in the way that I do, and can teach it in a way that IMMEDIATELY makes sense, and is absorbed into your being.
Work with me and the switch WILL flick for you, that's just how it is.
And now, for the first time ever, and ONE time live only, I'm gonna teach you all of it.
The practical.
The mindset.
The recoding of beliefs, patterns, conditioning.
AND the energetics.
This changes everything.
ALIGNING TO YOUR NEW MONEY NORMAL!
6 Weeks with Self-Made Multi-Millionaire Katrina Ruth to Completely Rewire Your Money Beliefs, and Uplevel Your Financial Reality, Now!