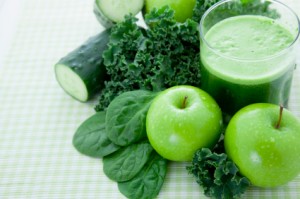 Would you like to burn fat better, detox your body and balance out the high protein and fat in your current diet?
If so, then a green smoothie a day is your answer!
The fact of the matter is that most of us aren't getting nearly enough greens each and every day even when we are diligently following the Look Great Naked Clean Eating plan. I mean c'mon – be honest. Do you truly work your way through multiple cups of greens with nearly every main meal? If you do, kudos to you 🙂
And if not – hey, you're human! It takes a lot of time to chew through enough greens to truly detox your body and maximize fat loss and health each day!
Green smoothies are a fantastic and convenient way to get a load of your greens in without the hassle. Done properly they are simply jam-packed full of goodness. In fact, our green smoothie recipes will give you a hefty dose of:
Vitamins
Minerals
Antioxidants
Fibre
And all with MASSIVE taste. Massively GOOD taste!
Here are 3 of my favourite vegetables to put into smoothies if I'm after a fat loss kick:
3 veggies proven to fight fat!
1. Coriander is well known for it's healing and medicinal qualities! This naturally sweet herb helps with any form of indigestion or digestive disorder or nausea, and is also an excellent natural diuretic, which makes it fantastic for helping with fluid retention AND with bloating.
2. The humble cucumber is one of my all-time favourite vegetables. I tend to carry around a few of them in my bag each day as an on-the-go snack, but another reason I love cucumbers is that they remind me of drinking refreshing iced cucumber tea at my Afghani friends' house when I was a teenager. Obviously her Mum was onto something, as cucumbers are fantastic for everything from alleviating constipation, to controlling weight through natural diuretic properties, to promoting good bone health through their high Vitamin K. A fabulous vegetable to eat or drink!
3. Well we all know that spinach is good for us and that it makes us strong, but did you know why that is so? Here's a pretty impressive fact for you – the nutritional breakdown of spinach is such that it has more nutrients in it per calorie than any other food. Wow, huh? And not only is it ridiculously nutrient dense (with vitamins, minerals and even essential fatty acids), but it's also naturally very low in calories. This is a key reason spinach is renowned for its weight loss benefits. Drink up!
the woman incredible 'green fat loss smoothie collection'
The Fat Loss Smoothie Collection is the latest e-book in the Woman Incredible Look Great Naked series, and it includes 10 simply brilliant fat loss smoothie recipes, all super quick and easy to make in your blender at home. No juicer needed! Here is a 'taste' of what you'll enjoy –
Flat Tummy Green-ness
The Lean Legs Smoothie
The Ultimate Bodyfat Detoxifier
The Insulin Sensitive Greenie
Strong Bones Greenie
Belly Fat Burn Smoothie
Spicy Metabolic Greenie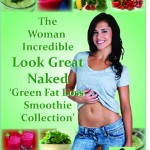 And the best part? The Woman Incredible Look Great Naked Green Fat Loss Smoothie Collection is on sale as part of the Woman Incredible first birthday celebrations for this weekend! After today it will be $9.97, but for the next day? It's a cool $7.
Oh, and aside from the fantastic smoothie recipes you'll also get a 'Greenpower Tip' from me to accompany each recipe, explaining some of the science behind the ingredients and why the recipes work! The tips above are 3 examples from the book 🙂
more birthday specials!
There are a few more pretty sweet birthday deals at the moment on Woman Incredible, including a huge 10 bucks off the original Woman Incredible Look Great Naked Eating Plan.
Head over here to grab your Fat Loss Smoothie Collection, or perhaps even to pick up a bit of a deal on the Eating Plan and Smoothie Collection together.
But don't delay – these deals finish very soon!
Life is Now. Press Play.
Kat
Don't forget –
Life is Now. Press Play.
Kat x
PS
Programmed to Upgrade is happening gorgeous, and WHOOOOO MAMA is this the work that works.
25 days, you and me, 1:1, to quantum leap like you've NEVER leapt before.
This will be intense …
And a lil bit scary. But buckle up, because you KNOW you're ready for it.
SO fucking ready 😉
Programmed to UPGRADE!
25 Days, 1:1, with Katrina Ruth, to SCREW the Rules, SCREW the Norm, Go So Damn Extra, So Freaking Hot, So Fully SEEN, and Snap Your Future Into the Now So Damn Fast It'd Make Your Head Spin … even as you nod in certainty that of COURSE, this is what was ALWAYS supposed to be ..
Places are already filling, and we begin next week. If you know it's time to say yes to MAGIC, and creating your reality from the supernatural, and you're SO ready to drop the paradigm of always having to DO (and yet still not be there!) then message me now.
I'll get you the full overview, and talk personally with you about whether or not it's for you.
To the supernatural baby, and beyond …
PPS
I HAVE SOME BIG NEWS TO SHARE!
As of today, I'm opening up the doors to my Inner Circle, my private client mastermind.
This is THE most badass high level mastermind in the world for women who want it all – and are prepared to do what it takes to get it! Really what we're talking about is being prepared to be the PERSON.
And that's what I do. I help you remember ALL that you were, and then become it. ALL Of it.
This is my highest level private mentoring circle. The exact place where I have personally mentored dozens of this industry's most elite female entrepreneurs to break income barriers ranging from 10k months to multiple 7 FIGURE months, and everything in between. But more importantly than that – to become who and what they always were.
But know that this is not only (obviously) not just for the masses, this is also not just for someone who can afford to invest in a high level private coach. Being willing to throw money down is something which has absolutely zero correlation to being somebody who has what it takes to TRULY go next level as a leader.
If anything, in this industry, investing in a high level coach such as myself, is a rite of passage which veers just a little too much on the side of 'trend'. It's become something which 'everybody does', almost as a way of proving they play business and life a certain way.
Maybe even of trying to prove it to themselves.
Here is the reality which those who I am truly here to personally mentor and lead KNOW, the reality which my clients and all women like me as well as of course me personally have ALWAYS known:
We are VERY VERY DIFFERENT.
We are simply, smarter, faster, and have more presence. We can do more in our minds before breakfast than what most people can do in a freakin' WEEK, a month, a year.
We are not basic ass coaches trying to heave ho our way up a few extra thou a month.
We are the ones who have ALWAYS known we are 1% within the 1% within the 1% in terms of how we think, create, operate, how and WHAT we are tapped in too.
This is not arrogance, this is fact.
And there has NEVER been any question but that we will go all the way.
My clients are high level badasses who do the work, who have a proven track record BEFORE coming to me, and a BEING-ness which unquestionably separates them from the rest. They don't come to me to save them or lean down and hold my hand out so they can clamber up. They come because they are, quite simply, ready to go to the next level, already absolutely on their WAY there, and see in me something which they recognise because it is in them.
That 'can't stop won't stop' fire, and a level of 'unapologeticness' which, when truly understood and applied, can literally be the difference between 5-figure or low 6-figure and 7 or multi-7-figure entrepreneur.
So if you know who you are and it is THAT –
And you feel certain that you are ALREADY well on your way to to precisely where you're meant to be, but that being in MY energy could help you to drop in and get there even faster, and that with a couple of simple tweaks your current revenue could be doubling, tripling, heck QUADRUPLING and beyond in months, as it has done with numerous of my clients previously, well then –
PM me here http://m.me/katrinaruthofficial and we'll see if it's a fit. I'm excited to talk to you, and maybe – do biz and life with you.