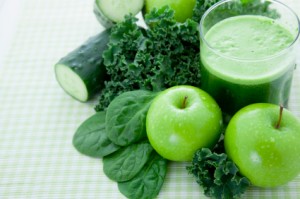 Would you like to burn fat better, detox your body and balance out the high protein and fat in your current diet?
If so, then a green smoothie a day is your answer!
The fact of the matter is that most of us aren't getting nearly enough greens each and every day even when we are diligently following the Look Great Naked Clean Eating plan. I mean c'mon – be honest. Do you truly work your way through multiple cups of greens with nearly every main meal? If you do, kudos to you 🙂
And if not – hey, you're human! It takes a lot of time to chew through enough greens to truly detox your body and maximize fat loss and health each day!
Green smoothies are a fantastic and convenient way to get a load of your greens in without the hassle. Done properly they are simply jam-packed full of goodness. In fact, our green smoothie recipes will give you a hefty dose of:
Vitamins
Minerals
Antioxidants
Fibre
And all with MASSIVE taste. Massively GOOD taste!
Here are 3 of my favourite vegetables to put into smoothies if I'm after a fat loss kick:
3 veggies proven to fight fat!
1. Coriander is well known for it's healing and medicinal qualities! This naturally sweet herb helps with any form of indigestion or digestive disorder or nausea, and is also an excellent natural diuretic, which makes it fantastic for helping with fluid retention AND with bloating.
2. The humble cucumber is one of my all-time favourite vegetables. I tend to carry around a few of them in my bag each day as an on-the-go snack, but another reason I love cucumbers is that they remind me of drinking refreshing iced cucumber tea at my Afghani friends' house when I was a teenager. Obviously her Mum was onto something, as cucumbers are fantastic for everything from alleviating constipation, to controlling weight through natural diuretic properties, to promoting good bone health through their high Vitamin K. A fabulous vegetable to eat or drink!
3. Well we all know that spinach is good for us and that it makes us strong, but did you know why that is so? Here's a pretty impressive fact for you – the nutritional breakdown of spinach is such that it has more nutrients in it per calorie than any other food. Wow, huh? And not only is it ridiculously nutrient dense (with vitamins, minerals and even essential fatty acids), but it's also naturally very low in calories. This is a key reason spinach is renowned for its weight loss benefits. Drink up!
the woman incredible 'green fat loss smoothie collection'
The Fat Loss Smoothie Collection is the latest e-book in the Woman Incredible Look Great Naked series, and it includes 10 simply brilliant fat loss smoothie recipes, all super quick and easy to make in your blender at home. No juicer needed! Here is a 'taste' of what you'll enjoy –
Flat Tummy Green-ness
The Lean Legs Smoothie
The Ultimate Bodyfat Detoxifier
The Insulin Sensitive Greenie
Strong Bones Greenie
Belly Fat Burn Smoothie
Spicy Metabolic Greenie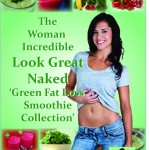 And the best part? The Woman Incredible Look Great Naked Green Fat Loss Smoothie Collection is on sale as part of the Woman Incredible first birthday celebrations for this weekend! After today it will be $9.97, but for the next day? It's a cool $7.
Oh, and aside from the fantastic smoothie recipes you'll also get a 'Greenpower Tip' from me to accompany each recipe, explaining some of the science behind the ingredients and why the recipes work! The tips above are 3 examples from the book 🙂
more birthday specials!
There are a few more pretty sweet birthday deals at the moment on Woman Incredible, including a huge 10 bucks off the original Woman Incredible Look Great Naked Eating Plan.
Head over here to grab your Fat Loss Smoothie Collection, or perhaps even to pick up a bit of a deal on the Eating Plan and Smoothie Collection together.
But don't delay – these deals finish very soon!
Life is Now. Press Play.
Kat
PS
Woman Empowered: Hot.Fierce.FREE, is HERE, and we start this coming Monday gurrrrlllll!
5 Weeks 1:1 with Katrina Ruth to Light You on Fire, Shift Your Body, Life & Self-Worth Shit Once and For All, Connect You Back to EXCELLENCE and FUN In All Areas, and Get You Finally Pressing Play As You BE Your Best, LIVE Your Best, and DEMAND the Best, Period, The End!
>>> PM me now for the lowdown, AND the smackdown (when you listen to the audio overview I created for you!)
It's to admit that you've not being going all in on YOU –
Putting yourself on the back-burner for so long now –
HANDCUFFING your growth and the spreading of your own wings –
So intent on 'growing business and money' that you've not even noticed it was long ago time to cast aside the identity of yesterday and become the QUEEN AS FUCK WOMAN EMPOWERED who owns EVERY part of who she is and also takes care of it?
You ain't gonna see jack SHIT working in your life if you're not following the pathway from within, and in ALL ways being who you know you're meant to be, and creating from THAT place.
Yeah?
Yeahhhhhh.
So let's get you connected.
Tapped back in.
Saying yes first and foremost to YOU, and doing so FOR you, not for ANY freakin' outcomes.
And watch as the whole world opens up before you 
Woman, Empowered: Hot.Fierce.FREE, starts THIS coming Monday! Places strictly limited, and filling fast now!
5 weeks 1:1.
You and me.
ALL in.
To light you on fire.
Shift your body, life and self-worth shit once and for all.
Connect you back to excellence and fun in all areas.
And get you finally pressing full play as you BE your best, LIVE your best, and DEMAND the best, period, The End!
PM for deets. x