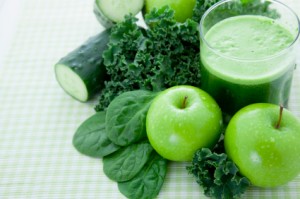 Would you like to burn fat better, detox your body and balance out the high protein and fat in your current diet?
If so, then a green smoothie a day is your answer!
The fact of the matter is that most of us aren't getting nearly enough greens each and every day even when we are diligently following the Look Great Naked Clean Eating plan. I mean c'mon – be honest. Do you truly work your way through multiple cups of greens with nearly every main meal? If you do, kudos to you 🙂
And if not – hey, you're human! It takes a lot of time to chew through enough greens to truly detox your body and maximize fat loss and health each day!
Green smoothies are a fantastic and convenient way to get a load of your greens in without the hassle. Done properly they are simply jam-packed full of goodness. In fact, our green smoothie recipes will give you a hefty dose of:
Vitamins
Minerals
Antioxidants
Fibre
And all with MASSIVE taste. Massively GOOD taste!
Here are 3 of my favourite vegetables to put into smoothies if I'm after a fat loss kick:
3 veggies proven to fight fat!
1. Coriander is well known for it's healing and medicinal qualities! This naturally sweet herb helps with any form of indigestion or digestive disorder or nausea, and is also an excellent natural diuretic, which makes it fantastic for helping with fluid retention AND with bloating.
2. The humble cucumber is one of my all-time favourite vegetables. I tend to carry around a few of them in my bag each day as an on-the-go snack, but another reason I love cucumbers is that they remind me of drinking refreshing iced cucumber tea at my Afghani friends' house when I was a teenager. Obviously her Mum was onto something, as cucumbers are fantastic for everything from alleviating constipation, to controlling weight through natural diuretic properties, to promoting good bone health through their high Vitamin K. A fabulous vegetable to eat or drink!
3. Well we all know that spinach is good for us and that it makes us strong, but did you know why that is so? Here's a pretty impressive fact for you – the nutritional breakdown of spinach is such that it has more nutrients in it per calorie than any other food. Wow, huh? And not only is it ridiculously nutrient dense (with vitamins, minerals and even essential fatty acids), but it's also naturally very low in calories. This is a key reason spinach is renowned for its weight loss benefits. Drink up!
the woman incredible 'green fat loss smoothie collection'
The Fat Loss Smoothie Collection is the latest e-book in the Woman Incredible Look Great Naked series, and it includes 10 simply brilliant fat loss smoothie recipes, all super quick and easy to make in your blender at home. No juicer needed! Here is a 'taste' of what you'll enjoy –
Flat Tummy Green-ness
The Lean Legs Smoothie
The Ultimate Bodyfat Detoxifier
The Insulin Sensitive Greenie
Strong Bones Greenie
Belly Fat Burn Smoothie
Spicy Metabolic Greenie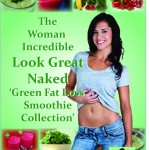 And the best part? The Woman Incredible Look Great Naked Green Fat Loss Smoothie Collection is on sale as part of the Woman Incredible first birthday celebrations for this weekend! After today it will be $9.97, but for the next day? It's a cool $7.
Oh, and aside from the fantastic smoothie recipes you'll also get a 'Greenpower Tip' from me to accompany each recipe, explaining some of the science behind the ingredients and why the recipes work! The tips above are 3 examples from the book 🙂
more birthday specials!
There are a few more pretty sweet birthday deals at the moment on Woman Incredible, including a huge 10 bucks off the original Woman Incredible Look Great Naked Eating Plan.
Head over here to grab your Fat Loss Smoothie Collection, or perhaps even to pick up a bit of a deal on the Eating Plan and Smoothie Collection together.
But don't delay – these deals finish very soon!
Life is Now. Press Play.
Kat
PS: I haven't looked back since introducing a green smoothie a day into my eating plan. It's quick, tasty, and makes it SO easy to get my veggie intake. You won't look back either 🙂
PS
I'm calling in my next intake of driven badass LEADER women who want to work with me 1:1 to FOLLOW SOUL and achieve ALIGNED AF fame, income growth, more.
Yeahhhhhh … this is about unapologetically claiming your place as one who is MEANT to be seen and heard by everyone!!
Next Level Empire baby!
Multi 7-Figure Empire Expansion For Unapologetically Badass & Driven Women Who Are Ready to Be Seen By the WHOLE Damn World
6 weeks.
1:1
You and me
This is for the women who already have a message, an audience, and are making money online and who are now ready to put some damn WHEELS on the thing.
We will be going deeper into message clarity
We WILL be nailing down what you're selling, and how you're selling it, for maximum conversion and flow
We WILL be getting you fully connected to the badass leader within who KNOWS she is meant to run the damn thing
But these things are just the warm-up, because let's face it –
You already message
You already show up
You already sell
You're already ROCKING what you're doing right now
So what you're here for, and what I'm here for with you?
Is to blow the damn thing up.
MAXIMUM reach.
RAPID growth of audience
MASS visibility
MEDIA TAKEOVER
NEXT level leadership status, and being the one who is KNOWN as the Queen
And sales EXPLOSION
I'm taking what I'm doing in my business to CONTINUALLY claim my place at the top, and to take my message to the masses whilst also RAPIDLY growing following and income,
And showing it all to you
Exactly how we do it
What precisely is in place
What we had to have in place for it to work
What we do day to day to elevate fame, income, purpose, ALL of it
And then I'm going to work with you personally to roll it out
Next Level Empire baby:
For the women who were born for more,
And who are done with circling repeatedly around the same damn pond and kidding themselves they're gonna find it there.
Ready, and know it's time? It just might be 😉
PM me now for the full overview. x