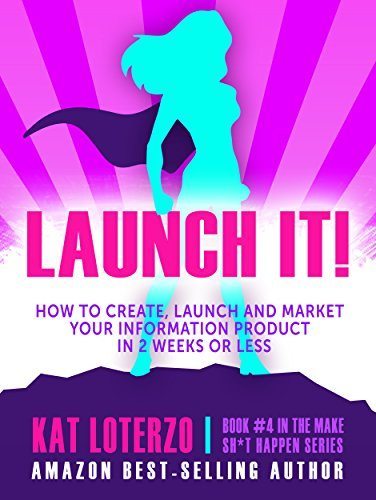 LAUNCH IT!
HOW TO CREATE, LAUNCH AND MARKET YOUR INFORMATION PRODUCT IN 2 WEEKS OR LESS (MAKE SH*T HAPPEN BOOK 4)
Do you actually have stuff – a lot of it – that you are selling RIGHT NOW? How about freebies? Do you have high-value free offers available – multiple – RIGHT NOW?
And are you – right now, as in today – working on your latest new creation either free or paid? Is it coming out this week or next?
Or are you like the very vast majority of women entrepreneurs out there in that you have a decent free opt in, an eBook and/or program of some kind and then a ton of great ideas which – no matter how awesome they may be – are in fact completely useless because as of right now, this minute, they are not a) growing your list and b) making you money?
None of the pretty stuff, the organised stuff, the so-called must do stuff in your business counts if you're not also regularly CREATING (and finishing; going live with; launching) new stuff both for free and for sale.
I'd go so far as to say that if you can't answer yes to all of my above questions (the ones in the last 4 paragraphs) then right now you're failing to be the entrepreneur you really could be, you're failing to share your message or shine your light in the way you were born to do, you are in fact NOT on the path to the wealth and freedom and lifestyle you desire, and worse still you're probably more burnt out and less fulfilled than you thought possible! After all, you got into this whole biz thing because you love to create stuff … right?!
Launch It! is not just a nice story and system for effective launching of online products and programs. For sure we'll cover all of that, but what it's really about is this –
You doing what you set out to do. Which is creating the CRAP out of stuff – awesome stuff – and making a ton of money doing it, all the while stepping more and more into living the life you really want.
PS
I'm calling in my next intake of driven badass LEADER women who want to work with me 1:1 to FOLLOW SOUL and achieve ALIGNED AF fame, income growth, more.
Yeahhhhhh … this is about unapologetically claiming your place as one who is MEANT to be seen and heard by everyone!!
Next Level Empire baby!
Multi 7-Figure Empire Expansion For Unapologetically Badass & Driven Women Who Are Ready to Be Seen By the WHOLE Damn World
6 weeks.
1:1
You and me
This is for the women who already have a message, an audience, and are making money online and who are now ready to put some damn WHEELS on the thing.
We will be going deeper into message clarity
We WILL be nailing down what you're selling, and how you're selling it, for maximum conversion and flow
We WILL be getting you fully connected to the badass leader within who KNOWS she is meant to run the damn thing
But these things are just the warm-up, because let's face it –
You already message
You already show up
You already sell
You're already ROCKING what you're doing right now
So what you're here for, and what I'm here for with you?
Is to blow the damn thing up.
MAXIMUM reach.
RAPID growth of audience
MASS visibility
MEDIA TAKEOVER
NEXT level leadership status, and being the one who is KNOWN as the Queen
And sales EXPLOSION
I'm taking what I'm doing in my business to CONTINUALLY claim my place at the top, and to take my message to the masses whilst also RAPIDLY growing following and income,
And showing it all to you
Exactly how we do it
What precisely is in place
What we had to have in place for it to work
What we do day to day to elevate fame, income, purpose, ALL of it
And then I'm going to work with you personally to roll it out
Next Level Empire baby:
For the women who were born for more,
And who are done with circling repeatedly around the same damn pond and kidding themselves they're gonna find it there.
Ready, and know it's time? It just might be 😉
PM me now for the full overview. x