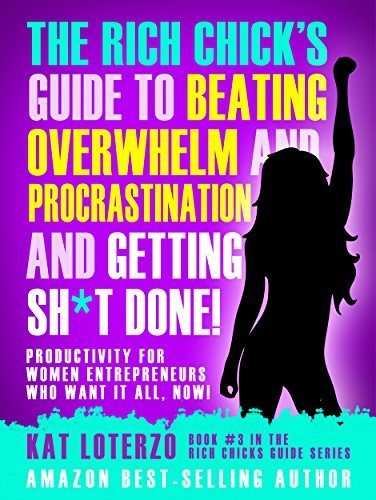 RICH CHICK'S GUIDE TO BEATING OVERWHELM AND PROCRASTINATION AND GETTING SH*T DONE!
PRODUCTIVITY FOR WOMEN ENTREPRENEURS WHO WANT IT ALL, NOW! (RICH CHICKS GUIDE BOOK 1)
Fact: that dream you dream about all of the time, the really big-ass one which would truly mean the WORLD to you, change your LIFE, mean that each night when you go to sleep you KNOW you are living on purpose?
You could've already done that.
Now before you get all huffy and turn away, know this – I'm not here to smack you down or make you feel bad. I'm here to lift you up, get you motivated, ready to head back in the game, and not only ready to take action but actually freaking TAKING action.
But if we're going to do this, and I mean REALLY do it, then you do have to face facts. Do it quickly, like ripping a Band-Aid!
Imagine if you'd spent even 30 minutes a day, 6 days a week, over the past year, consistently, no excuses, no matter how tired or stressed or busy you were and even if you didn't know HOW … working on that dream.
Imagine if you based your actions on what you wanted to create in your life rather than on your day to day levels of motivation or energy…
Imagine if you knew how to prioritise what REALLY mattered to you … if you actually KNEW what really mattered in the first place…
Imagine if you had MORE THAN ENOUGH TIME for everything that was truly important…
Imagine if you had a HABIT of creating success, one foot in front of the other, step by step just doing what it takes, rather than stopping to question if the timing was right, or you could afford to, or there wasn't something else more pressing you had to do right now…
Imagine if you NEVER again had to try and beat the devil that is procrastination…
PS
I'm calling in my next intake of driven badass LEADER women who want to work with me 1:1 to FOLLOW SOUL and achieve ALIGNED AF fame, income growth, more.
Yeahhhhhh … this is about unapologetically claiming your place as one who is MEANT to be seen and heard by everyone!!
Next Level Empire baby!
Multi 7-Figure Empire Expansion For Unapologetically Badass & Driven Women Who Are Ready to Be Seen By the WHOLE Damn World
6 weeks.
1:1
You and me
This is for the women who already have a message, an audience, and are making money online and who are now ready to put some damn WHEELS on the thing.
We will be going deeper into message clarity
We WILL be nailing down what you're selling, and how you're selling it, for maximum conversion and flow
We WILL be getting you fully connected to the badass leader within who KNOWS she is meant to run the damn thing
But these things are just the warm-up, because let's face it –
You already message
You already show up
You already sell
You're already ROCKING what you're doing right now
So what you're here for, and what I'm here for with you?
Is to blow the damn thing up.
MAXIMUM reach.
RAPID growth of audience
MASS visibility
MEDIA TAKEOVER
NEXT level leadership status, and being the one who is KNOWN as the Queen
And sales EXPLOSION
I'm taking what I'm doing in my business to CONTINUALLY claim my place at the top, and to take my message to the masses whilst also RAPIDLY growing following and income,
And showing it all to you
Exactly how we do it
What precisely is in place
What we had to have in place for it to work
What we do day to day to elevate fame, income, purpose, ALL of it
And then I'm going to work with you personally to roll it out
Next Level Empire baby:
For the women who were born for more,
And who are done with circling repeatedly around the same damn pond and kidding themselves they're gonna find it there.
Ready, and know it's time? It just might be 😉
PM me now for the full overview. x