News
Delicious Beef Satay Stir-Fry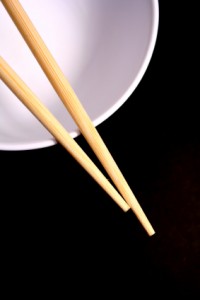 Are you sick of eating the same thing again and again for dinner? Want to learn more about cooking but not sure where to start? Or perhaps you're already an avid chef in the making and, as such, always keen to add new ideas to your repertoire. I have to admit I naturally fall more into the second category. But, having committed myself to regularly providing recipes to this blog, I'm finally getting better. If ever so slowly! Still, all modesty has to be placed aside for now because I think this recipe is going to blow your socks off. Or your oven mitts, perhaps. And the best part is that I came up with it all by myself – it's not often my dinnertime boredom ends in such success!
The only thing I'm annoyed about is that I carefully photographed the cooking process for you and then accidentally deleted the images. Unfortunately the evidence is long since digested so you'll just have to let your imagination do the work until you next hit the kitchen.
Beef Satay Stir-Fry
Serves 6
600-700 grams organic grass-fed beef cubes (grass-fed with it's excellent Omega-3 properties will keep you alive for longer)
2-3 tablespoons coconut oil
3 small red chilis
4 garlic cloves
2 teaspoons cumin
2 teaspoons ground coriander
4 well-rounded tablespoons organic crunchy peanut butter
2 tablespoons raw honey
1 rounded tablespoon molasses
1 tablespoon sweet chili sauce (the only non-organic part – I'd be interested to know if anyone has their own healthy recipe for this?)
200 mls organic coconut milk
1 large carrot, peeled and diced
Handful of green beans, heads and tails removed, and chopped into thirds
Top third of a half celery – including the leaves, chopped fine
8-10 large mushrooms, sliced
Half bunch of chinese greens or english spinach (another great way to increase your Omega-3), washed and torn
Fresh parsley, chopped roughly
Plenty of ground pepper
Organic sea salt to taste
Put It Together
Chop your garlic and chili (leave the seeds in if really hot is your thing), and then heat the coconut oil in a large stainless steel pan, on medium. Add the garlic and chili, saute for a minute or so, then add the herbs and stir for 30 seconds or so before tossing in the beef. Keep an eye on it and toss constantly with a wooden spoon. It will only take a few minutes to brown. Add in the peanut butter, honey, molasses, sweet chili, and coconut milk. Stir through and leave to simmer for 5 minutes. Add the carrot, celery, and green beans, followed by the mushrooms. Mix well and allow to cook for a minute or so (this is a good time to add salt and pepper) before adding the leafy greens and parsley. Allow to cook with the lid half on for 5 minutes or so and then check the veggies. This dish shouldn't need to brew for ages, as you don't want to kill your fresh produce.
Serve and enjoy!
Now I know I did say it serves 6, but if you're cooking for less than that I'd still suggest whipping up the full amount. This dish is great for freezing and there's no better feeling than heading home from a long day knowing dinner is already pre-prepared and brimming with health