News
10 Great Ways To Makeover Your Cardio Routine (And Finally Get Lean)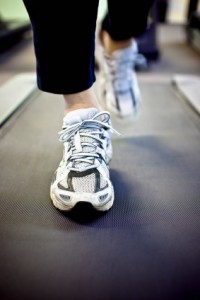 If you swing by regularly you'll know I'm not the hugest fan of cardio. This is not because I think cardio is without benefits, but because I so often see it performed in the wrong way. The result of which more than speaks for itself – I've literally watched people grow fatter on the cardio machines in my gym since it opened 4 or so years ago. And it's been the same in every gym I've run my business out of. The long and short of it is that most cardio junkies do things completely wrong. And they have the saddlebags to show for it.
If you're not sure whether your cardio routine is up to scratch then it's probably not. And if you can't understand why the weight simply won't shift despite all the time and effort you put in, then it's a safe bet that you're stuck in a faulty cardio routine.
In which case it's most definitely time to change your approach before you end up with chunky fat aerobics instructor syndrome. Here's how – and trust me, this one's worth a read even if it's just for a refresher:
1. Cut out endurance cardio. Unless you're a marathon runner in the making, there's no call in your life for long bouts of low-intensity cardio. Many fitness experts will still tell you that low-intensity cardio is the best way to stay in the fat-burning zone, but I'm far more interested in the hormonal effects of that slow steady session. And the truth there is that although you may burn fat during the 40 or 60 or 90 minutes you work out for, your metabolism hasn't been affected in any lasting way. Furthermore, your body adapts after about 6 weeks and then starts to store extra body fat as a means of being prepared for the predicted upcoming sessions.
2. Introduce (true) interval training. If you're an avid exerciser you're familiar with interval training – alternating periods of high intensity with periods of lower intensity or recovery. It's a great idea in theory – interval training allows you to work much harder in a shorter period of time, burning off twice or more as much energy as you would with endurance cardio, and possibly even elevating your metabolism beyond the workout (if the resistance is high enough). The problem? Most people don't know how to push themselves. Ideal interval training should last no longer than 20 minutes, and the high intensity part should be so extreme that you feel like you're going to collapse as you watch the last few seconds count down. Your recovery should be true recovery – either a complete standstill, or very slow and relaxed. If you're able to keep up a 'decent' pace then you definitely didn't work hard enough earlier. Finally, it's important to make sure you vary your approach. If you usually alternate minute to minute, try 30 second changes. Or 45 hard, 30 recovery. Variety is crucial if you want to achieve lasting results.
3. Try some sprints. Have you ever compared the body of a sprinter to a marathon runner? I'd say it's a far prettier sight, wouldn't you? We typically think of sprints as being running-based, but you can definitely use the bike or cross-trainer for sprints. While interval training can allow for increases in speed OR resistance (or both), sprint training is purely speed-based. And typically performed either over a set distance or for a given period of time, before being followed by a complete rest. The rest period should be around twice as long as the work period in order to continually perform at your best. I like to do sets of 10 sprints, timing myself for each. If you're working with a treadmill it's pretty tough to measure things precisely as it takes time for the treadmill to build speed and you're forced to run as it does so. For this reason you may prefer outdoor runs (mark out a distance and then time yourself), or using the indoor bike. Aim to include sprint training at least once a fortnight for variety and a truly revolutionary lung burn.
4. And a few hills. Hills are a great way to build lean muscle on your gluts and legs, and to increase your overall metabolism. Most cardio doesn't have a lasting effect on your metabolic rate (unlike weight training), but hills are a great exception to this rule. And definitely an excellent way to shake off some cardio cobwebs! Either set the treadmill to a decent incline (at least 8), or find a handy hill in your local park. You can start with brisk walking to begin with, but try to include some light running as well. Unless you really want to punish yourself use an interval or sprint based approach to hill training rather than just running straight uphill for 20 minutes. Mind you, that'd be a workout your body wouldn't let you forget in a hurry!
5. Make cardio the supplement to real training. It's one thing to smarten up your cardio routine, but have you ever thought about whether you should be including the stuff at all? If you're a very busy or stressed person, then cardio does little more than activate a deep-set stress hormone reaction, one result of which is increased fat storage. Pretty counter-productive, huh?! But even if you're not overly stressed, excess cardio becomes a source of stress, causing the same hormonal activity. Excess is anything more than 2-3 times per week, and for any longer than an average of 20 minutes true work-time. The ONLY exceptions are if you're training for an endurance event, and even then some experts insist that weight training has a greater effect on your long-term energy. Real training is training replicating movements that our bodies were designed to do. Bending, squatting, twisting, lunging, pushing, pulling. Usually involving some kind of heavy object. For more information on this, see my articles on functional fitness.
6. Pay attention and make your workout count. I can't tell you how common it is to see people 'workout' on cardio machines with their head in the clouds and their body barely following commands. I sure hope that if you're investing your precious time into hitting the gym you're actually paying attention and pushing yourself to the point where you know you're alive. And sure, occasionally it might be okay to just go through the motions, but if that's the norm you've got problems. It's a pretty safe bet that if you're watching TV or reading a book, you're not working as hard as you should be. Ditto for carrying on a conversation. I say make the choice – either train for results, or go home and relax.
7. Mix it up in the great outdoors. There's no rule that says cardio training has to involve a specific machine or a set movement. Sometimes the best workouts are the ones that involve spontaneous activity, or some sort of sport – casual or organized. If you're bored with doing the same thing over and over again, or if you've had enough of the gym, it could be time to mix it up in the great outdoors. Grab a frisbee, or some blades, try rock climbing (even if it's indoors!), or get a group of like-minded friends together for some backyard football. I'm sure you can think of your own ideas. Who knows? You might even discover a new skill!
8. Turn your weight session into cardio. This is probably my favorite approach to cardio. Ever since I discovered how much more effective weight training is for keeping my clients and myself lean, I've looked for ways to avoid the stuff in its purest sense. Which is why I absolutely love love love circuit training. It's time efficient, it sculpts your body, it gets you sweating like nothing else, and it most definitely takes care of cardio training without having to actually hit the cardio machines. The concept is very simple – just choose 3-8 weight-training exercises (I find bigger movements work best, as opposed to isolated), and perform them back to back, one set of each. Pause for 90 seconds (or don't if you really want to challenge yourself), and repeat 3-5 times. Here's an example.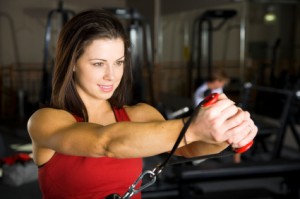 9. Use your upper body. Sometimes your legs just need a break. Or it could be that you've become such a 'machine' that traditional cardio has been well and truly conquered and no longer forces you to really get that heart rate climbing. This is the perfect time to include some upper body cardio. The most obvious choice is the rowing machine. And let me tell you – if you've never used this baby for more than a couple cruisy minutes than you're not going to know what hit you. Even 5 solid minutes on the rower can be a killer if you really work at it. Personally I love to use the rower for sprint or interval training – 100 meters flat out, followed by 100 meters total recovery is probably my fave. If you can't go flat out in the 20 or so seconds it takes to get through 100 meters, increase it to 150 or 200 to give yourself more time to work into it. But for truly exceptional fitness and a lasting fat loss effect, shorter and harder is better.
10. Just stop. Here's a thought. What if you were to cut out cardio training altogether? Maybe not forever (don't panic!), but even for a couple of weeks. Wouldn't that be a great way to revolutionize the rest of your training? I'd even be willing to say that circuits could be kept on the agenda, but that's it. Everybody needs a true break now and then from their standard activity(s), and by cutting out cardio altogether you will notice your performance in other areas improve dramatically. I can't tell you how often people have told me they don't give it 100% in the weights room because they know they need to save energy for their cardio – talk about shooting yourself in the foot. And believe me, I totally get how scary it can be to cut back or give up cardio. I was a cardio queen for years. But if there's even the slightest chance that you could improve your overall training and your physical success by just saying no, then isn't it worth it? I'd suggest at least three 2-4 week 'no cardio' periods each year for maximum results.
I'll let you decide :-). But in the meantime, get to work on the other 9 points. And do it right away – I guarantee you'll feel the benefits within just a week or two, and the visual results will soon follow.
Life is Now. Press Play.
Kat
If you're a regular reader and haven't been active in the BodyIncredible community then now is the time – I want your involvement, your feedback, and your questions! So why not make this the day to leave a comment before you go – if you're reading from RSS or email you'll have to enter the blog to do this. You can do that by clicking on the title of this piece. 'Post a comment' is at the article end, right under the 'share this' and 'related posts' options.
If you haven't yet subscribed to this feed, what are you waiting for? Do it now. You can choose either email or RSS by clicking here. If you enjoyed this article please forward to your friends. Thank-you!
Want To Know The Secrets That Got Me From This…To This?
I'm significantly leaner now than I used to be. Healthier too. It took me a good 4-5 years to really learn all of this and then to gradually streamline my knowledge so that I knew how to make it work for others as well. That's when I decided to create Secrets Of Lasting Weight Loss Revealed. You won't find any magic one-trick-wonder but you will find a detailed manual not just for weight loss, but for improved digestion, energy, sleep patterns, stress management, and ultimately for ideal health and happiness.
Find out more & grab your copy HERE.
PS
Expansion.
10 Days of Live Soul Transmissions, to Help You Find and Follow the Messages Within
Day 1) Trust
Day 2) Certainty
Day 3) Self-Belief
Day 4) Empire Creation
Day 5) Your Deepest Message
Day 6) Following Soul Guidance in All Areas
Day 7) Faith vs Fear
Day 8) Accessing Flow, and Superflow
Day 9) Expanding Time
Day 10) Expanding Money
Every day will be a LIVE soul led transmission.
This will take place on Facebook video, held at a variety of times in order to account for varying time zones, and scheduled only once we have begun. Our daily soul transmissions will be guided from MY higher self and directed from and for YOURS, to help you find and FOLLOW the messages within. The messages of your spirit, your consciousness, of the who you've always been and yet have managed quite well to cover up a lot of the time.
This is about stripping away –
And getting back to the CORE.
We'll dive day by day into the above mentioned areas –
And you'll receive all content and bonuses to keep for life.
There will be daily spirit prompts which you'll receive after each training.
And plenty of time opportunity connect with me throughout, receive transmissions direct to YOUR questions, and absorb more even than what comes through on the trainings, via the energy we'll create in this collective!
It's very rare for me to know in advance exactly what is coming through day to day.
I certainly don't have the details of each day's content. But I know that these areas have been on my heart to talk about, in particular around belief, around certainty, around living from FAITH.
We know that exactly what is meant to come through for you WILL, and then some. And that if you intend and allow for it to, it will change, most likely before we even begin, due to your energetic commitment, the direction of your LIFE!
Meaning: direct it back to absolute soul alignment.
*** NEVER Seen Before Bonus! ***
As part of this, I've been guided to offer a NEVER before seen bonus … one I feel super vulnerable about sharing!
It's the exact journaling I did to allow the download of THIS offer through. How I allowed the idea to bubble up. You'll see my doubt, uncertainty, annoyance. You'll see what I discarded. How I went through the layers. And how I KNEW, this was the one.
I'll ALSO add in copies (screenshots) of my conversation with my COO Ash, where I was talking through the idea and allowing it to come to life.
I want to show you the exact Idea to Launch process!
This bonus alone is EASILY worth the cost of this program, particularly when you hear the mindset side of it, in terms of STAYING THE COURSE and refusing to back away from my self until the idea showed up!
I refuse not to create!!
AND, when you register for EXPANSION today (and how could you not?!) you'll also receive early access to the Pre-Work. This is ALSO never seen before, and brand new just for you – and it's a guided meditation on remembrance, to help you connect back to deepest self and the most certain truth of your destiny, before we even begin.
Perfect priming, for when we expand RAPIDLY into all that is coming through in this work!
Of course I could now go on and on here, about what I could or should have charged for this, and what it's actually going to be …
Or about all my accomplishments on line and off, with money, with purpose, with passion, with flow …
I think you know all this anyway. Even if you just me! Your soul feels what matters. And that's ALL that matters.
But I will say this:
You've always known it's supposed to be about ALL that is inside of you. That it's meant to COME from a place of purpose, passion, and SUPER super flow. And that if you just.freaking.trusted, and showed up FULLY from that place, you'd be living in a different reality already.
THE ONE INSIDE OF YOU.
If that's true for you right now, then LET'S GO CREATE THAT REALITY.
Right now
Press play for regular, (super fuck yes!!) upfront or payment plan
OR
Press play like a VIP, and receive the full course, plus 10 days direct photos or screenshots of my ACTUAL personal journaling, so you can see how I create and expand my life, PLUS a VIP only follow-on live Hotseat, where you'll receive a personal transmission just for you, if you'd like one! Payment plan also available.
>>> https://thekatrinaruthshow.com/expansion
We start Monday 17 December, US time!