News
Female Fat Loss Tip Bonanza!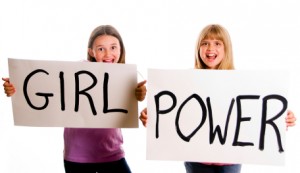 I'm in the middle of putting together my launch post for my new women's blog, and I gotta tell you –  I am getting seriously inspired. I guarantee you that you do NOT want to miss this post when it comes out. It's a compilation of tips on what it truly takes to create a beautiful body both inside and out, and I have input from a truly amazing group of women. Some of the most incredible girls who I know and know of are involved. You're not going to believe this line-up, but here's a taste:
Former Masterchef host and Aussie journalist Sarah Wilson
International Fitness Model Belinda Benn
NY dietician and author of "Eat, Drink and be Gorgeous, Esther Blum
The UK's hottest yummy mummy Annie Foulds
Online PT and cellulite-reduction-expert Sky Hunt
Fighter diet's ridiculously ripped Pauline Nordin
Schkinny Manniny's Catherine Craig
The Great Fitness Challenge's Mary Jaksch
and so many more women, including a few especially inspiring friends and colleagues of mind
I can't wait to share all this with you!
another sneak peek!
I just had to show you my new twitter skin – my designed just sent it through to me. Don't you love it?!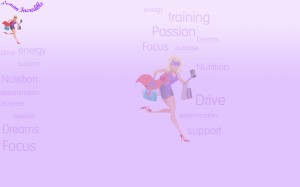 i thought you said female fat loss?!
Ok, I'll get to the point. One of the things I've been doing to prepare for blog post ideas for my our new blog is a little off-the-cuff Facebook surveying on what you guys especially want to know when it comes to female fat loss.
Here's a quick rundown of the key points that have come up so far, along with my initial thoughts or action points on each point. At the end of this list I'm going to ask for your feedback on what you'd like to know more of, and then turn it into a free audio and blog post series!
Q: Lately, I have been consuming coconut oil and I do feel a difference in my energy levels and I have read that it boosts immune system and fat loss! What do you think?
A: I have been using coconut oil in my diet for about 5 years now, and I LOVE it. Not just because it adds a yummy and authentic taste to Asian-inspired cooking, but because of the tremendous health and fat loss benefits. The most recent thing I've learned about coconut oil is that it raises good cholesterol. This is especially important for vegans and vegetarians, who may lack important cholesterol from animal proteins and fats. Coconut oil works for fat loss due to its medium-chain fatty acids.
Q: Losing fat in thighs seems to be always an issue. What can I do? (This question appeared in several forms: 'definitely thighs… particularly the top of inner thigh?!', and 'Im on the thigh tangent, how to move it quicker?!'. It seems you guys want to know not just about losing fat on the thighs, but also about how to tone them up.
A: Excessive and unwanted fat on the lower body can be scientifically related back to an excess of estrogen. You may not realise it, but everything from the skincare you use to the pesticides on your food to the air you breathe can elevate synthetic estrogen in your body. This is reflected in an increase of skinfolds on the quads and hamstrings. Of course genetics, diet, and exercise also play a part. My top three tips for detoxifying estrogen and leaning out your legs are:
1) eat all organic vegetables, focusing especially on the cruciferous veg.
2) Consume some form of protein 3-4 times per day minimum. Adequate protein will help you detoxify estrogen and other toxins. Plus – if you're eating protein you will eat less starch and sugars automatically!
3) Cut back on your cardio in order to avoid Chunky Fat Aerobics Instructor Syndrome, and consider doing some German Body Comp weight training by yourself or with a Poliquin trainer. It's a system of manipulating hormones by alternating upper and lower body exercises with specific tempos and rest time.
Q: Cellulite reduction (that was the whole questions! But I also got 'reducing the lumpy orange peel of the thigh – not that i have any of course :)')
A: Cellulite is a progesterone issue. It is absolutely NOT something you have to be resigned to, although it is true that some women are more genetically prone to it than others. The long and the short of it, though, is that it's just another form of fat. And fat can be shed. Cellulite differs from regular fat in that it has connective tissue in it; hence the lumpiness. A key cause of progesterone imbalance and cellulite is the synthetic chemicals you put on your body in the form of skincare, makeup, haircare, and bodycare. Don't underestimate this – it is a MAJOR cause of increased fat storage. Choose organic or pure mineral based products, and increase your organic green vegetables to speed up detoxification. Coconut oil is also said to help with cellulite reduction (you can use it as a body oil, but I mean internally :)), which could be due to its ability to increase liver detoxification.

Q: If you are low on time to exercise, what sort of diet plan, and positive cardio regime, should a girl adopt?
A: Firstly, 'positive cardio regime' is, for the most part, an oxymoron in my opinion! If you are low on time and fat loss is a goal, focus on high-volume weight training sessions. German Body Comp is my preferred approach of training for female fat loss, and can achieve massive results in as little as 30-45 minutes 2 times a week if necessary. More is better though 🙂 4 times would be ideal. You don't need ANY cardio if you're training properly, but if you love it you could do a little HIIT or some kickboxing.
As for diet – keep things simple. Eating well for health and fat loss is not about being Masterchef in the kitchen. Have your fancy meals when you have the time to enjoy the preparation side of things, but on a day-to-day basis? Keep it simple and focus on food for fuel. Boil eggs, grill or bake loads of meat at once so you have leftovers, eat veggies raw or quick-steamed, carry a nut and seed mix with you for back-ups. Use organic protein shakes from time to time. Simple.
Q: How best to reshape after having a baby. I'm doing quite well, but #4 has left me with a little more body fat than any of my previous pregnancies.
A: This is a topic very close to my heart! After I gave birth I was quite literally blown away by how much tougher it was to get back in shape than what I had thought it might be. Here are my top tips for that.
1) Prevention is better than a cure. The more muscle mass you have before falling pregnant, the easier it will be to lose fat afterwards. Start lifting weights now!!
2) Okay, so if the horse has already left the stable, so to speak, strength training is still key. After giving birth (when you're ready) aim for 3 x 30 minute full-body strength sessions per week. This can be done at home if necessary. Building lean muscle will add fuel to your metabolic fire and make things so much easier for you.
3) I used a high dosage of selenium post-birth in order to reboot my thyroid. The thyroid typically drops when pregnant.
4) Gut health is key. A lot of women never quite lose the weight because pregnancy has destroyed their gut health. Use probiotics and consider a gut protocol by speaking with a Biosignature practitioner. Glutamine would be key in a gut protocol, and repairs the lining of the intestines.
Q: How to get rid of the last 5kg's 🙂 I also got this question in another form; 'how to get rid of the last pesky 3% bf to drop it below 10%'
A: I get this sort of question a lot. Many of the women who come to see me are already in very good shape, and want to know how to go to great. Usually they've been struggling with that last little bit for years, despite doing 'all the right things'. There is SO much I could say on this topic, and probably will if you guys want to know more, but here's the main thing: never assume anything. There are certain rules about nutrition, exercise, and fat loss; rules that apply to most people most of the time.
For example, eating protein every 3-4 hours, lifting heavy weights, getting enough sleep, making sure your digestion is functioning. What I've found, however, is that the rules change a little when it comes to the last few kilos. Things become more individualised, and the key is to be open to trying something different. Sometimes all it takes is shocking your body out of its normal routine.
Always lift weights for 3 sets of 10? Try doing 6 sets of 4 (high intensity training). Always do interval sprints? Try using the rower or taking up a martial art. Always get up super early to train? Try taking 2 weeks off and getting enough sleep. Always eat exactly 2.5 hours after the last time you ate? Try letting yourself get hungry from time to time. Always avoid starchy carbs? Experiment with healthy starches post-workout.
You get the idea.

Don't forget –
Life is Now. Press Play.
Kat x
PS
I HAVE SOME BIG NEWS TO SHARE!
As of today, I'm opening up the doors to my Inner Circle, my 12 month private client mastermind.
This is THE most badass high level mastermind in the world for women who want it all – and are prepared to do what it takes to get it! Really what we're talking about is being prepared to be the PERSON.
And that's what I do. I help you remember ALL that you were, and then become it. ALL Of it.
This is my highest level private mentoring circle. The exact place where I have personally mentored dozens of this industry's most elite female entrepreneurs to break income barriers ranging from 10k months to multiple 7 FIGURE months, and everything in between. But more importantly than that – to become who and what they always were.
But know that this is not only (obviously) not just for the masses, this is also not just for someone who can afford to invest in a high level private coach. Being willing to throw money down is something which has absolutely zero correlation to being somebody who has what it takes to TRULY go next level as a leader.
If anything, in this industry, investing in a high level coach such as myself, is a rite of passage which veers just a little too much on the side of 'trend'. It's become something which 'everybody does', almost as a way of proving they play business and life a certain way.
Maybe even of trying to prove it to themselves.
Here is the reality which those who I am truly here to personally mentor and lead KNOW, the reality which my clients and all women like me as well as of course me personally have ALWAYS known:
We are VERY VERY DIFFERENT.
We are simply, smarter, faster, and have more presence. We can do more in our minds before breakfast than what most people can do in a freakin' WEEK, a month, a year.
We are not basic ass coaches trying to heave ho our way up a few extra thou a month.
We are the ones who have ALWAYS known we are 1% within the 1% within the 1% in terms of how we think, create, operate, how and WHAT we are tapped in too.
This is not arrogance, this is fact.
And there has NEVER been any question but that we will go all the way.
My clients are high level badasses who do the work, who have a proven track record BEFORE coming to me, and a BEING-ness which unquestionably separates them from the rest. They don't come to me to save them or lean down and hold my hand out so they can clamber up. They come because they are, quite simply, ready to go to the next level, already absolutely on their WAY there, and see in me something which they recognise because it is in them.
That 'can't stop won't stop' fire, and a level of 'unapologeticness' which, when truly understood and applied, can literally be the difference between 5-figure or low 6-figure and 7 or multi-7-figure entrepreneur.
So if you know who you are and it is THAT –
And you feel certain that you are ALREADY well on your way to to precisely where you're meant to be, but that being in MY energy could help you to drop in and get there even faster, and that with a couple of simple tweaks your current revenue could be doubling, tripling, heck QUADRUPLING and beyond in months, as it has done with numerous of my clients previously, well then –
PM me here http://m.me/katrinaruthofficial and we'll see if it's a fit. I'm excited to talk to you, and maybe – do biz and life with you.