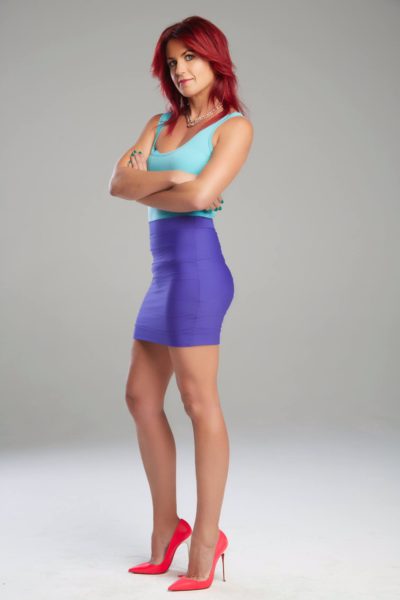 You can't become someone you're not by continuing to see yourself as you do now, and refusing to change.
If you want to go to that next level you have to choose (CHOOSE!) to see yourself NOW as being at that level you dream of being at and having it be normal NOW.
Let's say you want to be a leader online, make a fuckload of money, be known for your TRUE message, and get to wake up every day and do what you LOVE, completely on your terms and basically just by living your dream life –
Well, let's just get real about stepping into that and what it's gonna take.
I can tell you from personal experience of having once upon a time NOT being there and having nobody know who I am nor give a fuck to now being KNOWN, and having the whole leader on my terms doing what I love thing DOWN that it's not going to happen while you continue to wake up every day and go through the motions of being the you who you are now, hoping that if you just keep climbing those steps one at a time you'll eventually get there.
The stairway to heaven doesn't EXIST baby, but here's what does:
At any point in time you can decide to just be there and act accordingly. This is a helluva lot simpler than what it sounds, even though you might be a bit clumsy at it at first. Essentially all it comes down to is being honest with yourself about what you'd ALREADY be doing and how you'd be showing up, if you were there, and then just doing it! The clumsy bit is only because of course you're still GUESSING, but trust me –
Having a crack at being the you who you dream of being, then adjusting as you figure it the fuck out along the way is INFINITELY more of a smart plan than kicking back, splashing around repeatedly in your current pool of average and hoping that one day somebody comes along and offers you an undeserved ride to your dreams.
For example:
If you were NOW a leader and famous for being you, making money on your terms, here are some things that might be normal for you or that you might SAY to yourself daily in your journaling | mind | sub-conscious | till you believe it | then you see it!
"I am a famous leader online.
It's normal for me to be feautured in major publications.
Everybody knows who I am.
My posts get liked, commented on, shared, thousands of times a day.
I show UP as an online celebrity.
I shine and perform for my AUDIENCE as one.
I set huge goals and EXPECT to achieve them.
I hire the best people in the world.
I show up like a pro for appointments and interviews.
I state my intentions OVER AND OVER until they become real.
I produce and publish high quality content daily.
I actively grow my following.
I stay high vibe and in great shape.
I focus my energy and time on the tasks that matter (performing, creating, producing, publishing, being interviewed, producing even MORE content!)
I take rapid action on opportunities.
I do the work easily and with a smile on my face.
I look and feel amazing.
I have an audience of millions.
My content goes viral often.
I am know as one of the most magnetizing and transformational leaders in my field online.
I am in demand and highly paid as a speaker.
I always have tens of thousands of dollars left over, even after paying all of my bills, needs, desires and living expenses on time or before they're due.
I have great energy.
I am proud of myself.
I make great choices.
Everything always works out for me, just as it should and awesomely!
I achieve my goals, fully and always.
I AM AN INSANELY SUCCESSFUL HAPPY RICH LEADER AND FAMOUS FOR BEING ME!"
Notice how I included a mix of affirmations / chosen beliefs and also more practical actions, and that was just a mini overview; I'm sure you can expand on it relevant to YOUR dreams! Honestly, all I did just then was typed a bunch of stuff from my journaling this morning out and modified it from A-list celebrity (my goal) to 'leader online'.
But what you have to know here is that I've been writing, stating and ACTING on (the practical side; yes it's gotta be done, figured the fuck out, today and every day, no excuses, DO THE WORK) all of this stuff for years.
IT'S PRECISELY HOW I IN FACT BECAME THE LEADER I AM ONLINE NOW!
I just decided what I wanted my RESULT to be …
Identified as best as I could who I'd have to be, what I'd have to think, what I'd need to believe and how I'd need to show UP (do the work, bitch!) in order to achieve that goal …
AND THEN I GOT TO WORK.
But make no mistake, even though hell YES I do the practical action-taking stuff EVERY day, no matter what, and regardless of whether or not I feel like it or know HOW, the MOST important work of all?
The stuff inside your head baby.
Choosing to see yourself a certain way.
Setting clear goals and intentions for your desired outcomes.
Then LOCKING IT THE FUCK IN every.single.day.
Training my thoughts, my mind, my very CELLS and, I believe, even my DNA, to KNOW that my desired outcomes are my birthright, my destiny, DEFINITELY happening, and then eventually?
(And in a LOT shorter time than you might think if you actually do all this stuff daily)
MY REALITY.
MAKE NO MISTAKE.
You can do this too.
It simply takes consistent fucking APPLICATION, and for that reason 999 out of 1000 people who read this will NEVER fucking do it.
Stop making it so fucking complicated.
Fuck the HOW fuck the how fuck the how but THAT is how!
And do the fucking WORK!
Remember …
Life is Now. Press Play.
Kat
Life is Now. Press Play.
Kat x

PS
I want to help you to build a business you LOVE, and that meets your every want and desire, in a real and true way, whilst also resulting in you making a LOT of money, fast, and impacting a lot of people, also fast, in the way you know you were born for!
My most transformative 1:1 intensive EVER … shifting people into EPIC income and success since 2016 is back, for the first time in 2019! I'm so excited to bring this signature transformative work back!
Rich Hot Empire!
Work With Me for 6-Weeks Personally to Grow Your Perfect Cult Tribe, Create and Launch Your Low-High End EMPIRE, and Set Up Multiple Recurring Income Streams to Take You to Multiple 7-Figures and Beyond, Doing What You Love!
This round is even more special as I will be re-recording all original content, with you there live with me and alongside me AND you will also receive all original content; the exact trainings which has made this program my most successful ever, with clients repeatedly saying they achieved more in 6 weeks with me than they had in 2 YEARS beforehand! This work is for entrepreneurs at ANY starting point, as it's about who you are as a person not where you're at. I've had clients anywhere from total start-up, to already doing 500k+ / year go through Rich Hot Empire and all who have done this work have gone to a level of income as well as alignment and FLOW which they couldn't previously even imagine!
6-week personalised intensive high level mastermind
Weekly group training and support; multi-media training: visual + audio
'Done for You' Templates and Step-by-Step Worksheets
Personalised 1:1 coaching included, plus DAILY unlimited 1:1 access
My personal hand on your business success
Weekly group coaching call and hotseat with my other private clients
24/7 mastermind forum, networking and support
Very limited spaces
Results guaranteed
Not for everyone
STARTS THIS MONTH!
I'm so excited to do this work with a small group of badasses who are willing to SHOW UP FOR THEIR SOUL no matter what. To walk away from all that is not serving, not actually working, not FILLING you. And to all yourself to bring your truest desires to life. If that's you, or you've felt the call to work with me at this level, PM me now. Bonuses and fast action-taker investments apply to all successful applicants, but for the first 5 to say yes there is a very special $2000+ bonus specific around Soul Shifts & Money Makin', and which, in and of itself even before we begin RHE will have shit changing for you FAST.
Apply via PM only. I can't wait to speak with you!
PPS
HAVE YOU JOINED PURPOSE PASSION FLOW ACADEMY?
My 'Going Fully Quantum' training will break down ALL of what we've discussed today, and teach you the finer details and finesse of it, as well as exactly what needs to be true for you to APPLY it, not only into the practical actions you need to create THAT money flow and THOSE results, but also in terms of ALL the energetics of it, especially the 'being and non-being' around dropping in to superflow so you can be shown, create, receive, AND of course the being around not being one of those people who just can't seem to choose faith and are ruled by fear. We'll also talk about creating and integrating the exact wording, beliefs, emotions, energies YOU need for all of this to switch effortlessly for you, as you've always known it would.
In other words: EVERYTHING you need to know to go fully quantum, and double your income in 30 days or less, or whatever else you choose!
Where will you find this training?
Why, it's one of the very first training in 'Remembering Who You Always Were', which. is our June intensive for Purpose Passion Flow Academy, my SUPER low-cost monthly membership mastermind!
And this training?
Will change your freaking reality. Well – it will REMEMBER it.
It's all available to you gorgeous.
You know this already.,In the quantum it is DONE. And in Purpose Passion Flow Academy, and especially our June intensive 'Remembering Who You Always Were'? We gon' done do it.