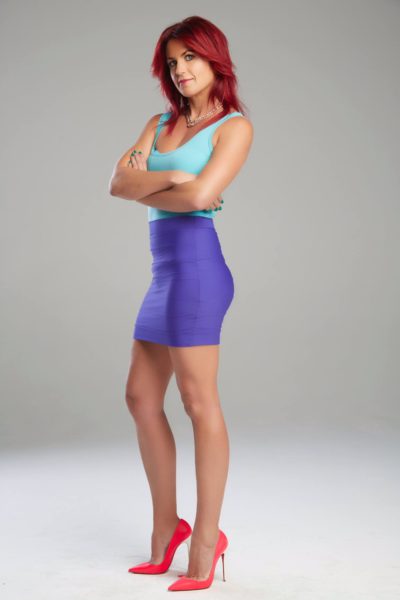 You can't become someone you're not by continuing to see yourself as you do now, and refusing to change.
If you want to go to that next level you have to choose (CHOOSE!) to see yourself NOW as being at that level you dream of being at and having it be normal NOW.
Let's say you want to be a leader online, make a fuckload of money, be known for your TRUE message, and get to wake up every day and do what you LOVE, completely on your terms and basically just by living your dream life –
Well, let's just get real about stepping into that and what it's gonna take.
I can tell you from personal experience of having once upon a time NOT being there and having nobody know who I am nor give a fuck to now being KNOWN, and having the whole leader on my terms doing what I love thing DOWN that it's not going to happen while you continue to wake up every day and go through the motions of being the you who you are now, hoping that if you just keep climbing those steps one at a time you'll eventually get there.
The stairway to heaven doesn't EXIST baby, but here's what does:
At any point in time you can decide to just be there and act accordingly. This is a helluva lot simpler than what it sounds, even though you might be a bit clumsy at it at first. Essentially all it comes down to is being honest with yourself about what you'd ALREADY be doing and how you'd be showing up, if you were there, and then just doing it! The clumsy bit is only because of course you're still GUESSING, but trust me –
Having a crack at being the you who you dream of being, then adjusting as you figure it the fuck out along the way is INFINITELY more of a smart plan than kicking back, splashing around repeatedly in your current pool of average and hoping that one day somebody comes along and offers you an undeserved ride to your dreams.
For example:
If you were NOW a leader and famous for being you, making money on your terms, here are some things that might be normal for you or that you might SAY to yourself daily in your journaling | mind | sub-conscious | till you believe it | then you see it!
"I am a famous leader online.
It's normal for me to be feautured in major publications.
Everybody knows who I am.
My posts get liked, commented on, shared, thousands of times a day.
I show UP as an online celebrity.
I shine and perform for my AUDIENCE as one.
I set huge goals and EXPECT to achieve them.
I hire the best people in the world.
I show up like a pro for appointments and interviews.
I state my intentions OVER AND OVER until they become real.
I produce and publish high quality content daily.
I actively grow my following.
I stay high vibe and in great shape.
I focus my energy and time on the tasks that matter (performing, creating, producing, publishing, being interviewed, producing even MORE content!)
I take rapid action on opportunities.
I do the work easily and with a smile on my face.
I look and feel amazing.
I have an audience of millions.
My content goes viral often.
I am know as one of the most magnetizing and transformational leaders in my field online.
I am in demand and highly paid as a speaker.
I always have tens of thousands of dollars left over, even after paying all of my bills, needs, desires and living expenses on time or before they're due.
I have great energy.
I am proud of myself.
I make great choices.
Everything always works out for me, just as it should and awesomely!
I achieve my goals, fully and always.
I AM AN INSANELY SUCCESSFUL HAPPY RICH LEADER AND FAMOUS FOR BEING ME!"
Notice how I included a mix of affirmations / chosen beliefs and also more practical actions, and that was just a mini overview; I'm sure you can expand on it relevant to YOUR dreams! Honestly, all I did just then was typed a bunch of stuff from my journaling this morning out and modified it from A-list celebrity (my goal) to 'leader online'.
But what you have to know here is that I've been writing, stating and ACTING on (the practical side; yes it's gotta be done, figured the fuck out, today and every day, no excuses, DO THE WORK) all of this stuff for years.
IT'S PRECISELY HOW I IN FACT BECAME THE LEADER I AM ONLINE NOW!
I just decided what I wanted my RESULT to be …
Identified as best as I could who I'd have to be, what I'd have to think, what I'd need to believe and how I'd need to show UP (do the work, bitch!) in order to achieve that goal …
AND THEN I GOT TO WORK.
But make no mistake, even though hell YES I do the practical action-taking stuff EVERY day, no matter what, and regardless of whether or not I feel like it or know HOW, the MOST important work of all?
The stuff inside your head baby.
Choosing to see yourself a certain way.
Setting clear goals and intentions for your desired outcomes.
Then LOCKING IT THE FUCK IN every.single.day.
Training my thoughts, my mind, my very CELLS and, I believe, even my DNA, to KNOW that my desired outcomes are my birthright, my destiny, DEFINITELY happening, and then eventually?
(And in a LOT shorter time than you might think if you actually do all this stuff daily)
MY REALITY.
MAKE NO MISTAKE.
You can do this too.
It simply takes consistent fucking APPLICATION, and for that reason 999 out of 1000 people who read this will NEVER fucking do it.
Stop making it so fucking complicated.
Fuck the HOW fuck the how fuck the how but THAT is how!
And do the fucking WORK!
Remember …
Life is Now. Press Play.
Kat
Don't forget –
Life is Now. Press Play.
Kat x

PS
1:1 INTAKE IS OFFICIALLY OPEN!

🔥
Next Level Empire is officially open for late November intake! 💜
I'm calling in my next intake of driven badass LEADER women who want to work with me 1:1 to FOLLOW SOUL and achieve ALIGNED AF fame, income growth, more.
Yeahhhhhh … this is about unapologetically claiming your place as one who is MEANT to be seen and heard by everyone!!
Next Level Empire baby!
Multi 7-Figure Empire Expansion For Unapologetically Badass & Driven Women Who Are Ready to Be Seen By the WHOLE Damn World
6 weeks.
1:1
You and me
This is for the women who already have a message, an audience, and are making money online and who are now ready to put some damn WHEELS on the thing.
We will be going deeper into message clarity
We WILL be nailing down what you're selling, and how you're selling it, for maximum conversion and flow
We WILL be getting you fully connected to the badass leader within who KNOWS she is meant to run the damn thing
But these things are just the warm-up, because let's face it –
You already message
You already show up
You already sell
You're already ROCKING what you're doing right now
So what you're here for, and what I'm here for with you?
Is to blow the damn thing up.
MAXIMUM reach.
RAPID growth of audience
MASS visibility
MEDIA TAKEOVER
NEXT level leadership status, and being the one who is KNOWN as the Queen
And sales EXPLOSION
I'm taking what I'm doing in my business to CONTINUALLY claim my place at the top, and to take my message to the masses whilst also RAPIDLY growing following and income,
And showing it all to you
Exactly how we do it
What precisely is in place
What we had to have in place for it to work
What we do day to day to elevate fame, income, purpose, ALL of it
And then I'm going to work with you personally to roll it out
Next Level Empire baby:
For the women who were born for more,
And who are done with circling repeatedly around the same damn pond and kidding themselves they're gonna find it there.
Ready, and know it's time? It just might be 

😉

💜
PM me now

for the full overview, and to know if it's for you. x