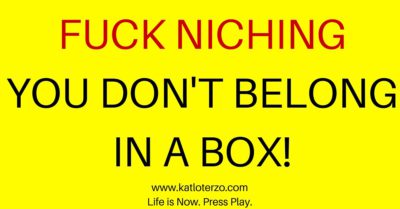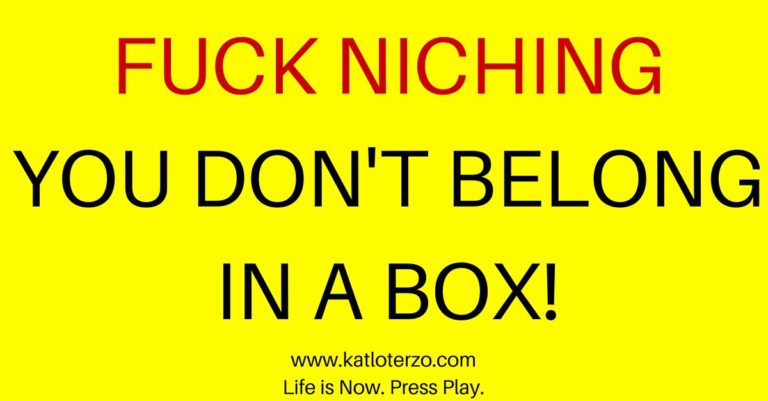 Let's come back to more of a 'business building' topic. Let's put our entrepreneur hats on!
You. You are a leader, we established that. A revolutionary fucking leader, obviously. WITH a message.
So here is one area I see leaders REPEATEDLY make shit ridiculous for themselves when it comes to online positioning:
The ridiculous RIDICULOUS idea that you have to 'find your niche'.
And while we're at it: anything to do with having a fucking TITLE.
Can I just say one thing? Okay, probably a whole bunch of other things after that 🙂
But one thing first:
YOU DON'T BELONG IN A BOX! So why the fuck are you trying to put yourself in one?!
You are:
Multi-passionate.
Multi-skilled.
Multi-insane.
And quite possibly multi-personality as well, but hey – no need to go there!
And here's what else:
You will NEVER be happy doing one thing, being known for one thing, teaching or preaching or selling or even leading on one thing! And the reason is so fucking obvious and simple you might just want to smack your head on the wall when you realise it:
YOU HAVE MORE THAN ONE THING TO WHO YOU ARE.
So when you try and be –
The coach.
Or mentor.
Or guru.
In a certain area.
Or way.
And you try and package it up nice and neat and give yourself a title or a cute little slogan or something you can 'elevator pitch' what you're really saying?
Is that there's not much to you.
You're just someone who can teach something.
Or help people in a certain way.
And that 'this is what you do.
When will you see that it's not about what you do it's about who you ARE, and so the only NICHE that exists or that will ever WORK for you is the niche of being YOU!
YOU ARE THE NICHE BABY!
Which is pretty fucking cool if you think about it!
So for me, my niche is a mix of leader revolutionary fucking arrogant over the top fit freak bitch quiet introvert extrovert coffee obsessed wine loving chocolate mad mother lover fighter book crazy writer speaker salesperson generally obsessive money fame freedom chasing want to help everyone explode their awesome alignment asskickery bright colours sun worshipping trying to find my way believe I can have it all believe I can have it now believe I can have it on my terms woman.
But it's not that easy to say that that's my niche.
So for a long time I tried to be a fitness coach, or a business coach, or a life coach, and then I tried to specialise and be a particular KIND of business coach and that was maybe a little bit better but it was still just me boxing myself IN.
And here's the other thing:
This whole thing about competition, or standing out, or worrying at ALL what anybody else is doing?
So irrelevant when your niche is you.
How the hell is anybody else going to be you?!
THAT'D be weird.
Of course you see it all the time online, with uprisings of 'the next whoever', or 'the new such and such'. Which is not only ridiculous from a 'good luck with that!' point of view, but also it's just SAD.
And for you:
When will YOU realise that the ONLY niche, the ONLY area of expertise you can excel in and go all the way with and truly just LOVE is also the very very easiest one to understand and act from, namely YOU.
Your niche is ALL of you, as well, okay?
So when you put yourself out there, you don't just share the good, the inspiring, the 'this is what I've achieved'.
You share the fucking MADNESS, the crazy, but also the ugly the awful the terrible stuff that goes on in your head and heart. You share the stuff you're scared to share, the stuff you're scared to even THINK.
This is how you stand out.
This is how you STEP UP.
This is how you actually build a tribe you love as well, because it is based FULLY on being you.
And it's also the only way you will EVER feel that you're truly doing what you're meant to do, when you give yourself permission to express ALL of you.
So you might have a particular 'area' or 'topic' that you are more known for, or teach on, or can help people with from a 'steps' point of view, but the way that you BUILD that tribe, the way that you teach or lead on whatever you teach on, and the way that you share YOU with the world so that the RIGHT people can connect with you and you with them?
Show up.
Be you.
Say what you need to say.
Create epic shit AS you.
Repeat.
And if you want to try and pretty package up what your niche is? Try stuffing your soul into a pillbox, and see how that works out for you.
Remember –
Life is Now. Press Play.
Kat
Life is Now. Press Play.
Kat x

PS
I want to help you to build a business you LOVE, and that meets your every want and desire, in a real and true way, whilst also resulting in you making a LOT of money, fast, and impacting a lot of people, also fast, in the way you know you were born for!
My most transformative 1:1 intensive EVER … shifting people into EPIC income and success since 2016 is back, for the first time in 2019! I'm so excited to bring this signature transformative work back!
Rich Hot Empire!
Work With Me for 6-Weeks Personally to Grow Your Perfect Cult Tribe, Create and Launch Your Low-High End EMPIRE, and Set Up Multiple Recurring Income Streams to Take You to Multiple 7-Figures and Beyond, Doing What You Love!
This round is even more special as I will be re-recording all original content, with you there live with me and alongside me AND you will also receive all original content; the exact trainings which has made this program my most successful ever, with clients repeatedly saying they achieved more in 6 weeks with me than they had in 2 YEARS beforehand! This work is for entrepreneurs at ANY starting point, as it's about who you are as a person not where you're at. I've had clients anywhere from total start-up, to already doing 500k+ / year go through Rich Hot Empire and all who have done this work have gone to a level of income as well as alignment and FLOW which they couldn't previously even imagine!
6-week personalised intensive high level mastermind
Weekly group training and support; multi-media training: visual + audio
'Done for You' Templates and Step-by-Step Worksheets
Personalised 1:1 coaching included, plus DAILY unlimited 1:1 access
My personal hand on your business success
Weekly group coaching call and hotseat with my other private clients
24/7 mastermind forum, networking and support
Very limited spaces
Results guaranteed
Not for everyone
STARTS THIS MONTH!
I'm so excited to do this work with a small group of badasses who are willing to SHOW UP FOR THEIR SOUL no matter what. To walk away from all that is not serving, not actually working, not FILLING you. And to all yourself to bring your truest desires to life. If that's you, or you've felt the call to work with me at this level, PM me now. Bonuses and fast action-taker investments apply to all successful applicants, but for the first 5 to say yes there is a very special $2000+ bonus specific around Soul Shifts & Money Makin', and which, in and of itself even before we begin RHE will have shit changing for you FAST.
Apply via PM only. I can't wait to speak with you!
PPS
HAVE YOU JOINED PURPOSE PASSION FLOW ACADEMY?
My 'Going Fully Quantum' training will break down ALL of what we've discussed today, and teach you the finer details and finesse of it, as well as exactly what needs to be true for you to APPLY it, not only into the practical actions you need to create THAT money flow and THOSE results, but also in terms of ALL the energetics of it, especially the 'being and non-being' around dropping in to superflow so you can be shown, create, receive, AND of course the being around not being one of those people who just can't seem to choose faith and are ruled by fear. We'll also talk about creating and integrating the exact wording, beliefs, emotions, energies YOU need for all of this to switch effortlessly for you, as you've always known it would.
In other words: EVERYTHING you need to know to go fully quantum, and double your income in 30 days or less, or whatever else you choose!
Where will you find this training?
Why, it's one of the very first training in 'Remembering Who You Always Were', which. is our June intensive for Purpose Passion Flow Academy, my SUPER low-cost monthly membership mastermind!
And this training?
Will change your freaking reality. Well – it will REMEMBER it.
It's all available to you gorgeous.
You know this already.,In the quantum it is DONE. And in Purpose Passion Flow Academy, and especially our June intensive 'Remembering Who You Always Were'? We gon' done do it.