News
How To Increase Your Metabolism And Burn Fat While You Sleep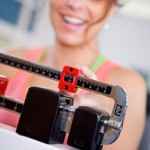 Did you know you can program your body to burn more fat ALL THE TIME? I'm talking not just when you're physically active, but every minute of the day, and yes, even every minute of the night while you're sound asleep. Now that's what I'd call getting your body to work for you!
Increasing your metabolism (or fat-burning ability) really is simple once you know how …
Here's the scoop:
Your Basal Metabolic Rate (BMR), which most people would more commonly refer to as your metabolism, is what dictates how many calories you burn each day just by being alive. Yup, even if you just sit on the couch all day stuffing your face.
For the average person, about 60-70% of the calories they burn each day come about by doing precisely nothing. All you have to do is keep breathing. Most people burn an additional 20-30% of their calories through daily activity (including low to moderate levels of exercise), and the other 10% is through the thermal effects of absorbing and digesting your food.
Making your BMR do magic tricks
If you want to be one of those people who has a higher than average BMR and therefore (more easily) burns high amounts of body fat you need two very important things.
The willingness to work hard on your body through correct training and nutrition
The knowledge to do it the smart way rather than the (conventional wisdom) 'right' way
And one of the smartest things you can do to maximise your weight loss is to build more lean muscle so that your body works FOR you rather than AGAINST you. Don't get scared now – I'm not talking about bulking up or becoming a body-builder. Even a small increase in muscle mass can dramatically impact your BMR. This is a generalised calculation, but it does give you an idea. For every pound of muscle you gain, your body will burn an additional 50 calories per day – just by being alive. Sure, 50 calories isn't much (about 12 M&Ms), but what if you were to build 5 pounds of extra muscle? Or 10? Keep in mind that 10 pounds of muscle would be equivalent in size to 4 tennis balls – spread out over your whole body – so it's not as though you'd be physically bigger. In fact, if anything, you would look a lot leaner – I know I'd rather have 4 tennis balls worth of lean, toned muscle on my body than 4 footballs of pudge (the approximate size of 10 pounds of body fat). To put it another way (and I love this saying), you may end up weighing the same as you previously did, but you'll take up less space in the world.
You'd have to agree this is a good thing, yes?
Building lean muscle
The most effective way to build lean muscle is to train with weights. For beginner's, even once each week will cause you to build muscle. If you are more experienced I'd recommend 3-4 times per week. In my experience, multi-joint full body exercises are the best way to go when starting out. Some of the best choices include deadlifts, squats, chin-ups, lat pulldowns, seated row, bench press, dumbell press (chest and shoulder).
Remember that increasing your BMR is not something you will do overnight. Building muscle is an ongoing process, and it takes some people longer than others. Those with a slight build can expect to gain around 0.7 pounds for every 12 weeks of training, while those with a solid build may build up to 3.5 pounds of muscle in the same time frame. The flipside of this seemingly slow process is that committing to a structured (and, ideally, individualised) nutrition and training program will have you noticing weekly and even daily changes in your muscle tone and general wellness from the get-go. If you're really wanting to turbo-charge your results then introducing appropriate supplements and perhaps a split-body routine would ultimately be the way to go in my opinion.
a note on weights and anti-aging
A final point before I leave you to go hit the weights room. Even if you're happy with the way you look right now, or still aren't convinced on the weight-training front, remember that for every year that passes as a non-exercising adult, you lose approximately 0.5-2% percent of the muscle you had as a young adult. This decline begins around 25 on average, and is accelerated in those are very inactive. This explains why so many naturally thin people end up with a soft and droopy look in later years, or a sudden and unexpected surge in weight once they enter their thirties.
The moral of the story? Train with weights and burn fat 24/7.
Have you noticed a change in your body since introducing weight training, or changing the way you train with weights? Please share!
PS
Did you see this? SYDNEEEYYYYYYY!!!
New! 'Uplevel Your Shit' 2-Day Business Smackdown Intensive Mastermind in Sydney this April 23 and 24!
Want to spend 2 amazing days with me AND my in-house marketing ninja / COO of The Katrina Ruth Show Ash Gregory this April?
I'm putting together an exclusive and VERY intimate high-level LIVE mastermind event for high-level badasses who are willing to do the work to uplevel their shit … fast!
We're talking:
– exploding new client and audience growth (aka lead gen as fuck, the soul way)
– monetisation of YOU
– how to make money all day every day just for being you … you know, FULLY you
– automation of money flow and ALL biz growth / audience growth systems so that you can do even MORE of just being you and letting the whole thing flow
*** This is a HANDS ON implementation event, the likes of which I have not offered in 5 years!! Sydney ONLY! ***
The purpose of this time together, aside from of course ALL the fun and connection and shenaniganery, is for you to walk out ABSOLUTELY crystal clear on:
* The vision of the next level you it's now time to step into
* Your true from soul message and purpose work
* Your soulmate clients and followers, and EXACTLY what to do and how to do it to call them in on repeat, like magic, 'as if from nowhere', daily
* Your current / new offerings, from low ticket to high ticket, as well as a baseline model for how to go from idea -> launch the flow way on repeat moving forward
* Your sales funnel* Sales copy
* Sales methodology, marketing, advertising, the works
* Positioning yourself as the next level leader who you know you are, and how to show up accordingly
* Multi-millionaire money mindset, and your blocks to that SHREDDED
* What you need to choose, clear, own, BE in order to step fully into your badassery
* And much more besides (PM for deets)
You will also have fully COMPLETED:
– Your current/ new offers from low through to high ticket
– Your funnel / new funnel, from flow
– ALL required sales copy / sales pages and materials
– Any advertising / marketing extras you need in place
Aka we are working side by side to build this shiz niz OUT right there in the room!
Ongoing support (a lot) is included in this, with myself AND my team, and there is also 1:1 with me included.
This will sell fast. I haven't offered anything exactly like this ever, and anything close in 5 years, and places are strictly limited! The investment is of course not for everyone however FAR lower than what you may expect.
Pm me now for the full lowdown! #woot!