News
How To Whip Up A Healthy Chili Con Carne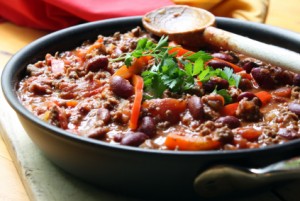 Is it just me, or is chili con carne one of those childhood favorites that just gets better with time? I became a 'tex-mex' addict during a teenage stint living in Germany. Surrounded by Americans, my entire family soon learned to appreciate the delight of this people-pleaser. I remember going on church camps and being served big bowls of chili out of massive and seemingly never-ending vats. And certainly never saying no to seconds.
These days I still don't say no to seconds, but I'm happy to say the overall quality of my chili con carne is far superior to that of the 'we can stretch it to serve 100 people' stuff. Mind you, I had no complaints at the time!
This recipe was kindly shared by a client of mine – and has already found it's way onto the most popular list in my kitchen. It's a little more detailed than most of the recipes I post, but well worth the added effort – particularly when it means leftovers for the next night or for a healthy and satisfying lunch.
Fran's Chili Con Carne – The Mix
1-2 tablespoons refined coconut oil (refined so it doesn't taste like coconut, but make sure it's organic)
1 brown onion, halved and finely chopped
2 crushed garlic cloves
2 medium carrots
1 capsicum
3 celery sticks
1 tablespoon ground cumin
1 tablespoon ground coriander
2 teaspoons cayenne pepper (optional)
600-700 grams organic beef mince
1 teaspoon worcestershire sauce
400 gram can Italian diced tomatoes (or dice your own fresh tomatoes)
1/2 cup red wine
1/2 cup tinned red lentils or kidney beans
2-3 small red chillies
Organic sea salt and freshly ground black pepper
1 cinnamon stick
2 tablespoons fresh coriander (leaves and stems)
Putting It Together
Heat the coconut oil over medium-high heat. Try to avoid using a non-stick pan as the teflon will invade and toxify your food. Add the onion and garlic, and cook until onion is soft. Next, add the ground herbs, pepper and chili. Stir for about a minute. Throw in the mince meat and continue to stir with a wooden spoon. Be sure to break up any lumps. Pour in the wine, add the worcestershire, and cover for around 5 minutes. Sneak a little wine for yourself -especially if it's Spanish red wine; renowned for its extremely high levels of resveratrol, which is a wonderful anti-aging antioxidant and is also helpful for detoxifying fat stores around your legs and butt.
Uncover, and add the tomatoes, the cinnamon stick, the fresh coriander, and the red lentils. Reduce heat to medium and simmer for around 20-25 minutes – enough time for your chili con carne to thicken. Stir occasionally, in between finely chopping the carrots, celery, and capsicum. Remove from heat and stir through the veg, before tasting and adding sea salt and pepper to enhance.
Return to heat for a further 10-15 minutes, keeping on a low simmer. Serve with a fresh green salad – and don't forget to take out the cinnamon stick! This dish should serve 2-4 people (depending on whether you're as greedy for seconds as I am!), so keep that in mind and adjust accordingly if you'd like leftovers. I say if you're going to go to the trouble of cooking, you might as well make enough to tide you over for a day or so. Besides which, I find that this sort of dish really reaches its peak on the second day – enough time for all those yummy flavors to well and truly blend.
Fran's Tip:
You can freeze this dish for up to one month – just place in an airtight container or glad bags (be sure to allow to fully cool in the pot before transferring to plastic, which will release harmful toxins and cause hormonal imbalance). After packaging, label, date, and freeze. To thaw, simply leave in fridge overnight. This makes the best quick and easy dinners on a Monday when you don't want to think – could it get any easier than heat and serve after having done all the hard work on another day?!
Enjoy!
Life is Now. Press Play.
Kat
Don't forget –
Life is Now. Press Play.
Kat x

PS
1:1 INTAKE IS OFFICIALLY OPEN!

🔥
Next Level Empire is officially open for late November intake! 💜
I'm calling in my next intake of driven badass LEADER women who want to work with me 1:1 to FOLLOW SOUL and achieve ALIGNED AF fame, income growth, more.
Yeahhhhhh … this is about unapologetically claiming your place as one who is MEANT to be seen and heard by everyone!!
Next Level Empire baby!
Multi 7-Figure Empire Expansion For Unapologetically Badass & Driven Women Who Are Ready to Be Seen By the WHOLE Damn World
6 weeks.
1:1
You and me
This is for the women who already have a message, an audience, and are making money online and who are now ready to put some damn WHEELS on the thing.
We will be going deeper into message clarity
We WILL be nailing down what you're selling, and how you're selling it, for maximum conversion and flow
We WILL be getting you fully connected to the badass leader within who KNOWS she is meant to run the damn thing
But these things are just the warm-up, because let's face it –
You already message
You already show up
You already sell
You're already ROCKING what you're doing right now
So what you're here for, and what I'm here for with you?
Is to blow the damn thing up.
MAXIMUM reach.
RAPID growth of audience
MASS visibility
MEDIA TAKEOVER
NEXT level leadership status, and being the one who is KNOWN as the Queen
And sales EXPLOSION
I'm taking what I'm doing in my business to CONTINUALLY claim my place at the top, and to take my message to the masses whilst also RAPIDLY growing following and income,
And showing it all to you
Exactly how we do it
What precisely is in place
What we had to have in place for it to work
What we do day to day to elevate fame, income, purpose, ALL of it
And then I'm going to work with you personally to roll it out
Next Level Empire baby:
For the women who were born for more,
And who are done with circling repeatedly around the same damn pond and kidding themselves they're gonna find it there.
Ready, and know it's time? It just might be 

😉

💜
PM me now

for the full overview, and to know if it's for you. x